PENGARUH PERNIKAHAN DINI TERHADAP TERJADINYA PARTUS LAMA
Nur Hidayati

Akademi Kebidanan Ibrahimy

Juni Setiawan

Akademi Kebidanan Ibrahimy
Keywords:
Early Marriage, Prolonged Labor
Abstract
Early marriage is a marriage performed by married couples where both are still under 21 years of age is 19 years for men - men and 16 years for women. While prolonged labor is labor that is abnormal characterized by slowness or lack of progress of labor in a certain time unit size. The purpose of this study was to investigate the effect of early marriage on the occurrence of prolonged labor in the village Sumberwaru Banyuputih District of Situbondo. This study design using analytical research, with cross sectional design, with a sample of 68 mothers of 84 women who married early in Sumberwaru village. And using simple random sampling technique. Uji statistic used is the Wilcoxon Signed Rink Test with the help of computer program SPSS 16. The results showed that there was significant effect (p = 0.000), namely (0.000 <0.005) between early marriage with the occurrence of prolonged labor. It can be concluded that there was influence of early marriage on the occurrence of prolonged labor. For that is expected for the adolescent not married at usi less than 21 years and delaying the first pregnancy until reaching the age of 20 years in order to avoid the possibility of a long labor, bleeding, and the conflicts that led to divorce. 
Keywords: Early Marriage, Prolonged Labor.
ABSTRAK
Pernikahan dini adalah pernikahan yang dilakukan oleh pasangan suami isteri dimana keduanya masih di bawah umur 21 tahun yaitu 19 tahun untuk laki - laki dan 16 tahun bagi perempuan. Partus lama adalah persalinan yang abnormal yang ditandai oleh kelambatan atau tidak adanya kemajuan proses persalinan dalam ukuran satuan waktu tertentu. Tujuan penelitian ini adalah untuk mengetahui adanya pengaruh pernikahan dini terhadap terjadinya partus lama di Desa Sumberwaru Kecamatan Banyuputih Kabupaten Situbondo. Desain penelitian ini menggunakan penelitian analitik, dengan rancangan Cross Sectional, dengan sample 68 ibu yang menikah dini di Desa Sumberwaru dan menggunakan tekhnik simple random sampling,.Uji statistik yang digunakan adalah Wilcoxon Signed Rank Test dengan bantuan Komputer program SPSS 16. Hasil penelitian menunjukkan bahwa ada pengaruh yang signifikan (p=0,000) yaitu (0,000<0,05) antara pernikahan dini dengan terjadinya partus lama. Dapat disimpulkan bahwa ada pengaruh pernikahan dini terhadap terjadinya partus lama. Untuk itu diharapkan bagi para remaja tidak menikah pada usia kurang dari 21 tahun dan menunda kehamilan pertamanya hingga mencapai usia 20 tahun agar tidak timbul kemungkinan terjadinya persalinan yang lama, perdarahan, dan konflik yang berujung perceraian.
Kata Kunci : Pernikahan Dini, Partus Lama.
Downloads
Download data is not yet available.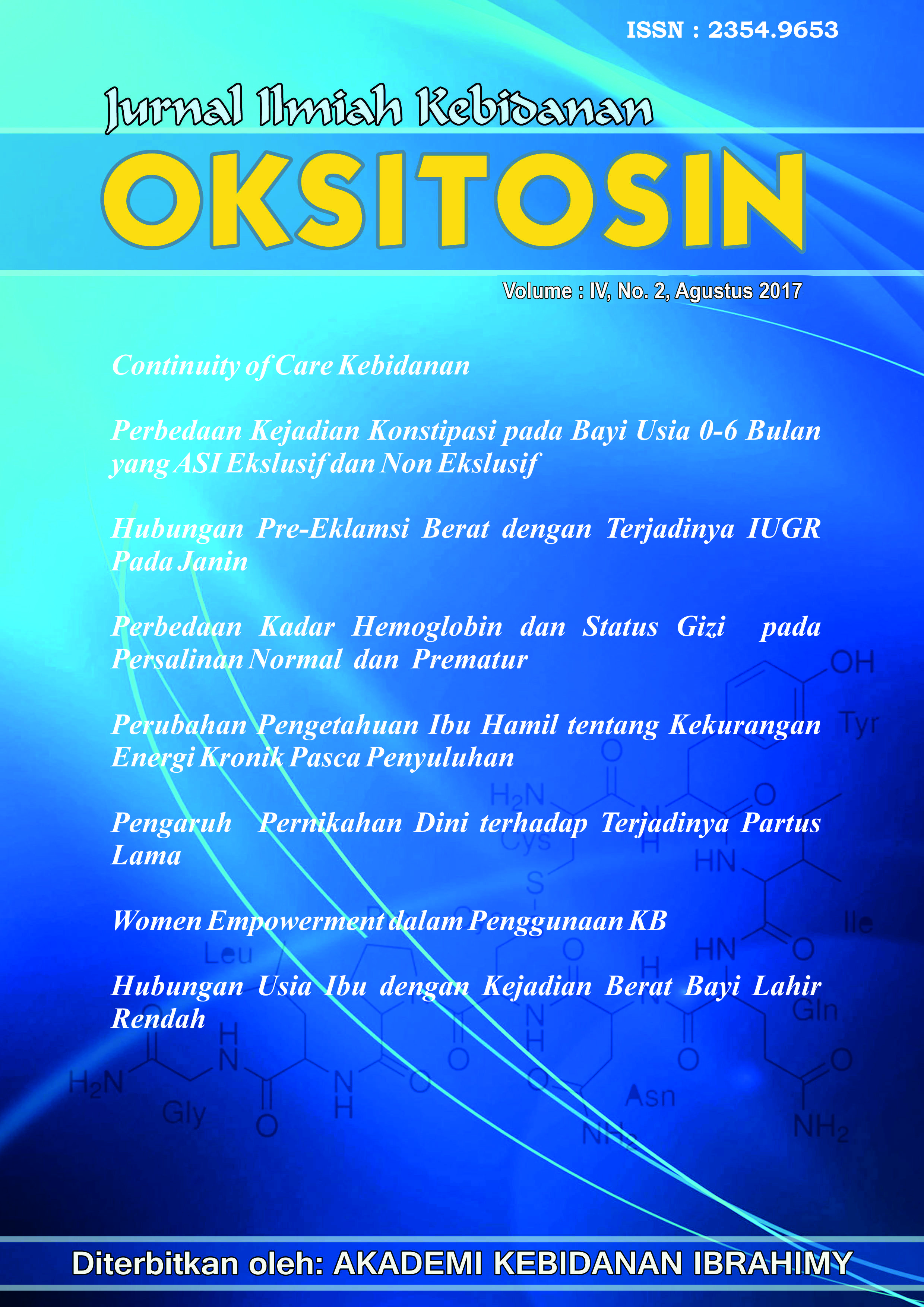 How to Cite
Hidayati, N. and Setiawan, J. (2017) "PENGARUH PERNIKAHAN DINI TERHADAP TERJADINYA PARTUS LAMA", Oksitosin : Jurnal Ilmiah Kebidanan, 4(2), pp. 106-112. doi: 10.35316/oksitosin.v4i2.367.
Abstract viewed = 308 times

PDF downloaded = 456 times