HUBUNGAN PRE EKLAMSI BERAT DENGAN TERJADINYA IUGR PADA JANIN
Roudatul Hikmah

Akademi Kebidanan Ibrahimy
Keywords:
Severe Pre Eclampsia, Intra Uterine Grot Retardation, Fetus
Abstract
Intra-Uterine Grout Retardation (IUGR) is the abnormal growth of the fetus in uterine developmental disturbances or disorders. This study aims to determine the level of incidence of IUGR on mothers with PEB (severe Pre-eclampsia) in Abdoer Rahem Situbondo hospitals. The research design in this study was used "analytic". Population in this study were mothers who had a pregnancy with PEB in Dr. Abdoer rahem Situbondo as many as 58 respondents with the number of samples 33 respondents, the sampling method usedsimple random sampling. Data analysis used fisher exact with maximum level a = 0,05. The result showed that there was significant relationship between severe preeclampsia and the IUGR  case in fetus.
Keyword               : Severe Pre Eclampsia, Intra Uterine Grot Retardation, Fetus
ABSTRAK
Intra Uterin Grout Retardation (IUGR) adalah ketidaknormalan pertumbuhan janin dalam kandungan atau gangguan perkembangan intra uterin. Penelitian ini bertujuan untuk mengetahui adanya tingkat kejadian IUGR terhadap ibu dengan Pre-Eklamsi Berat (PEB) di RSUD Abdoer Rahem Situbondo. Desain penelitian yang di gunakan dalam penelitian ini adalah  analitik. Populasi dalam penelitian ini adalah ibu yang yang mengalami kehamilan dengan PEB di RSUD Dr. Abdoer rahem Situbondo sebanyak 58 responden  dengan jumlah sampel 33 responden, metode pengambilan sampel yang digunakan adalah  menggunakan simple random sampling. Analisis data menggunakan fisher exact dengan tingkat maksimal a=0,05. Hasil penelitian ini menunjukkan ada hubungan yang signifikan antara pre-eklamsi berat dengan terjadinya IUGR pada janin.
Kata kunci           : Pre Eklamsi Berat, Intra Uterin Grout Retardation, Janin
Downloads
Download data is not yet available.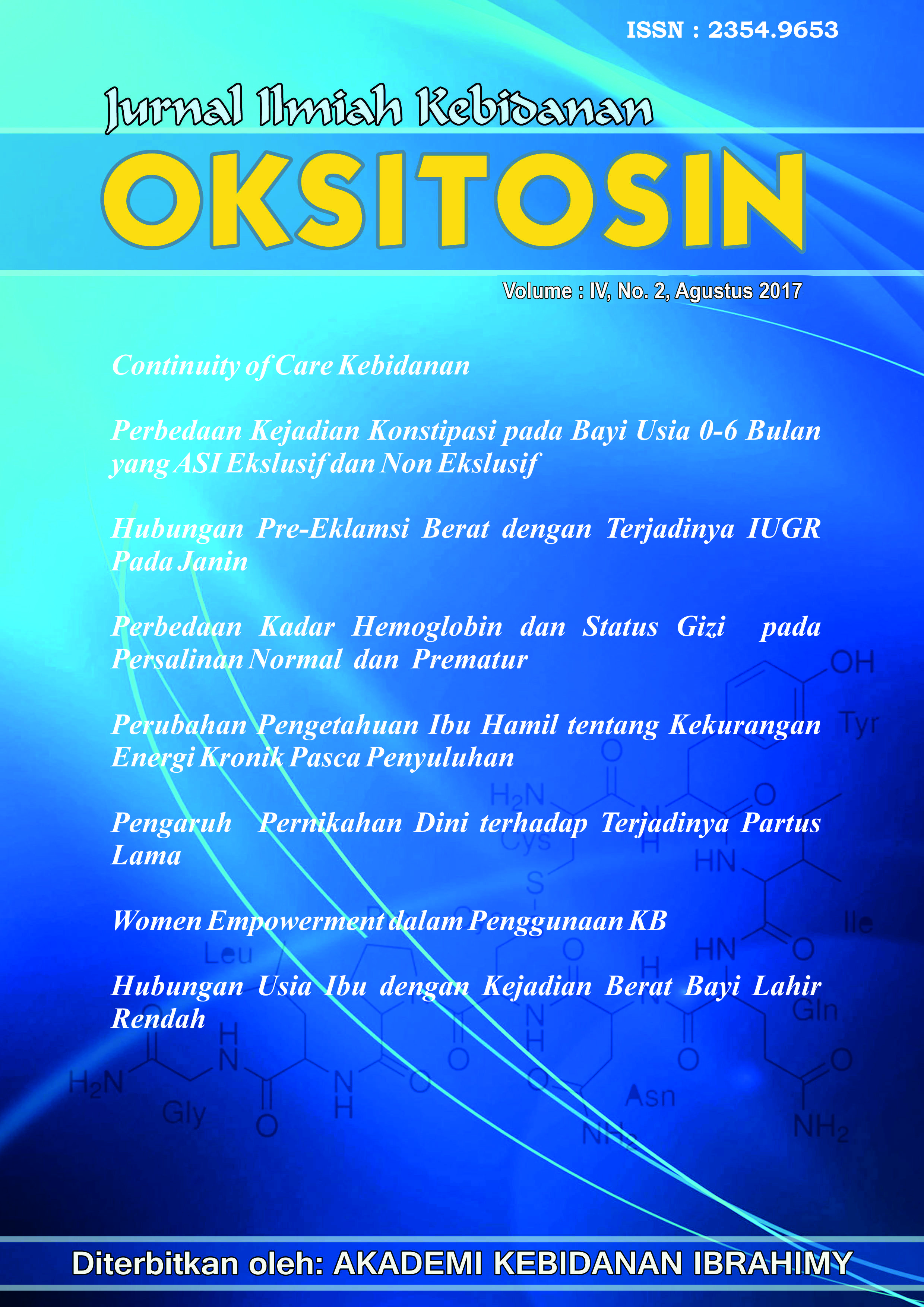 How to Cite
Hikmah, R. (2017) "HUBUNGAN PRE EKLAMSI BERAT DENGAN TERJADINYA IUGR PADA JANIN", Oksitosin : Jurnal Ilmiah Kebidanan, 4(2), pp. 85-89. doi: 10.35316/oksitosin.v4i2.364.
Abstract viewed = 525 times

PDF downloaded = 817 times