METODE PEMBELAJARAN KITAB KUNING
Maskuri Maskuri

Universitas Ibrahimy Situbondo

Mohammad Kholison

Universitas Ibrahimy Situbondo

Wildatul Islamiyah

Universitas Ibrahimy Situbondo
Keywords:
Learning Method, kitab kuning
Abstract
Every learning process, will never be separated from a method, as well as in learning the kitab kuning, because the method is one of the determinants of achieving maximum learning outcomes. So it is necessary to conduct an in-depth study related to the kitab kuning learning method and the stages in the kitab kuning learning. This study is set in the class of the Daru al-Kutub Education Foundation of the Bebidas Wanasaba Islamic Boarding School in East Lombok. By using a case study type qualitative approach. Data collection techniques were carried out by means of interviews, observation and documentation. The results of this study are: first, the stages of learning the yellow book in the class include: dividing the students (santri) into several classes according to their level of ability, determining the books to be taught to students according to their level, and making rules. Second, the kitab kuning learning method in class is to use several methods commonly used in the kitab kuning learning process, such as the sorogan, bandongan, memorization, and mudzakarah methods, as well as holding weekly evaluations and monthly evaluations.
Downloads
Download data is not yet available.
References
Al-Qur'an Cordoba, Surat Ali Imran, Ayat 19
Djuwairiyah, Dasar-dasar Pendidikan, (Situbondo: Ibrahimy Press, 2015)
Martin Van Bruinessen, Kitab Kuning, Pesantren, dan Tarekat : Tradisi-tradisi Islam di Indonesia. (Bandung: Mizan, 1995)
Sahilun A. Nasir, Peranan Pendidikan Agama Terhadap Pemecahan Problema Remaja (Jakarta: Kalam Mulia, 1999) Pidato Presiden Kedua RI.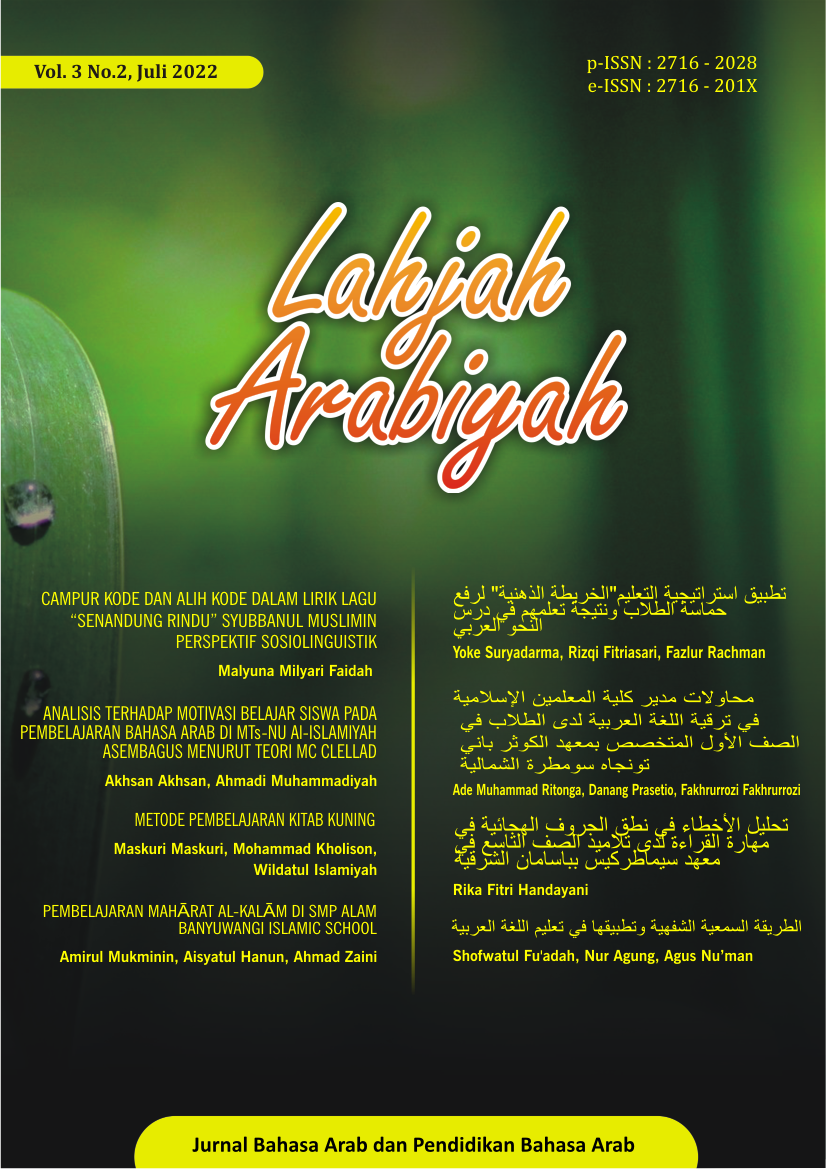 How to Cite
Maskuri, M., Kholison, M., & Islamiyah, W. (2022). METODE PEMBELAJARAN KITAB KUNING. Lahjah Arabiyah: Jurnal Bahasa Arab Dan Pendidikan Bahasa Arab, 3(2), 139-144. https://doi.org/10.35316/lahjah.v3i2.139-144
Copyright (c) 2022 Lahjah Arabiyah: Jurnal Bahasa Arab dan Pendidikan Bahasa Arab
This work is licensed under a Creative Commons Attribution-ShareAlike 4.0 International License.
Authors who publish with this journal agree to the following terms:
Authors are able to enter into separate, additional contractual arrangements for the non-exclusive distribution of the journal's published version of the work (e.g., post it to an institutional repository or publish it in a book), with an acknowledgement of its initial publication in this journal.
Authors are permitted and encouraged to post their work online (e.g., in institutional repositories or on their website) prior to and during the submission process, as it can lead to productive exchanges, as well as earlier and greater citation of published work.
Abstract viewed = 214 times

FULL TEXT PDF downloaded = 281 times