PENTINGNYA DOKUMEN PERENCANAAN BAGI PENGEMBANGAN PESANTREN
Pendampingan Pengabdian Masyarakat Di Pondok Pesantren Salafiyah Syafi'iyah Sukorejo
Maskuri Maskuri

Universitas Ibrahimy Situbondo
Keywords:
Perencanaan, Strategis, Perubahan, Pesantren
Abstract
Islamic boarding schools today require a planning document that describes a series of historical past as a philosophical basis for making changes in the future. The Sukorejo Pesantren strategic plan document that is being prepared through the team uses descriptive qualitative writing methods. Digging data sources with historical and phenomenological approaches. The purpose of the strategic plan is the realization of the strategic plan that will be used as a reference for organizers and managers of pesantren, both those who are undergoing leadership and future generations. The content is not only about history, but digs up-to-date information as a material for the characteristics and identity of pesantren which is maintained at all times. For this reason, the theoretical basis for preparing this strategic plan as an academic activity is the theory of change, progress, and change.
Downloads
Download data is not yet available.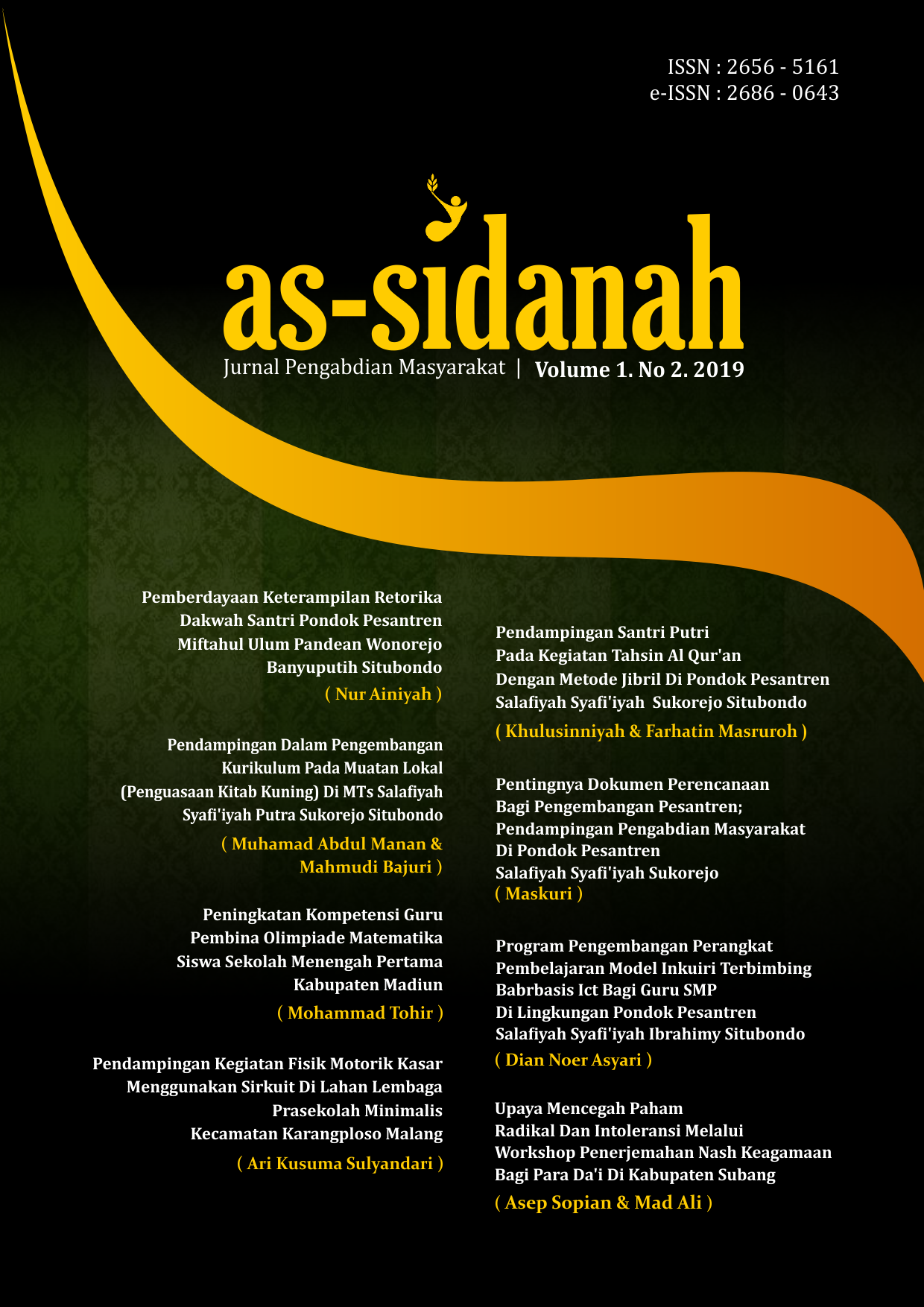 How to Cite
Maskuri, M. (2019). PENTINGNYA DOKUMEN PERENCANAAN BAGI PENGEMBANGAN PESANTREN: Pendampingan Pengabdian Masyarakat Di Pondok Pesantren Salafiyah Syafi'iyah Sukorejo. As-Sidanah : Jurnal Pengabdian Masyarakat, 1(2), 267-306. https://doi.org/10.35316/assidanah.v1i2.590
The following conditions apply to authors who submit contributions to the As-Sidanah: Jurnal Pengabdian Masyarakat:
The author owns the copyright and provides the editorial board with the first right to publish the work under a
Creative Commons License (CC BY-SA 4.0)
that allows others to share (copy and redistribute) the content in any media or format adaptation of works for any purpose.
Separate, extra-contractual arrangements may be entered into by authors for the non-exclusive dissemination of the Journal's published work (for example, uploading it to institutional repositories or publishing it in books), with an acknowledgement of the Journal's first publication.
Abstract viewed = 216 times

FULL TEXT PDF downloaded = 235 times