PERSPEKTIF KIAI: KETIKA PESANTREN DAN PENDIDIKAN KEAGAMAAN DIUNDANGKAN
Maskuri Maskuri

Universitas Ibrahimy Situbondo

Minhaji Minhaji

Universitas Ibrahimy Situbondo
Keywords:
Pesantren, Kiai, Pembentukan Undang-Undang, Kebijakan Publik
Abstract
The contribution of pesantren to the continuity of national life and statehood cannot be calculated with a numerical value. The sacrifice of the kyai as the central leader in the pesantren has also been proven in the history of the nation. During the colonial period carried out by the Dutch colonies and allies, in a period of more than 300 years, the kyai and pesantren appeared with zeal, with the motto of lovng the homeland is part of faith. The struggle of kyai did not stop after independence, so kyai and all pesantren committed to maintaining and filling independence in accordance to the purpose of the founder of the nation. So then it is time for the State to attend to the continuity of the pesantren through the policy of forming law. However, regulations through this law should not be used as a tool for the State to intervene in pesantren. Let the pesantren with their peculiarities continue to carry out all forms of service to the community. This paper is intended to see the views of kyai on Rancangan Undang-Undang (Draft of Law) on Islamic Boarding Schools and Islamic Education. This paper also analyzes using a public policy perspective on the content of draft of law for the Islamic Boarding School and Religious Education.
Downloads
Download data is not yet available.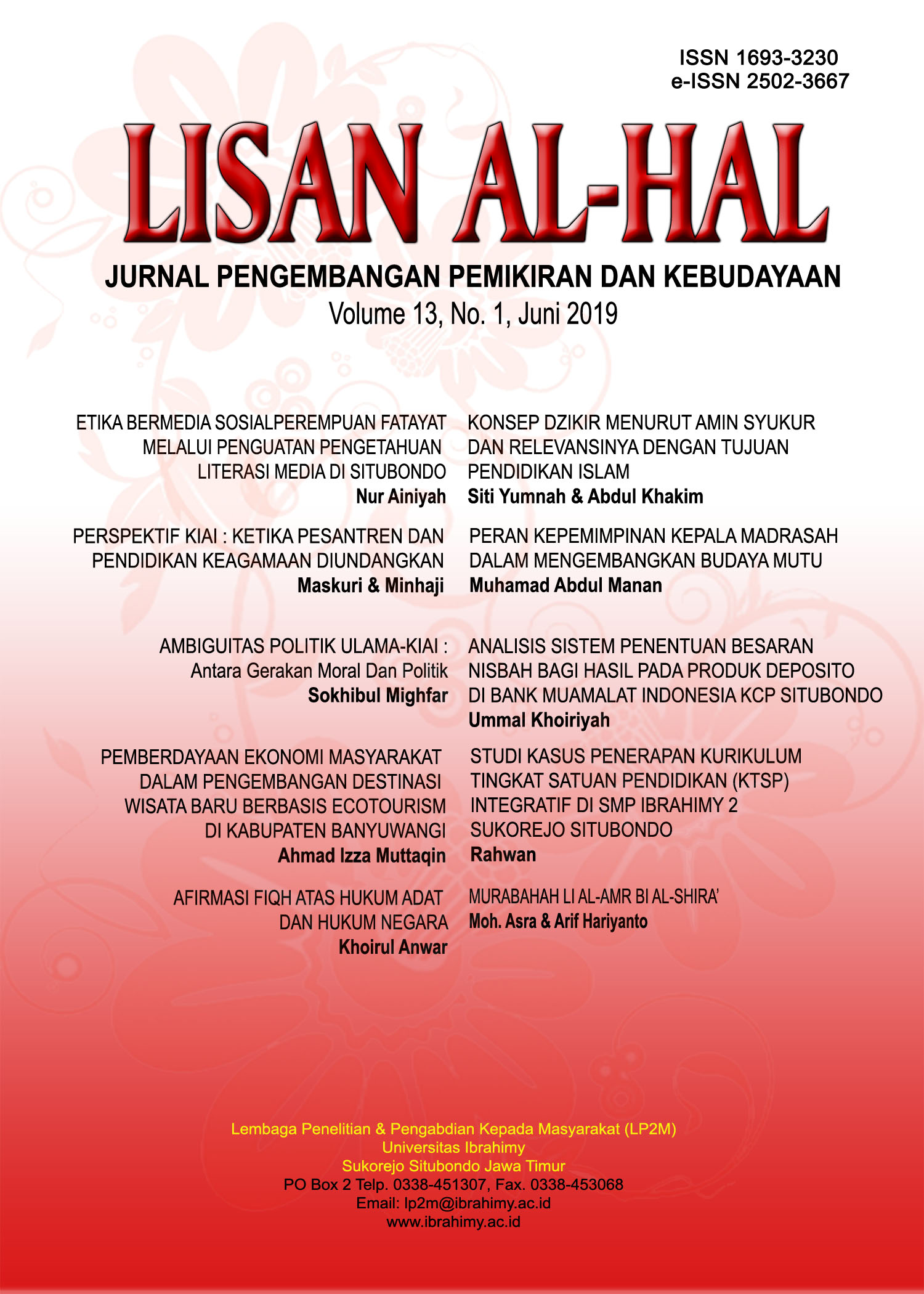 How to Cite
Maskuri, M., & Minhaji, M. (2019). PERSPEKTIF KIAI: KETIKA PESANTREN DAN PENDIDIKAN KEAGAMAAN DIUNDANGKAN. LISAN AL-HAL: Jurnal Pengembangan Pemikiran Dan Kebudayaan, 13(1), 5-36. https://doi.org/10.35316/lisanalhal.v13i1.447
Copyright (c) 2019 LISAN AL-HAL: Jurnal Pengembangan Pemikiran dan Kebudayaan
This work is licensed under a Creative Commons Attribution-ShareAlike 4.0 International License.
Abstract viewed = 373 times

pdf downloaded = 444 times