Analisis Cloud Computing Untuk Penyimpanan Dokumen Terhadap Proses Pembelajaran Menggunakan Algoritma Regresi Linear Berganda (Studi Kasus : SMA Chandra Kusuma Jakarta Utara)
Sukirman Sukirman

Universitas Islam Makassar
Keywords:
Cloud Computing, Document Storage, Learning Process, Multiple Linear Regression Algorithm
Abstract
Obstacles in the learning process carried out by subject teachers and students of SMA Chandra Kusuma School, North Jakarta, because document storage is still low and internet access is still slow. Multiple linear regression algorithm to determine the relationship between cloud computing variables and the learning process on document storage variables. Simultaneously the F test results are 15.387 and the coefficient of determination is 36.30% so that there is a significant relationship between cloud computing and the learning process for document storage. Partially, cloud computing for document storage has a significant relationship because it has a t-value of 3.211 which is greater than t-table. And partially the learning process for document storage there is a significant relationship because it has a t-count value of 3.824 which is greater than t-table.
Downloads
Download data is not yet available.
References
I. N. Abidah, M. A. Hamdani, and Y. Amrozi, "Implementasi Sistem Basis Data Cloud Computing pada Sektor Pendidikan," KELUWIH J. Sains dan Teknol., vol. 1, no. 2, pp. 77–84, 2020, doi: 10.24123/saintek.v1i2.2868.
W. Hartanto, "Cloud Computing Dalam Pengembangan Sistem," J. Pendidik. Ekon. J. Ilm. Ilmu Pendidikan, Ilmu Ekon. dan Ilmu Sos., vol. 10, no. 2, pp. 1–10, 2017, [Online]. Available: https://jurnal.unej.ac.id/index.php/JPE/article/view/3810.
A. Kusyanti2, K. Amron, and F. Mohammad, "Pengamanan Data pada Media Penyimpanan Cloud Menggunakan Teknik Enkripsi dan Secret Sharing," J. Pengemb. Teknol. Inf. dan Ilmu Komput., vol. Vol. 2, No, no. 11, pp. 4863–4869, 2018, [Online]. Available: http://j-ptiik.ub.ac.id.
Y. Asohi and A. Andri, "Impelementasi Algoritma Regresi Linier Berganda Untuk Prediksi Penjualan," J. Nas. Ilmu Komput., vol. 1, no. 3, pp. 149–158, 2020, doi: 10.47747/jurnalnik.v1i3.161.
A. D. Triyanto, Ervan; Sismoro, Heri ; Laksito, "Implementasi Algoritma Regresi Linear Berganda Untuk Memprediksi Produksi Padi di Kabupaten Bantul," vol. 4, no. 2, pp. 73–86, 2019.
P. S. Ramadhan and N. Safitri, "Penerapan Data Mining Untuk Mengestimasi Laju Pertumbuhan Penduduk Menggunakan Metode Regresi Linier Berganda Pada BPS Deli Serdang," vol. 18, no. 1, pp. 55–61, 2019.
R. Yulistiani, I. Ramadhan, Q. Said, and M. M. Santoni, "Metode Regresi Linier Berganda dan SVR dalam Menentukan Tingkat Pengaruh Cuaca Terhadap Produktivitas Padi di Indonesia," no. 2017, pp. 29–34, 2018.
A. A.-F. Nur Wahyudin, A. Primajaya, and A. S. Y. Irawan, "Penerapan Algoritma Regresi Linear Berganda Pada Estimasi Penjualan Mobil Astra Isuzu," Techno.Com, vol. 19, no. 4, pp. 364–374, 2020, doi: 10.33633/tc.v19i4.3834.
R. D. Komala and Nellyaningsih, "Jurnal Fakultas Ilmu Terapan Universitas Telkom," J. Fak. Ilmu Terap. Univ. Telkom, vol. 3, no. 2, pp. 330–337, 2017.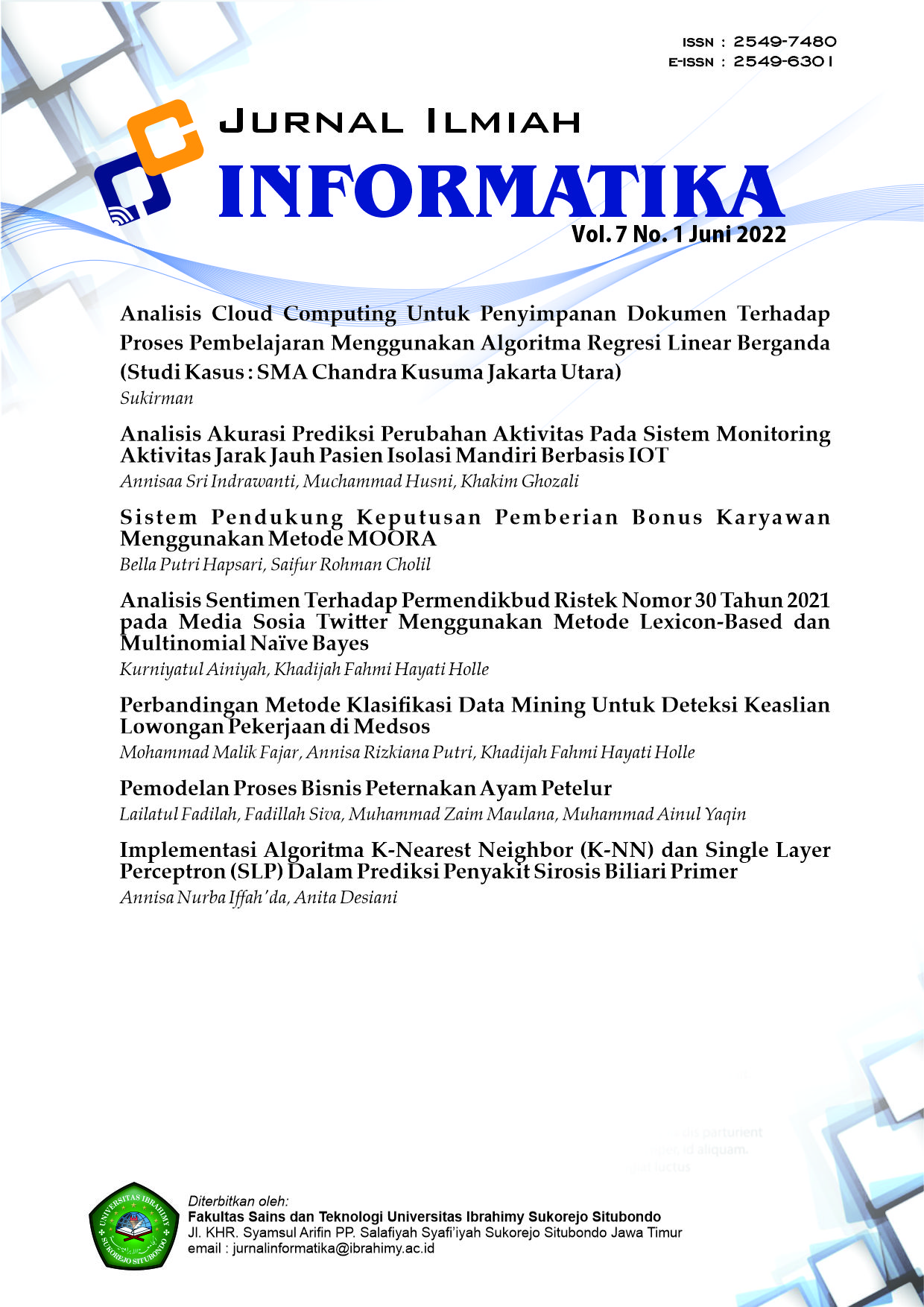 How to Cite
Sukirman, S. (2022). Analisis Cloud Computing Untuk Penyimpanan Dokumen Terhadap Proses Pembelajaran Menggunakan Algoritma Regresi Linear Berganda (Studi Kasus : SMA Chandra Kusuma Jakarta Utara). Jurnal Ilmiah Informatika, 7(1), 1-12. https://doi.org/10.35316/jimi.v7i1.1-12
Copyright (c) 2022 Jurnal Ilmiah Informatika
This work is licensed under a Creative Commons Attribution-NonCommercial 4.0 International License.
Abstract viewed = 67 times

PDF downloaded = 67 times