Akupresur Dalam Mengurangi Hiperemesis Kehamilan
Nora Rahmanindar

Politeknik Harapan Bersama Tegal

Evi Zulfiana

Politeknik Harapan Bersama Tegal

Riska Arsita Harnawati

Politeknik Harapan Bersama Tegal
Keywords:
Akupresure, Kehamilan, Hiperemesis
Abstract
Vomiting nausea usually starts from the age of 4-7 weeks in pregnancy, will disappear at 18 weeks of age. Most pregnant women do not need treatment and undergo pregnancy without special intervention, although vomiting nausea will disappear by itself in pregnancy when entering the second trimester, but vomiting nausea should be aware, if severe vomiting and sedentary nausea, pale face, very weak body, slight frequency of urination so that body fluids are reduced and blood becomes viscous, unactivity can not maintain eating and drinking will cause dehydration , balance in fluids and electrolytes and nutrients will cause Hyperemesis Gravidarum. In this study the goal is to find out the influence of Acupressure In Overcoming Vomiting Nausea In Pregnancy. This research using quantitative method using quasy experiment design, the design of this research is non-equivalent control group design with pre and posttest. The population in this study was pregnant women in the first trimester who experienced nausea and vomiting, sampling techniques with the accidental sampling system. The study sampled 50 pregnant women respondents with 25 intervention group respondents and 25 control groups. Data analysis using Wilcoxon and Mann-Whitney. The results of this study are the results of analysis of pregnant women who experience vomiting nausea has a lower value than before acupressure massage therapy Results of analysis using Man Whitney showed a p value of 0.000, meaning there is an influence of acupressure massage in overcoming vomiting nausea in pregnancy.
Keywords: Acupressure, Pregnancy, Nausea, vomiting
ABSTRAK
Hiperemesis biasanya dimulai dari usia 4-7 minggu dalam kehamilan, akan menghilang pada usia 18 minggu. Kebanyakan wanita hamil tidak memerlukan pengobatan dan menjalani kehamilan tanpa intervensi khusus, meskipun hiperemesisakan menghilang dengan sendiri dalam kehamilan ketika memasuki trimester kedua akan tetapi hiperemesisharus diwaspadai, jika hiperemesisparah dan menetap, muka pucat, tubuh sangat lemah, frekwensi buang air kecil seditkit sehingga cairan tubuh berkurang serta darah menjadi kental, tidak bisa beraktifitas tidak bisa mempertahankan makan dan minum akan menyebabkan dehidrasi, keseimbangan pada cairan dan elektrolit serta nutrisi akan menyebabkan Hiperemesis Gravidarum. Pada penelitian ini tujuannya adalah untuk mengetahui pengaruh Akupresure Dalam Mengurangi HiperemesisDalam Kehamilan. Penelitian ini dengan metode kuantitatif menggunakan rancangan quasy experiment, rancangan penelitian ini non-equivalent control group design dengan pre dan posttest. Populasi pada enelitian ini yaitu ibu hamil pada trimester pertama yang mengalami mual dan muntah, teknik pengambilan sampel dengan sistem accidental sampling. Sampel penelitian ini ada 50 responden ibu hamil dengan 25 responden kelompok intervensi dan 25 kelompok kontrol. Analisa data menggunakan Wilcoxon dan Mann-Whitney. Hasil penelitian ini adalah hasil analisis ibu hamil yang mengalami hiperemesis memiliki nilai yang lebih rendah dibandingkan sebelum dilakukan terapi pijat akupresur Hasil uji analisis menggunakan Man Whitney menunjukkan nilai p value 0.000, artinya ada pengaruh pijat akupresure dalam mengurangi hiperemesispada kehamilan.
Kata kunci : Akupresure, Kehamilan, Hiperemesis,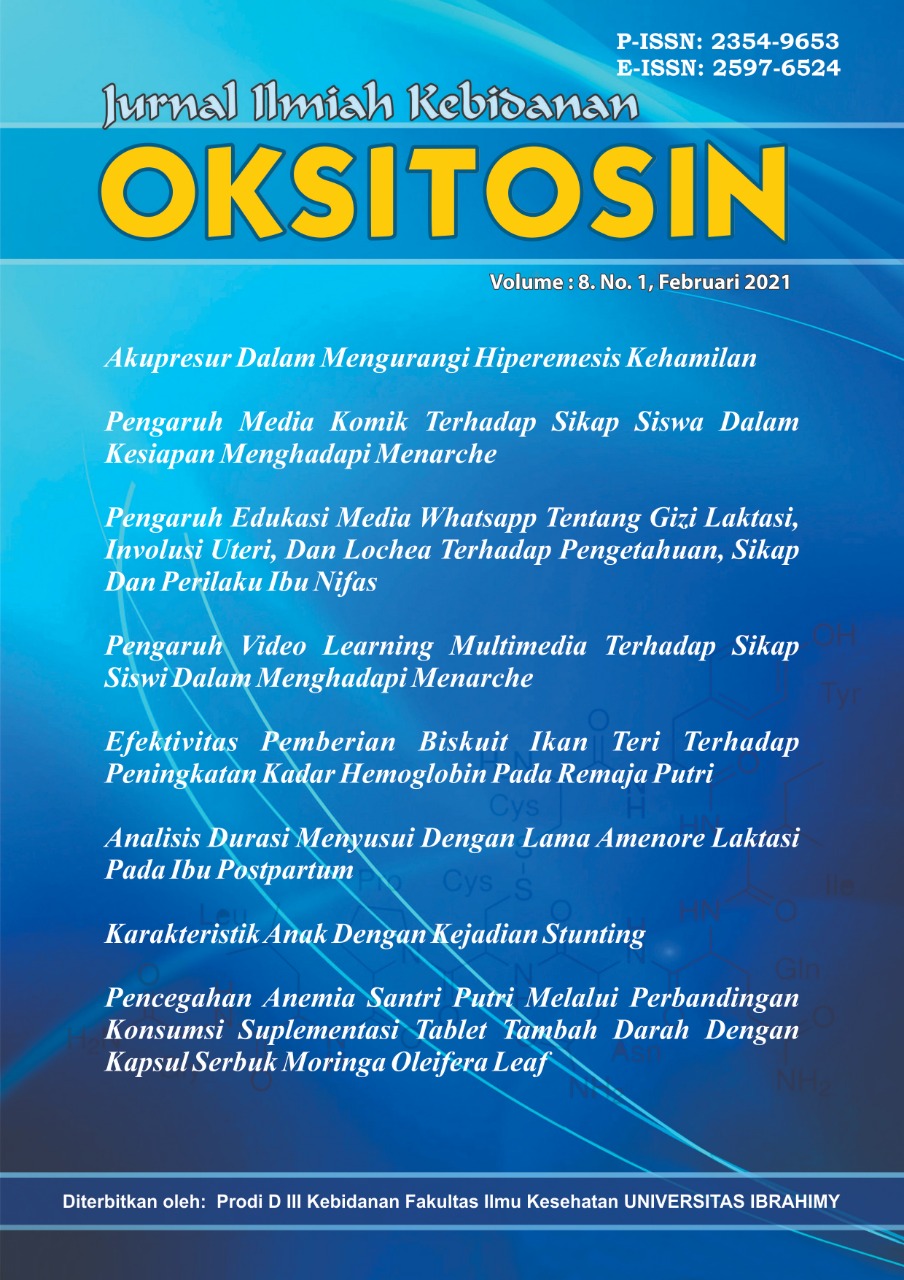 How to Cite
Rahmanindar, N., Zulfiana, E. and Harnawati, R. A. (2021) "Akupresur Dalam Mengurangi Hiperemesis Kehamilan", Oksitosin : Jurnal Ilmiah Kebidanan, 8(1), pp. 1-9. doi: 10.35316/oksitosin.v8i1.672.
Abstract viewed = 220 times

PDF downloaded = 234 times