HUBUNGAN PENGETAHUAN IBU TENTANG KUNJUNGAN NIFAS PARIPURNA DENGAN TINDAKAN KUNJUNGAN NIFAS PARIPURNA
Yeni Setiawati

Akademi Kebidanan Ibrahimy
Keywords:
Knowledge, Postpartum Vsits
Abstract
The most common causes of maternal mortality during childbirth were bleeding after delivery 28%, eclampsia 24%, infection 11%, less energy after delivery 11%, abortion 5%, old partus 5%, and 3% embolism. This study aims to find out the mother's knowledge about the nifas visit plenary with the act of doing visit nifas plenary in the Village Kettowan Arjasa District Situbondo. The design of this study was analytic, with a population of 23 respondents. Sampling technique Total Sampling. From the results of the research conducted statistical tests contingency coefficient with the level of maximization α = 0.05. showed that the value of sgn. of 0.03 so that H0 rejected which means there was a significant relationship that is (0.03 <0.05) between the knowledge of the mother with the act of visit.
Keywords: Knowledge, Postpartum visits
ABSTRAK
Penyebab kematian  ibu  paling  banyak  terjadi pada saat  masa  nifas,yaitu  karena perdarahan setelah persalinan 28%, eklampsia 24%, Infeksi 11%, kurang energi setelah melahirkan 11%, abortus 5%, partus lama 5%, dan emboli 3%. Penelitian ini bertujuan untuk mengetahui pengetahuan ibu tentang kunjungan nifas paripurna dengan tindakan melakukan kunjungnan nifas paripurna di Desa Kettowan Kecamatan  Arjasa  Kabupaten  Situbondo. Desain  penelitian  ini  adalah  Analitik,  dengan  populasi 23 responden. Teknik pengambilan sampel Total Sampling. Dari hasil penelitian di lakukan uji statistik koefisien kontingensi dengan tingkat kemaksimalan α = 0.05. menunjukkan bahwa diperoleh nilai sgn. sebesar 0,03 sehingga H0  ditolak yang artinya ada hubungan yang signifikan yaitu (0,03<0,05) antara pengetahuan ibu dengan tindakan kunjungan.
 Kata Kunci : Pengetahuan, Kunjungan Nifas.
Downloads
Download data is not yet available.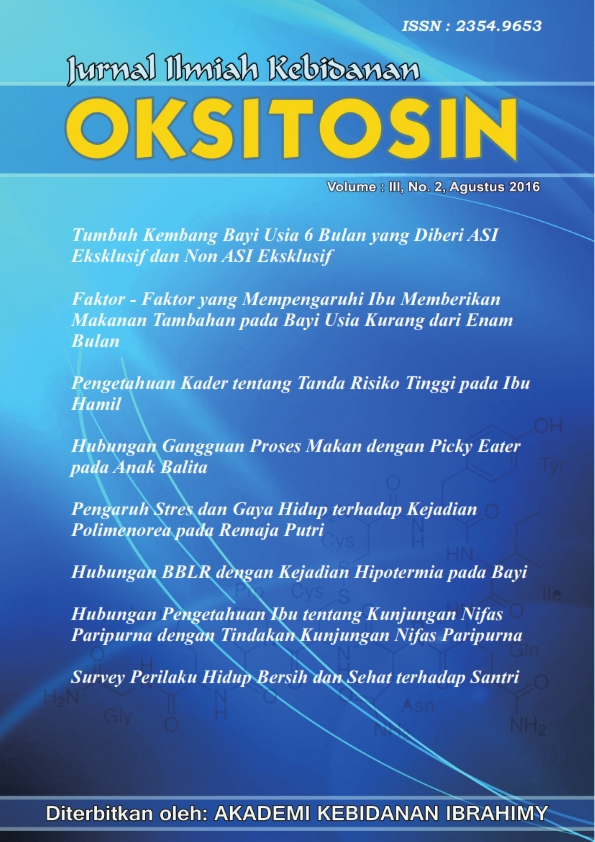 How to Cite
Setiawati, Y. (2016) "HUBUNGAN PENGETAHUAN IBU TENTANG KUNJUNGAN NIFAS PARIPURNA DENGAN TINDAKAN KUNJUNGAN NIFAS PARIPURNA", Oksitosin : Jurnal Ilmiah Kebidanan, 3(2), pp. 107-112. Available at: https://journal.ibrahimy.ac.id/index.php/oksitosin/article/view/389 (Accessed: 4June2023).
Abstract viewed = 221 times

PDF downloaded = 614 times