PENGATURAN PEMBAGIAN HARTA WARISAN TERHADAP OBJEK WARIS YANG BELUM DIBAGI MENURUT HUKUM ADAT
Mochamad Icksan

Universitas Jember
Keywords:
object, ascribed
Abstract
Often look and there was news lest you go astray that is not fair so that one the heirs use criminal actions by inheritance according to desire , or division of and problems associated with the estate of inheritance which ended with a legal assistance for example through court institutions , all this aimed to achieve justice , and agreement in sharing and completing administrative another problem that deals with what they have left behind .The writing of this journal against the backdrop of the disputes between members of the family the payment inheritance , one in which there was a treasure that heir of their parents has not yet been divided heirs but is controlled by one of heirs .The purpose of writing this journal that is, to know how the division of object inheritance that has not yet been divided .Research methods that were used in writing this journal is the method juridical normative with research an approach to a problem that is used the legislation.
References
Dominikus Rato, Hukum Adat di Indonesia (Suatu Pengantar), Laksbang Justitia, Surabaya
Dominikus Rato, Hukum Perkawinan dan Waris Adat, Laksbang Yustitia, Surabaya
Herowati Poesoko, Parate Executi obyek Hak Tanggungan (inkonsistensi, konflik norma dan kesatuan penalaran dalam UUHT), Yogjakarta : Laksbang Pressindo, 2008
Hilman, Hadikusuma , Hukum Waris Adat, Bandung. Citra Aditya Bakti 1993
Maman Suparman , Hukum Waris Perdata, Jakarta: Sinar Grafik. 2015
Peter Mahmud, Marzuki, Penelitian Hukum, Jakarta: Kencana. 2014
Sigit Sapto Nugroho, Hukum Waris Adat di Indonesia, Madiun: Pustaka Iltizam. 2017
Kitab Undang-undang Hukum Perdata
Putusan Pengadilan Negeri Medan Nomor: 653/Pdt. G/2017/PN.Mdn.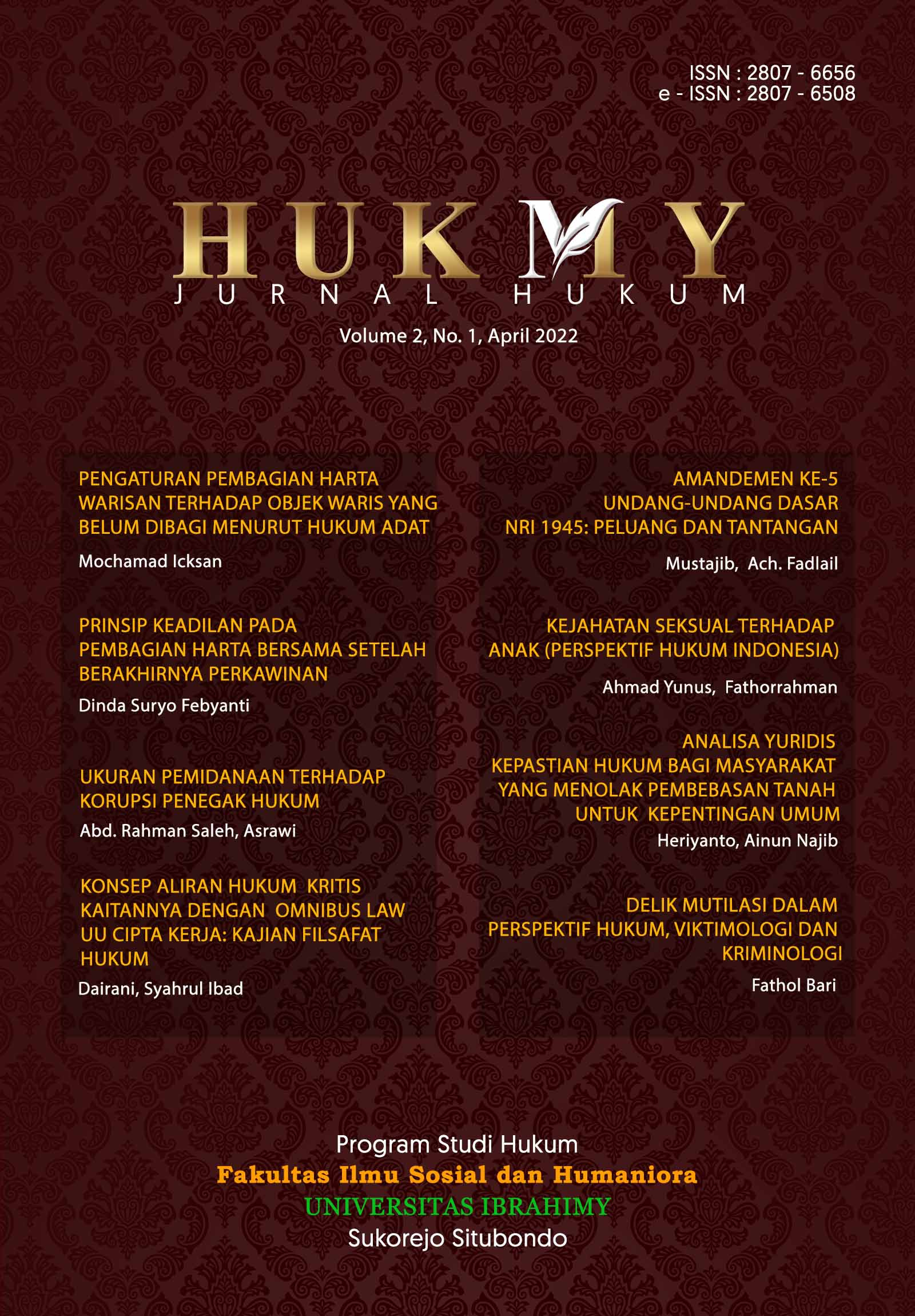 How to Cite
Icksan, M. (2022). PENGATURAN PEMBAGIAN HARTA WARISAN TERHADAP OBJEK WARIS YANG BELUM DIBAGI MENURUT HUKUM ADAT. HUKMY : Jurnal Hukum, 2(1), 1-13. https://doi.org/10.35316/hukmy.2022.v2i1.1-13
Copyright (c) 2022 HUKMY : Jurnal Hukum
This work is licensed under a Creative Commons Attribution-NonCommercial-ShareAlike 4.0 International License.
Abstract viewed = 159 times

PDF downloaded = 243 times