Aplikasi Smart Inventory System Menggunakan Framework CodeIgniter di Toko Sumber Barokah Kraksaan
Andi Wijaya

Fakultas Teknik, Universitas Nurul Jadid, Indonesia
Keywords:
Sistem, Inventory, Framework,
Abstract
Sumber Barokah Kraksaan store sells various types of staples as well as other household needs. However, currently Sumber Barokah Stores do not yet use a computerized system so that managing stock and sales data takes a long time, as well as financial reports that are sometimes felt to be inaccurate to store owners because they still use conventional methods, namely recording in books. Shop owners often make mistakes in recording goods that have been sold, resulting in errors when ordering the next item, which results in excess stock and costs of procuring the wrong goods, causing losses for the shop owner. Monitoring goods data automatically using the ROP and ROQ methods. The research method used is the Research and Development method and the system development model uses the Prototype method. The resulting application can make it easier for store owners to monitor goods and inventory, and also make it easier to find out the results of income reporting analysis at Sumber Barokah stores, as well as make it easier for shop owners to transact with customers.
References
[1] M. A. Swasono dan A. T. Prastowo, "Analisis dan Perancangan Sistem Infomasi Pengendalian Persediaan Barang," vol. 2, no. 1, hlm. 10.
[2] P. C. P. Dewi, N. T. Herawati, dan M. A. Wahyuni, "Analisis Pengendalian Persediaan dengan Metode (EOQ) Economic Order Quantity Guna Optimalisasi Persediaan Bahan Baku Pengemas Air Mineral," vol. 10, no. 2, hlm. 12, 2019.
[3] R. Setiyanto, N. Nurmaesah, dan N. S. A. Rahayu, "Perancangan Sistem Informasi Persediaan Barang Studi Kasus di Vahncollections," JSG, vol. 9, no. 1, Mar 2019, doi: 10.38101/sisfotek.v9i1.267.
[4] S. Hidayat dan S. Hidayatulloh, "Perancangan Sistem Aplikasi Inventory Barang Agent PT Infomedia Solusi Humanika," hlm. 8.
[5] T. Rafliana dan B. R. Suteja, "Penerapan Metode EOQ dan ROP untuk Pengembangan Sistem Informasi Inventory Bengkel MJM Berbasis Web," vol. 4, hlm. 10, 2018.
[6] U. Usmiar, L. Suwita, dan W. Irawan, "Analisis Pengendalian Persediaan Bahan Baku Guna Kelancaran Proses Produksi (Studi Kasus: Pabrik Tahu ATB Gunung Sarik Kota Padang)," ME, vol. 7, no. 2, Okt 2021, doi: 10.31869/me.v7i2.2871.
[7] M. Z. I. Nafi'a, I. N. S. Degeng, dan Y. Soepriyanto, "Pengembangan Multimedia Interaktif Materi Perkembangan Kemajuan Teknologi Pada Mata Pelajaran Ilmu Pengetahuan Sosial," hlm. 10.
[8] M. R. Apriansyah, "Pengembangan Media Pembelajaran Video Berbasis Animasi Mata Kuliah Ilmu Bahan Bangunan di Program Studi Pendidikan Teknik Bangunan Fakultas Teknik Universitas Negeri Jakarta," jpensil, vol. 9, no. 1, hlm. 9–18, Jan 2020, doi: 10.21009/jpensil.v9i1.12905.
[9] A. Suprapto, "Pengembangan Aplikasi Kuliah Kerja Nyata Pada IAIN Salatiga dengan Metode Prototype," vol. 5, no. 1, hlm. 9, 2020.
[10] N. Renaningtias dan D. Apriliani, "Penerapan Metode Prototype Pada Pengembangan Sistem Informasi Tugas Akhir Mahasiswa," Rekursif, vol. 9, no. 1, Mei 2021, doi: 10.33369/rekursif.v9i1.15772.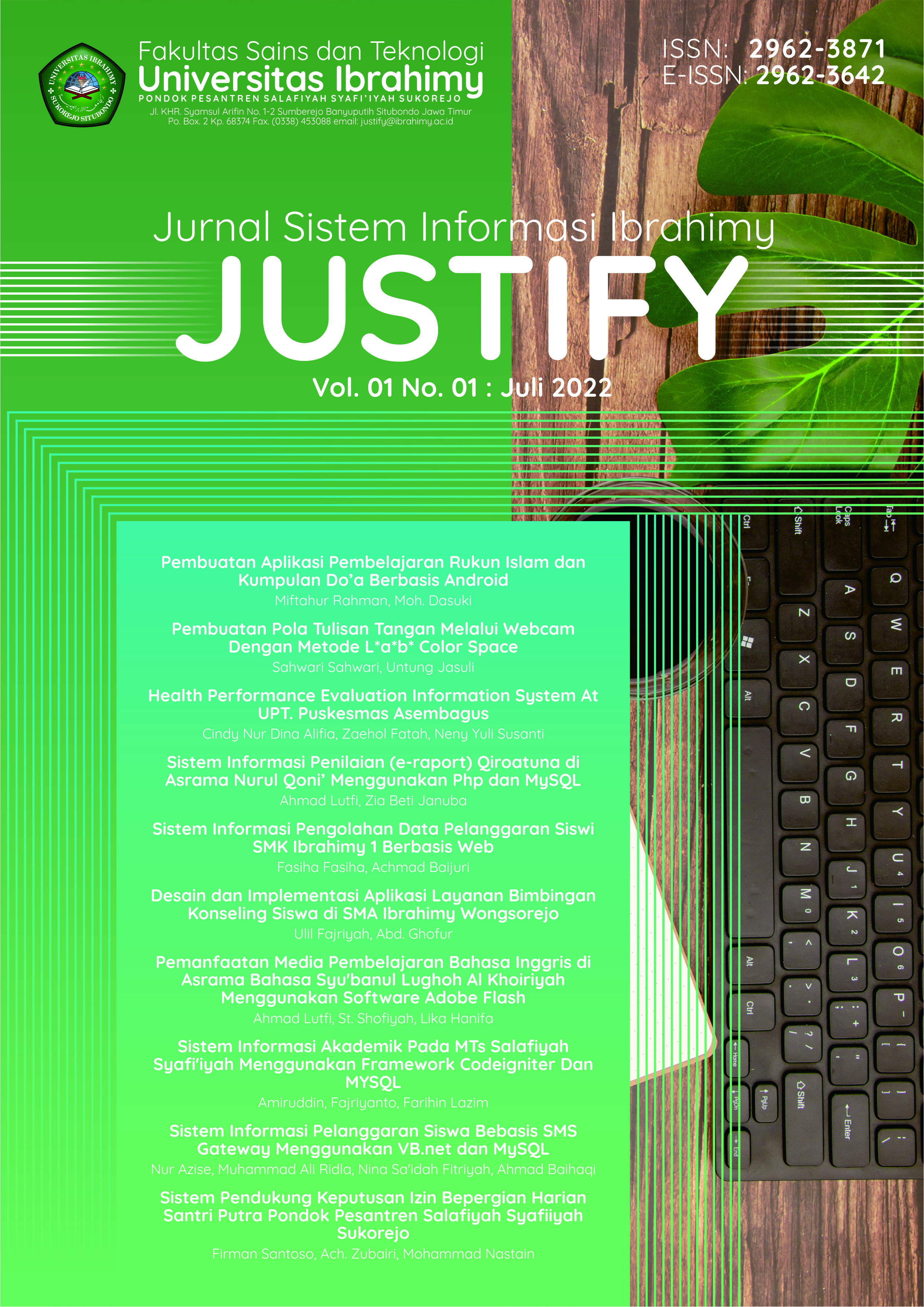 How to Cite
Wijaya, A. (2023). Aplikasi Smart Inventory System Menggunakan Framework CodeIgniter di Toko Sumber Barokah Kraksaan. JUSTIFY : Jurnal Sistem Informasi Ibrahimy, 2(1), 64-73. https://doi.org/10.35316/justify.v2i1.3360
Copyright (c) 2023 Andi Wijaya
This work is licensed under a Creative Commons Attribution-NonCommercial 4.0 International License.
Abstract viewed = 30 times

PDF (Bahasa Indonesia) downloaded = 32 times