PRINSIP KEADILAN PADA PEMBAGIAN HARTA BERSAMA SETELAH BERAKHIRNYA PERKAWINAN
Dinda Suryo Febyanti

Universitas Jember
Keywords:
Priciples of Justice, Shared Assets, Gono-gini
Abstract
Article 97 KHI not to provide a settlement holistically in terms of wealth with, if there is a divorce a regulation or the legal, was based on a sense of justice but in this, the principle of justice has not been fully. if it above the legal problems and the description above is vagueness. formulationThe division of property with KHI, Article 97 KHI stipulated in article where widows and widowers to half of the wealth with, the distribution will be fair when husband and wife give the same contribution, during marriage one of the parties not, carrying out their obligations as there is no give provisions and the wife who do not propose, households fairness were the division of property with the contribution that the parties, where division fair not to be broken 50 percent for widowers and 50 percent to her. However, the widower can get a smaller share than the widow if his contribution is less during the marriage and does not carry out his obligations as the breadwinner. Related to the lawsuit for the distribution of joint assets, it also considers the element of justice for the parties. One example is the decision in the Supreme Court No: 266 K/AG/2010 dated July 21, 2010. In the final case at the Supreme Court, the distribution of joint property was decided by dividing for the wife (plaintiff) and for the husband (defendant).
References
Andy, Hartanto J, Hukum Harta Kekayaan Perkawinan, Cet.2, (Yogyakarta: Laksbang Grafika, 2012)
Dyah Ochtorina Susanti, A'an efendi, Penelitian Hukum, ( Jakarta : Sinar Grafika 2014 )
John Rawls, Teori Keadilan, (Yogyakarta: Pustaka pelajar, 2011)
Mohammad Idris Ramulyo, Hukum Perkawinan, Hukum Kewarisan, Hukum Peradilan Agama dan Zakat Menurut Hukum Islam, 2000 (Jakarta, Sinar Grafika)
Peter Mahmud Marzuki, Penelitian Hukum, Edisi Revisi Cetakan ke 9, (Jakarta : Kencana Prenada Media Group 2014).
Undang – Undang Nomor 1 Tahun 1974 tentang Perkawinan
Kompilasi Hukum Islam (KHI)
Kitab Undang – Undang Hukum Perdata (BW)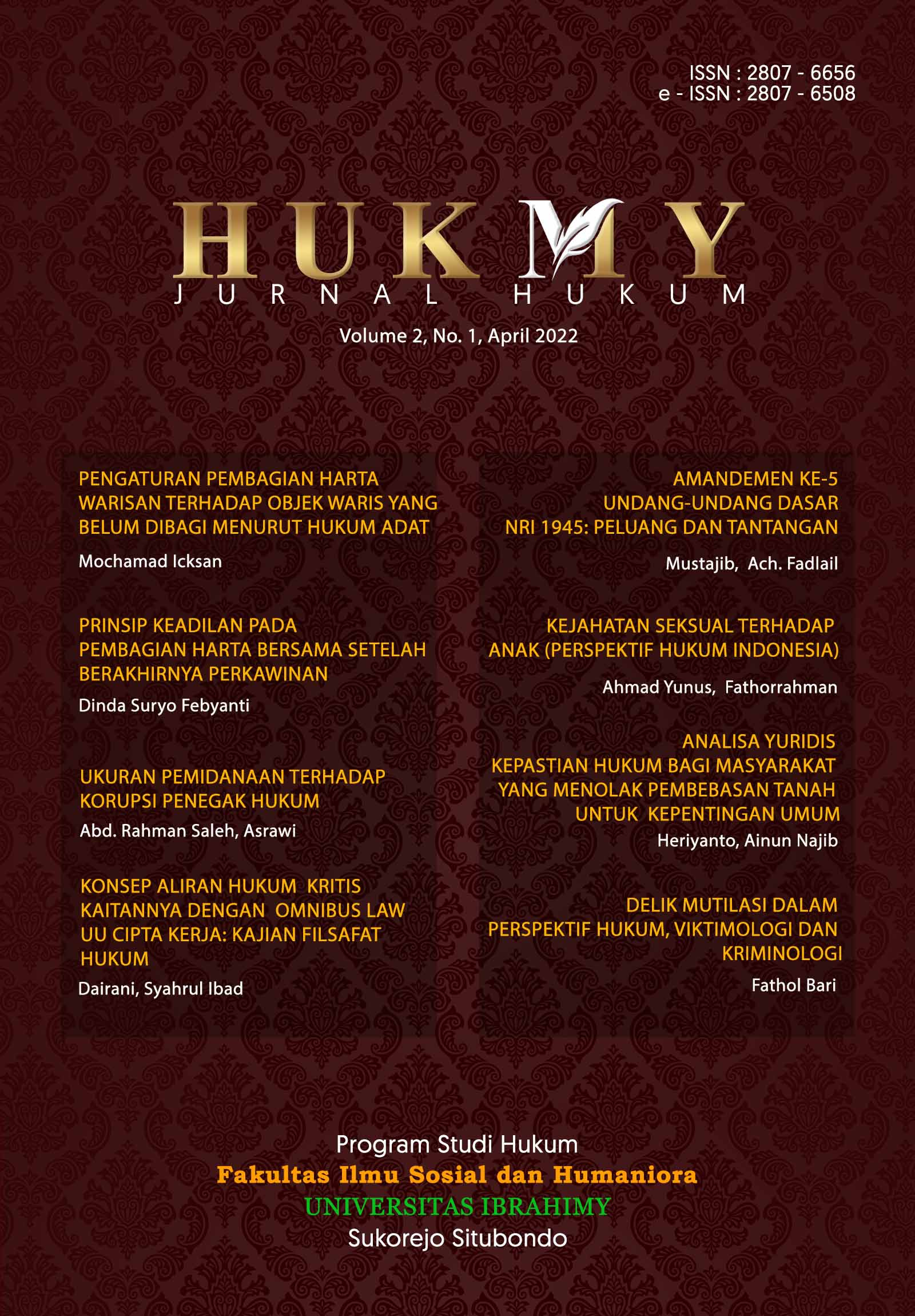 How to Cite
Suryo Febyanti, D. (2022). PRINSIP KEADILAN PADA PEMBAGIAN HARTA BERSAMA SETELAH BERAKHIRNYA PERKAWINAN. HUKMY : Jurnal Hukum, 2(1), 14-26. https://doi.org/10.35316/hukmy.2022.v2i1.14-26
Copyright (c) 2022 HUKMY : Jurnal Hukum
This work is licensed under a Creative Commons Attribution-NonCommercial-ShareAlike 4.0 International License.
Abstract viewed = 165 times

PDF downloaded = 248 times