CELLULOLYTIC BACTERIA MANGROVE LEAF LITTER IN BANGKA ISLAND
Ardiansyah Kurniawan

Fakultas Pertanian, Perikanan dan Biologi, Universitas Bangka Belitung, Kab. Bangka, Provinsi Kepulauan Bangka Belitung,

Asep Awaludin Prihanto

Fakultas Perikanan dan Ilmu Kelautan, Universitas Brawijaya, Kota Malang

Suci Puspitasari

Fakultas Pertanian, Perikanan dan Biologi, Universitas Bangka Belitung, Kab. Bangka, Provinsi Kepulauan Bangka Belitung,

Andi Kurniawan

Fakultas Perikanan dan Ilmu Kelautan, Universitas Brawijaya, Kota Malang

Euis Asriani

Fakultas Pertanian, Perikanan dan Biologi, Universitas Bangka Belitung, Kab. Bangka, Provinsi Kepulauan Bangka Belitung,

Abu Bakar Sambah

Fakultas Perikanan dan Ilmu Kelautan, Universitas Brawijaya, Kota Malang
Keywords:
Bangka Island, Mangrove Leaf Litter, Selulolitic Bacteria
Abstract
The study aimed to obtain isolate of cellulolytic bacteria from leaf litter on mangrove in Bangka Island. Sampling was conducted on mangroves in Sungailiat, Bangka and Tukak Sadai, South Bangka district. The isolation was carried out using 1% enriched agarmedia of Carboxymetyl Cellulose (CMC). The bacterial isolates were tested with cellulolytic growth on 1% enriched CMC agar medium and lugol added at 72 hours. The clear zone resultingindicates cellulose degradation ability. The positive isolate of  cellulolyticwas identified by biochemical tests. 1 of 5 isolates in Sungailiat positive cellulolytic mangroves and identified as Bacillus subtilis. 2 of 5 isolates in mangrove Tukak Sadai is positive as a cellulolytic bacteria and identified as Staphylococcus saproviticus and Bacillus cereus.
Downloads
Download data is not yet available.
References
Andriani, Y, S Sastrawibawa, R Safitri, Abun. 2012. Isolasi Dan Identifikasi Mikroba Selulolitik Sebagai BiodegradatorSerat Kasar Dalam Bahan Pakan Dari Limbah Pertanian. IJAS Vol. 2 Nomor 3 Edisi Desember 2012
Azizah, S.N., Muzakhar, K., Arimurti, S. 2014. Skrining Bakteri Selulolitik Asal Vermicomposting TandanKosong Kelapa Sawit. Berkala Sainstek 2014, II (1)
Heck, J.X., Plinho, F.H., Marco, A.Z.A. 2002. Cellulase and xylanase production by isolated amazon bacillus strain using soybean industrial residue based solid state cultivation. Brazil J Microbiol 33
Karthikeyan, K. dan Sahayarayan, J. 2017. Antibacterial Activity of a Novel Bacillus cereusisolated from Mangrove Ecosystem. International Journal of Current Microbiology and Applied SciencesVolume 6 Number 8 pp. 3302-3306
Mulyasari, Widanarni, M., Suprayudi, A.,Junior, M.Z dan Sunarno, M.T.D. 2015. Seleksi Dan Identifikasi Bakteri Selulolitik PendegradasiDaun Singkong (Manihot Esculenta) Yang Diisolasi DariSaluran Pencernaan Ikan Gurame (Osphronemus Gouramy). JPB Kelautan dan Perikanan Vol. 10 No. 2 Tahun 2015: 111–121
Nurrochman, F. 2015. Eksplorasi Bakteri Selulolitik Dari TanahHutan Mangrove Baros Kretek, Bantul,Yogyakarta. Naskah Publikasi. Fakultas Keguruan Dan Ilmu Pendidikan. Universitas Muhammadiyah Surakarta
Onyemelukwe, N.F., and Nwokocha, A.R.C. 2013. Staphylococcus Saprophyticus Infection As A Cause Of Uti InFemale Adolescents In Enugu Area, Nigeria. IOSR Journal of Dental and Medical Sciences (IOSR-JDMS). Volume 11, Issue 5.
Pamungkas, W., dan Ikhsan, K. 2010. Uji Pendahuluan : Efektifitas Bacillus sp Untuk Peningkatan Nilai Nutrisi Bungkil Kelapa Sawit Melalui Fermentasi. Prosiding Forum Inovasi Teknologi Akuakultur 2010.
Pramudji, 2000. Dampak Perilaku Manusia PadaEkosistem Hutan Mangrove Di Indonesia. Oseana Volume XXV, Nomor 2.
Priadie, B. 2012. Teknik Bioremediasi Sebagai Alternatif Dalam UpayaPengendalian Pencemaran Air. Jurnal Ilmu Lingkungan Volume 10, Issue 1: 38-48.
Puspitasari, S., dan Rosalina, D. 2014. Tingkat Keberhasilan Penanaman Mangrove pada Lahan PascaPenambangan Timah di Kabupaten Bangka Selatan. Maspari Journal, Vol. 6, No. 2.
Putu S.B. 2015. Isolasi Bakteri Selulolitik Dari LahanPertanian Di Desa Candikuning Bedugul. Skripsi. Fakultas Teknologi Pertanian. Universitas Udayana
Qolby, E.R., Agustono, Y.C. 2012. Kandungan Serat Kasar Dan Protein Kasar Pada DaunTalas (Colocasia Esculenta) Yang Difermentasi DenganTrichoderma Viride Dan Bacillus Subtilis Sebagai BahanPakan Alternatif Ikan. Media Journal Of Aquaculture And Fish Health Volume : 1 - No. 3 Terbit : 9-2012
Ritonga, D.R. 2014. Keanekaragaman Bakteri Serasah DaunRhizophora apiculataYang Mengalami DekomposisiPada Berbagai Tingkat Salinitas Di Kota PariPantai Cermin Sumatera Utara. [Tesis]Program Pascasarjana. Universitas Sumatera Utara.
Sakhia, N.S., Prajapati, V., Shetty, S., Bhatt, A., Bhadalkar. 2016. Study of Bacterial Diversity of MangrovesRhizosphere. Open Journal of Marine Science, 2016, 6.
Thenmozhi, C., Sankar, R., Karuppiah, V., Sampathkumar, P. 2011. L-asparaginase production by mangrove derived Bacillus cereus MAB5:optimization by response surface methodology. Asian Pacific Journal of Tropical Medicine (2011)486-491
Umroh, 2015. Penyemaian Dan Penanaman Rhizophora Apiculata Di Daerah PascaPenambangan Timah Inkonvensional (TI)Di Muara Kudai Kabupaten Bangka. Jurnal Kelautan Volume 8, No. 1.
Yahya, H. Nursyam, Y. Risjani, dan Soemarno. 2014. Karakteristik Bakteri di Perairan Mangrove Pesisir Kraton Pasuruan. Ilmu Kelautan Maret 2014 Vol. 19(1):35-42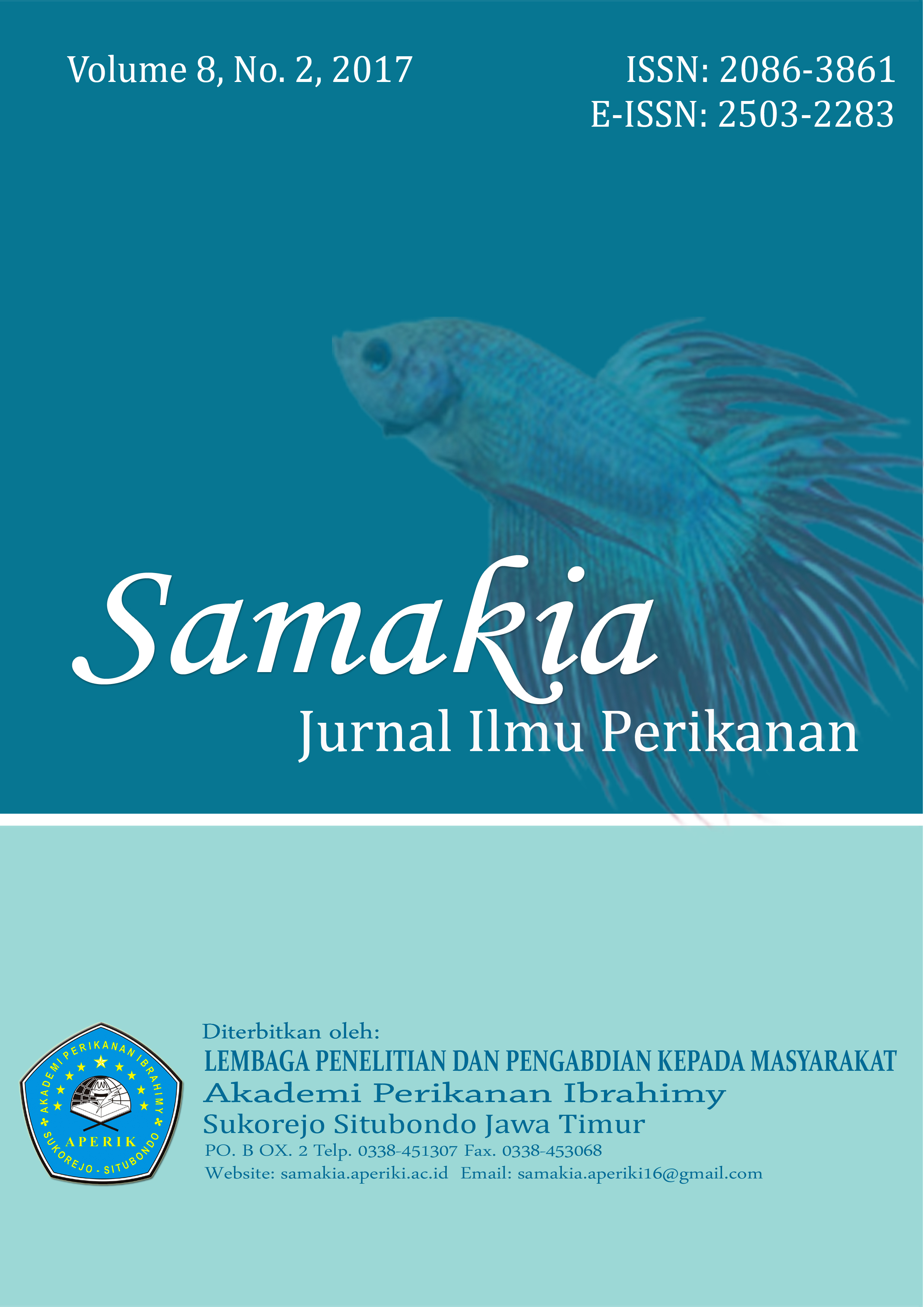 How to Cite
Kurniawan, A., Prihanto, A. A., Puspitasari, S., Kurniawan, A., Asriani, E., & Sambah, A. B. (2017). CELLULOLYTIC BACTERIA MANGROVE LEAF LITTER IN BANGKA ISLAND. Samakia : Jurnal Ilmu Perikanan, 8(2), 33-38. https://doi.org/10.5281/jsapi.v8i2.264
Copyright (c) 2017 Ardiansyah Kurniawan, Asep Awaludin Prihanto, Suci Puspitasari, Andi Kurniawan, Euis Asriani, Abu Bakar Sambah
This work is licensed under a Creative Commons Attribution-NonCommercial 4.0 International License.
Abstract viewed = 98 times

PDF (Bahasa Indonesia) downloaded = 0 times