PELATIHAN PENDAMPINGAN PENGEMBANGAN KEPROFESIAN BERKELANJUTAN GURU SMP PLUS AL-QODIRI JEMBER MELALUI PELATIHAN PENULISAN KARYA TULIS ILMIAH
Muhamad Ansori

IAI Al-Qodiri Jember
Keywords:
Karya Tulis Ilmiah, Pengalaman Terbaik
Abstract
Based on the results of interviews conducted with teachers of SMP Plus Al-Qodiri Jember, it was found that the teachers were still having difficulty in promotion. This difficulty is because the teacher does not have the skills in writing scientific papers, as well as the habit of teachers who never do research. For this reason, it is necessary to make efforts to provide skills to teachers to carry out research, write scientific papers and publish them. One form of simple research that can be easily carried out by teachers is to carry out Classroom Action Research (CAR). In practice, the teacher looks very enthusiastic in participating in the entire series of service activities carried out by this service team, this is because it can be a source of knowledge and hone the teacher's ability to make scientific papers. From the results of observations, it is found that the teachers already have the knowledge and ability to make scientific papers that come from the implementation of Classroom Action Research (CAR).
References
Disdik Gresik. Pedoman Penulisan PTK KKG/ MGMP. Gresik: Dinas Pendidikan. 2015.
Hamalik, O. Guru Profesional. Bandung: Rosdakarya. 2003.
Kemdikbud. Pedoman Lomba Penulisan PTK Pengawas Sekolah Dalam Pelaksanaan Tugas Pengawasan. Jakarta: Direktorat Pembinaan Pendidik Dan Tenaga Kependidikan Pendidikan Menengah, Direktorat Jenderal Pendidikan Menengah. 2013.
Permenpan dan RB No. 16 tentang Jabatan Fungsional Guru dan Angka Kreditnya
Undang-Undang Nomor 20 Tahun 2003 tentang Sistem Pendidikan Nasional,
Undang Undang No 14 Tahun 2005 tentang Guru dan Dosen
Peraturan Pemerintah Republik Indonesia Nomor 32 Tahun 2013 Tentang Perubahan Atas Peraturan Pemerintah Nomor 19 Tahun 2005 Tentang Standar Nasional Pendidikan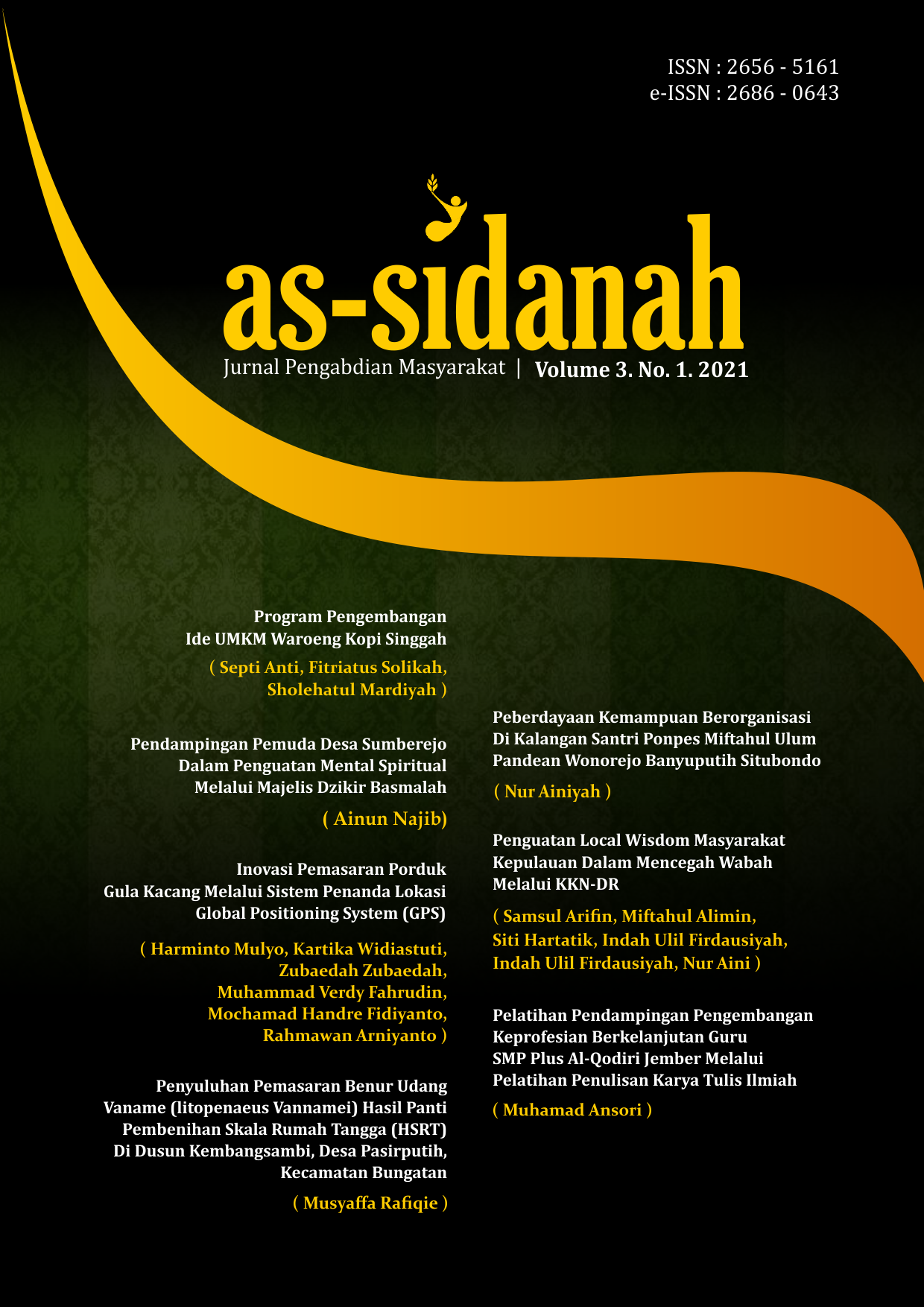 How to Cite
Ansori, M. (2021). PELATIHAN PENDAMPINGAN PENGEMBANGAN KEPROFESIAN BERKELANJUTAN GURU SMP PLUS AL-QODIRI JEMBER MELALUI PELATIHAN PENULISAN KARYA TULIS ILMIAH. As-Sidanah : Jurnal Pengabdian Masyarakat, 3(1), 139-156. https://doi.org/10.35316/assidanah.v3i1.972
Abstract viewed = 39 times

pdf downloaded = 17 times