NGAJI SOSMED TANGKAL PEMAHAMAN RADIKAL MELALUI PENDAMPINGAN KOMUNITAS LANSIA DENGAN SAJIAN PROGRAM NGABARI DI DESA SUKOREJO SUKOWONO JEMBER
Hosaini Hosaini

Universitas Bondowoso
Keywords:
Ngaji Sosmed, Pemahaman Radikal
Abstract
This outreach program is carried out in Sukurejo village in Sukowono, Jember with an agrarian society. The method used is the location survey. They are finding out the problems experienced by the community to local community leaders and submitting proposals, involving students or members of the team, coaching and planning the implementation of "NGABARI", gathering communities who will be members of assistance, planning programs that will be implemented as the solution of solving the problems experienced by the community. determine the time and deliver students or teams to the location, collaborate with community leaders to carry out the planned "NGABARI" program, carry out monitoring and evaluation midway through the implementation of activities, monitoring and evaluation at the end of the month because the ngabari program is carried out once a week. The results obtained are an increase in the competence of community religious learning and be able to align community understanding that is contradictory to the essence of Islamic religious learning in a basic way. Radical religious ideology caused by social media can be tipped with the "NGABARI" program activities.
References
UUD No. 28 Tahun 2006
Taufiqurrahamn DKK. Laporan Kegiatan Pengabdian Kepada Masyarakat "pelatihan khotib dan Bilal dikecamatan Uya Kabupaten tabalong 2014.
Sunarimo. Pendampingan Forum komonikasi Pendidikan Al Qur'an ( dalam pembinaan Taman Pendidikan Al Qur'an) 2011.
Nur Hayati Tine. Pembinaan Karakter Bagi Karang Taruna Desa Rejonegoro Melalui CROSS Curtural learning ( Suatu Pendekatan Pendidikan Agama dan Kearifa Budaya Lokal) 2016.
Hosaini Annaba' Implementasi Media Pembelajaran Volume 3 2017.
Depdiknas RI, Kamus Besar Bahasa Indonesia, (Jakarta : Balai Pustaka, 2002.
Ardianto Elvinaro, Komunikasi Massa : Suatu Pengantar, Bandung : Simbiosa Rekatama
Media, Thea Rahmani, Penggunaan Media Sosial Sebagai Penguasaan Dasar-Dasar Fotografi Ponsel, Universitas Islam Negeri Sunan Kalijaga Yogyakarta, 2016.
Michael Haenlein, Users of the world, unite! The challenges and opportunities of Social Media". Business Horizons, 2010.
Rulli Nasrullah, Media Sosial : Perspektif Komunikasi, Budaya, dan Sosioteknologi, (Bandung : Remaja Rosdakarya, 2017.
Tim pusat Perdagangan RI Pandua Optimalisasi Media Sosial Untuk Kementrian Perdanganan RI (Jakarta, Pusat Humas Kementrian Perdagangan RI:2014.
Hosaini Devebloment basid learning Perspektif Al Ghazali tahun 2018.
Kartono, kartini Pengantar Metodelogi Risets bandung Alumni 1995
Burhan Bungin, Metodologi Penelitian Sosial: Format-format Kuantitatif dan Kualitatif, Surabaya: Airlangga University Press, 2001.
Yusuf Qardlawi Islam Radikal analisis terhadap Radikalisme dama berislam dan upaya Pemecahannya ,solo Era Intermadia, 2014.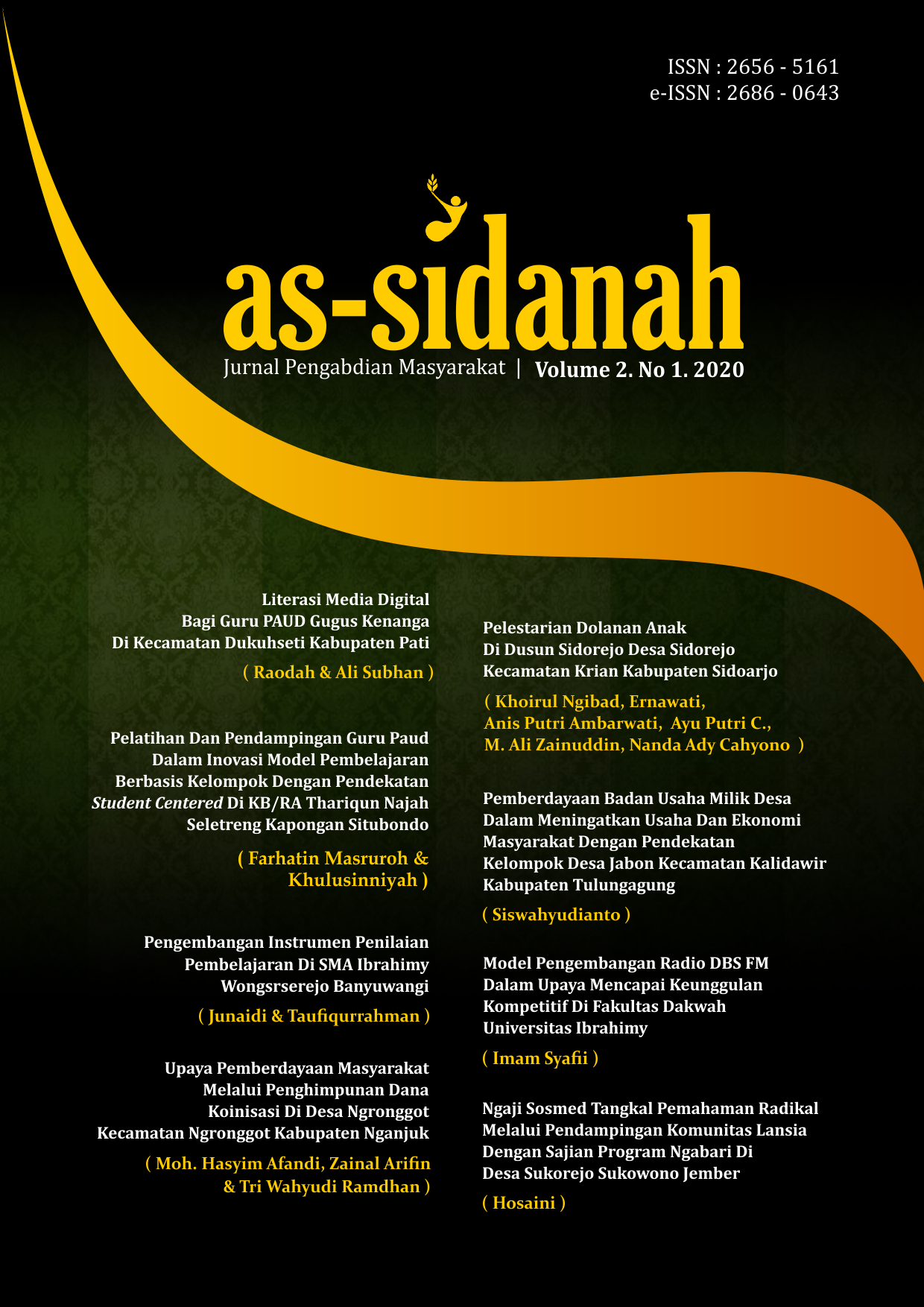 How to Cite
Hosaini, H. (2020). NGAJI SOSMED TANGKAL PEMAHAMAN RADIKAL MELALUI PENDAMPINGAN KOMUNITAS LANSIA DENGAN SAJIAN PROGRAM NGABARI DI DESA SUKOREJO SUKOWONO JEMBER. As-Sidanah : Jurnal Pengabdian Masyarakat, 2(1), 159-190. https://doi.org/10.35316/assidanah.v2i1.758
Abstract viewed = 94 times

pdf downloaded = 84 times