PEBERDAYAAN KEMAMPUAN BERORGANISASI DI KALANGAN SANTRI PONPES MIFTAHUL ULUM PANDEAN WONOREJO BANYUPUTIH SITUBONDO
Nur Ainiyah

Universitas Ibrahimy Situbondo, Indonesia
Keywords:
komunikasi, organisasi, kepemimpinan
Abstract
This outreach program aimed to train students in achieving organizational skills, management, leadership and communication skills. It was located in Miftahul Ulum Islamic Boarding School. Based on the result of the interview data and documentation, it shows that: the organizational activities of the Miftahul Ulum Islamic Boarding School students include the management structure and the head of the division who is responsible for each position; students carry out activities by focusing more on learning objectives; meeting involve activity planning, activity actualization, activity arrangement and activity controlling are carried out once a month with a facilitator.
References
Atabik Ali, Kamus Kontemporer Arab Indonesia, Yogyakarta, Yayasan Ali Ma'sum, 1997, cet. ke-2.
Abdurrahman Wahid, Menggerakan Tradisi ; Esai-esai Pesantren, Yogyakarta, LKiS, 2001, cet.ke-1.
Atabik Aliga Rampai Pesantren Jakarta: Dharma Bakti, 1984,
A.Mukti Ali, Ta'lim al-Muta'alim Versi Imam Zarkasyi, Ponorogo, Trimurti, 1991, Cet.ke-1.
Abd. Hayy Al-Farmawi, al-Bidayah fi al-Tafsir al-Mawdhu'iy: Dirasah Manhajiah Maudhu'iyah, Penrj. Suryan A. Jamrah dengan judul: Metode Tafsir Maudhu'iy: Sebuah Pengantar, Jakarta: Raja Grafindo Persada; 1994.
Ahmad, Muhammad, al-'Alimiy, Thara>iq al-Nabiy fi> ta'li>mi ashh}a>bihi
Beirut:Dar Ibnu Hajm, 2001.
Ahmad Tohari, Mas mantri Menjenguk Tuhan, jakarta: Risalah Gusti, 1997.
Amir Hamzah Wirosukarto, et.al., K.H. Imam Zarkasyi dari Gontor Merintis Pesantren Modern, Ponorogo : Gontor Press, 1996 , Cet.ke-1.
Arif Mudatsir Mandan, (Penyusun) , Di Bawah Panji-Panji Ka'bah, Konsistensi dan integritas Perjuangan, 60 Tahun Dr. Hamzah Haz, Jakarta:Georai Pratama Press, 2000, Cet. Ke-1.
Azyumardi Azra, Islam Substantif Agara Umat tidak Menjadi Buih, Mizan, Bandung: Mizan, 2000, Cetakan I.
Budhy Munawar Rahman, Kontekstualisasi Doktrin Islam dalam Sejarah Jakarta:
Mizan, 1995.
Baran. Stanley. J. Self, Symbols, and Society, Massachusetts: Addison-Wesley
Publishing Company, Inc, 1984.
Eep Saifulloh Fatah, Zaman Kesempatan, Agenda-Agenda Demokratisasi Pasca Orde Baru.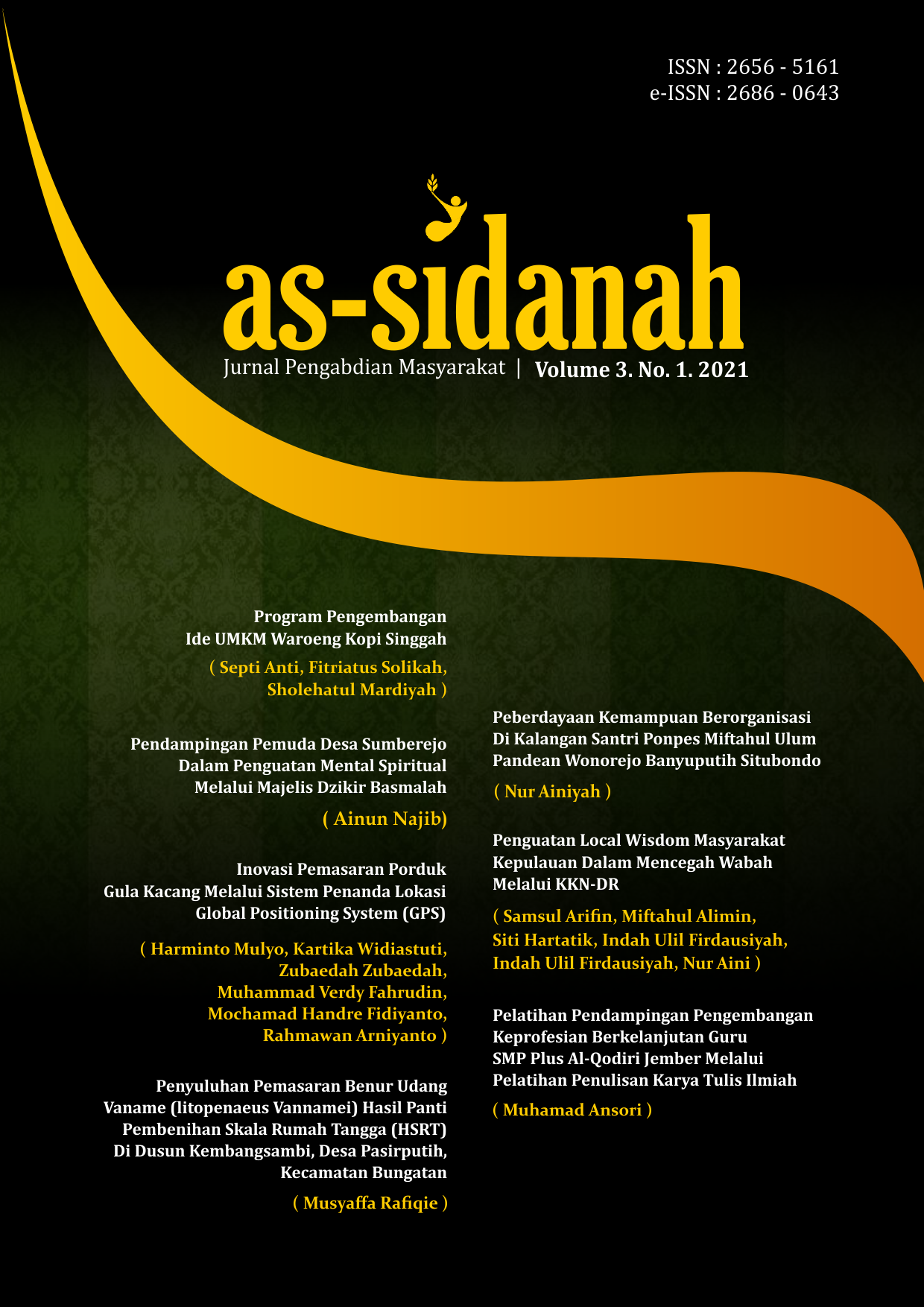 How to Cite
Nur Ainiyah. (2021). PEBERDAYAAN KEMAMPUAN BERORGANISASI DI KALANGAN SANTRI PONPES MIFTAHUL ULUM PANDEAN WONOREJO BANYUPUTIH SITUBONDO. As-Sidanah : Jurnal Pengabdian Masyarakat, 3(1), 55-86. https://doi.org/10.35316/assidanah.v3i1.1192
Abstract viewed = 36 times

pdf downloaded = 29 times