KONSISTENSI PENILAIAN DALAM MELAKSANAKAN PEMBELAJARAN DI PAUD
Khulusinniyah Khulusinniyah

Universitas Ibrahimy Situbondo
Keywords:
Consistency; Assessment; PAUD
Abstract
Carrying out an assessment is one of the teacher's obligations in carrying out a series of learning. Even in PAUD, assessment becomes an obligation for teachers to find out the extent of child development and the success of the stimulation carried out by the teacher. The results of the assessment will then become an evaluation of the learning process carried out, so that the assessment must be truly objective. To achieve the objectivity of an assessment in PAUD, there needs to be consistency in setting indicators, assessment criteria, and learning outcomes, so that children are not disadvantaged, and the follow-up of these assessments can really develop the child's potential optimally.
References
Anas Sudijono dalam Novan Ardy Wiyani, 2014. Mengelola dan Mengembangkan Sosial dan Emosi Anak Usia Dini, (Yogyakarta: Ar-Ruzz Media.
Anita Yus, 2012. Penilaian Perkembangan Belajar Anak Taman Kanak-Kanak, Jakarta: Kencana Prenada Media Group.
Djuwairiyah, 2020. Dasar-Dasar Pendidikan, Situbondo: Percetakan Jayarose.
E. Mulyasa. 2012. Manajemen Paud, Bandung: PT.Remaja Rosdakarya.
Elvirakhori "Penilaian Pembelajaran AUD" diakses pada 10 oktober 2018. http://elvirakhori.16mb.com/paud/mata-kuliah/penilaian-pembelajaran-anak-usia-dini/,
Keputusan Dirjenpendis No.2766 tahun 2019 juknis penilaian perkembangan anak di RA.
Lara Fridani, Sri Wulan, Sri Indah Pujiastuti, 2008. Evaluasi Perkembangan Anak Usia Dini, Jakarta: Penertbit Universitas Terbuka
Muhammad, Fadillah. 2012. Desain Pembelajaran PAUD, Jogjakarta: Ar-ruzz Media.
Suyadi, Dahlia. 2014. Implementasi dan Inovasi Kurikulum PAUD 2013 (Bandung: PT Remaja Rosdakarya Offset.
Triato, 2008. Desain Pengembangan pembelajaran Tematik Jakarta: Kencana Prenada Media Group.
Uyu Wahyudin, Mubiar Agustin. 2012 Penilaian Perkembangan Anak Usia Dini, Bandung: Refika Aditama.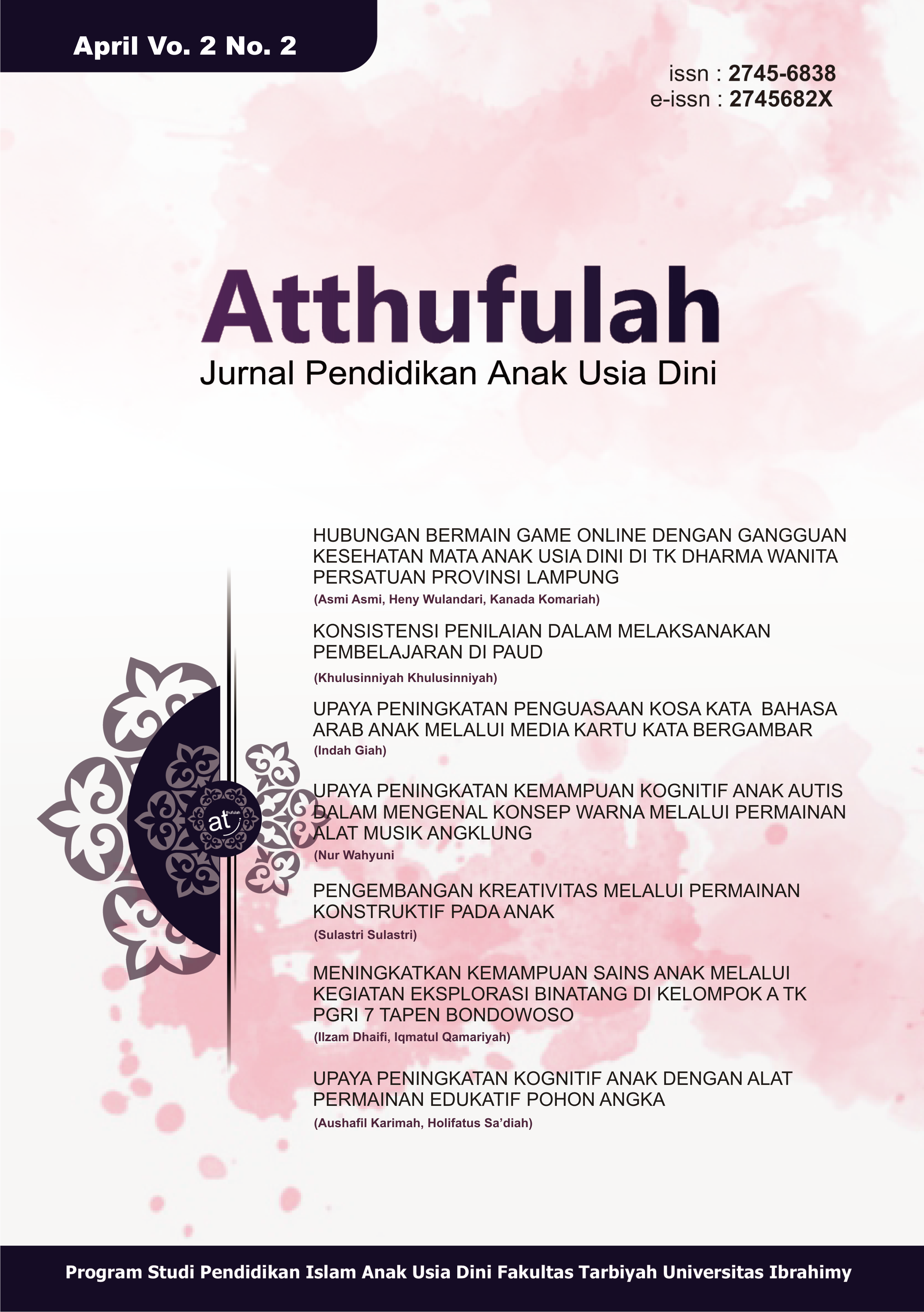 How to Cite
Khulusinniyah, K. (2022). KONSISTENSI PENILAIAN DALAM MELAKSANAKAN PEMBELAJARAN DI PAUD. Atthufulah : Jurnal Pendidikan Anak Usia Dini, 2(2), 56-65. https://doi.org/10.35316/atthufulah.v2i2.2220
Copyright (c) 2022 Khulusinniyah Khulusinniyah
This work is licensed under a Creative Commons Attribution-ShareAlike 4.0 International License.
Abstract viewed = 400 times

FULL TEXT PDF downloaded = 302 times