Pengaruh Ukuran Serbuk Terhadap Karakteristik Rendaman Serbuk Daun Azadirachta Indica Dalam Minyak Zaitun
M. Eko Pranoto

Program Studi Farmasi, Fakultas Ilmu Kesehatan, Universitas Ibrahimy

Diana Lady Yunita Handoyo

Program Studi Farmasi, Fakultas Ilmu Kesehatan, Universitas Ibrahimy
Keywords:
Daun Nimba, Ukuran Serbuk, Perendamana, Minyak Zaitun, Organoleptis
Abstract
Neem (Azadirachta indica) is known as an anti-insecticide that can affect approximately 400 species of insects. Neem is widely grown in Indonesia and easily found so it is used as a vegetable insecticide. Simple processing methods are needed so they can be easily applied. Preliminary treatment that can be done before immersion is one of them is reduction in particle size (grinding). This study aims to determine the effect of  powder size on the physical characteristics of neem leaf immersion oil. By observing the results of immersion in olive oil Nimba powder leaf  that has been sifted using 40, 60 and 80 mesh sieves. The results obtained show the size of the powder affects the color, clarity, aroma and specific gravity. Immersion oil of Neem leaf powder which sifted using 80 mesh sieve has blackish green color, concentrated and characteristic odor of neem and specific gravity of 0.907 g / ml.
Keyword : Neem Leaf, Powder Size, Immersion, Olive Oil, Organoleptic.
ABSTRAK
Nimba (Azadirachta indica) dikenal sebagai anti insektisida yang dapat berpengaruh pada kurang lebih 400 jenis serangga. Nimba banyak tumbuh di indonesia dan mudah dijumpai sehingga digunakan oleh masyarakat sebagai insektidsida nabati. Metode pengolahan secara sederhana pada pemanfaatan daun mimba diperlukan sehingga dapat dengan mudah diterapkan oleh masyarakat. Perlakuan pendahuluan yang dapat dilakukan sebelum dilakukan perendaman salah satunya pengecilan ukuran partikel (penggilingan). Penelitian ini bertujuan untuk mengetahui pengaruh ukuran serbuk terhadap karakteristik fisik minyak rendaman daun Nimba. Dengan mengamati hasil rendaman dalam minyak zaitun serbuk Nimba yang telah diayak menggunakan ayakan 40, 60 dan 80 mseh. Hasil yang diperoleh menunjukkan ukuran serbuk mempengaruhi warna, kejernihan dan aroma minyak hasil rendaman. Ukuran serbuk juga berpengaruh secara bermakna pada bobot jenis hasil rendaman. Minyak rendaman serbuk daun Nimba yang diayak menggunakan ayakan 80 mesh memiliki warna hijau kehitaman, pekat dan bau khas nimba serta bobot jenis sebesar 0,907 g/ml.
Kata Kunci : Daun Nimba, Ukuran Serbuk, Perendamana, Minyak Zaitun, Organoleptis.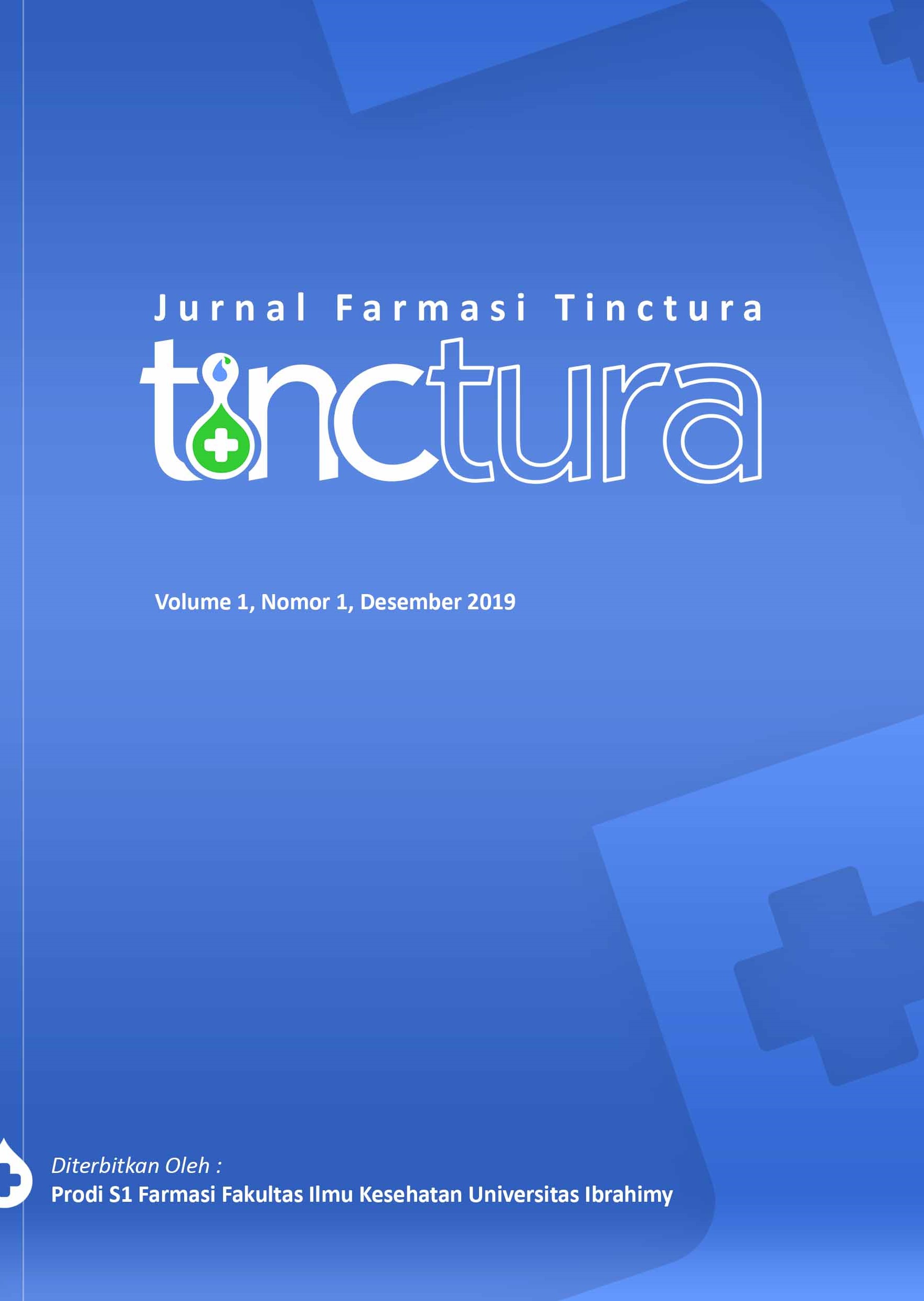 How to Cite
Pranoto, M. E., & Lady Yunita Handoyo, D. (2019). Pengaruh Ukuran Serbuk Terhadap Karakteristik Rendaman Serbuk Daun Azadirachta Indica Dalam Minyak Zaitun. Jurnal Farmasi Tinctura, 1(1), 14-20. https://doi.org/10.35316/tinctura.v1i1.985
Abstract viewed = 133 times

PDF downloaded = 144 times