Identifikasi Faktor Ibu Dengan Perdarahan Post Partum
Frisca Dewi Yunadi

STIKES Al-Irsyad Al-Islamiyyah Cilacap

Rully Andhika

STIKES Al-Irsyad Al-Islamiyyah Cilacap

Rochany Septiyaningsing

STIKES Al-Irsyad Al-Islamiyyah Cilacap
Keywords:
Perdarahan Post Partum, Umur, Paritas, Jarak Persalinan, Anemia
Abstract
Postpartum hemorrhage is bleeding that occurs immediately after labor exceeds 500 cc which is divided into primary bleeding and secondary bleeding. Untreated postpartum bleeding can lead to shock and can cause death. Cases of post partum hemorrhage in Cilacap Hospital are very high. In 2017 there were 73 cases of post partum hemorrhage and in 2018 there were 72 cases. The purpose of this study was to identify maternal factors with the incidence of post partum hemorrhage in the Cilacap Hospital in the period 2017-2018. The design of this study was to use a descriptive survey research design with a cross sectional time approach with quantitative methods. The sample in this study used a total sampling of 143 samples. Data analysis using univariate analysis. The results of the study showed that the majority of mothers who experienced post partum hemorrhage at the age of not at risk (77.6%), riskless parity (61.5%), distance at risk of birth (69.9%), no history of SC (96, 5%), anemia (72.2%), and no history of previous postpartum hemorrhage (95.1%). Suggestions for health workers more often provide education to Fertile Age Couples related to the assessment program so that the pregnancy is planned and there are no bleeding problems.
Keywords: post partum hemorrhage, age, parity, distance of labor, anemia.
ABSTRAK
Perdarahan postpartum adalah kehilangan darah melebihi 500cc yang terjadi segera setelah persalinan yang dibagi menjadi perdarahan primer dan perdarahan sekunder. Akibat dari perdarahan post partum salah satunya adalah syok dan dapat menyebabkan kematian. Angka kejadian perdarahan postpartum di RSUD Cilacap sangat tinggi. Pada tahun 2017 ada sebanyak 73 kasus perdarahan post partum dan tahun 2018 ada 72 kasus. Tujuan dari penelitian ini adalah untuk mengidentifikasi faktor ibu yang mengalami perdarahan post partum di RSUD Cilacap periode 2017-2018. Desain penelitian ini adalah menggunakan rancangan penelitian survey deskriptif dengan pendekatan waktu cross sectional dengan metode kuantitatif. Sampel dalam penelitian ini sebanyak 143 sampel. Analisa data menggunakan Analisa univariat. Hasil penelitan memperlihatkan paling banyak ibu yang mengalami perdarahan post partum pada usia tidak beresiko (77,6%), paritas tidak beresiko (61,5%), jarak persalinan beresiko (69,9%), tidak ada riwayat SC (96,5%), anemia (72,2%), dan tidak ada riwayat perdarahan postpartum sebelumnya (95,1%). Saran untuk tenaga kesehatan adalah lebih sering meberikan edukasi pada Pasangan Usia Subur berkaitan dengan program kehamilan agar kehamilan terencana dan tidak ada resiko perdarahan.
Kata Kunci : Perdarahan Post Partum, Umur, Paritas, Jarak Persalinan, Anemia
References
Anderson JM, Pula NRV. 2008. Postpartum Hemorrhage. In Family Medicine Obstetrics. USA: Mosby Elsevier
Aprillia, D. 2013. Karakteristik Ibu Bersalin yang Mengalami Perdarahan Postpartum Primer di RSUD Panembahan Senopati Bantul Tahun 2012, diakses dari :
Briley A, Seed PT, Tydeman G, Ballard H, Waterstone M, Sandall J, et al. 2014. Reporting Errors, Incidence And Risk Factors For Postpartum Haemorrhage And Progression To Severe PPH: A Prospective Observational Study. BJOG An International Journal of Obstetrics and Gynaecology, diakses tanggal 25 Februari 2018 dari :
Cuningham, F.G. 2013. Obstetri Williams. Jakarta: EGC
Depkes Propinsi Jawa Tengah. 2017. Profil Kesehatan Jawa Tengah Tahun 2017. Semarang : Depkes Propinsi Jawa Tengah
Dina, D., Seweng, A. & Nyorong, M. 2013. Faktor Determinan Kejadian Perdarahan Post Partum di RSUD Majene Kabupatem Majene, diakses dari :
Dinas Kesehatan Kabupaten Cilacap. 2017. Profil Kesehatan Kabupaten Cilacap tahun 2017. Cilacap : DKK Kabupaten Cilacap
Karjono, 2017. Kadar Hemoglobin Dan Paritas Sebagai Faktor Risiko Perdarahan Postpartum Pada Ibu Bersalin di Puskesmas Ampenan Kota Mataram, diakses dari :
Kementrian Kesehatan RI, 2017. Profil Kesehatan Indonesia Tahun 2017. Jakarta: Departemen Kesehatan RI
Krisnadi, S. R., Anwar A. D., & Alamsyah, M. (ed). 2012. Obstetri Emergensi. Jakarta : Sagung Seto
Londok, T.H.M. 2011. Karakteristik Perdarahan Antepartum Dan Perdarahan Postpartum, diakses tanggal 12 Maret 2018 dari :
Manuaba IAC., IBG. Fajar M., dan IBG. Manuaba. 2012. Ilmu Kebidanan, Penyakit Kandungan dan KB untuk Pendidikan Bidan Edisi 2. Jakarta : EGC
Mochtar, R. 2011. Sinopsis Obstetri: Obstetri Fisiologi, Obstetri Patologi. Jakarta: EGC
Proverawati, A. 2011. Anemia dan Anemia Kehamilan.Yogyakarta : Nuha Medika
Psiari, Kusuma. 2017. Faktor-faktor yang mempengaruhi terjadinya perdarahan pasca persalinan. Available online at http://ejournal.stikesaisyah.ac.id/index.php/eja.
Polly.et.al. 2009. Incidence of postpartum hemorrhage. US J Med, Vol.346, No.26, Juni 27, 2009.
Rahmi. 2009. Karakteristik Penderita Perdarahan Postpartum Yang Datang ke RSU Dr. Pirngadi Medan Tahun 2004-2008, diakses dari :
Rusady, M.A. 2017 Angka Kematian Ibu masih Tinggi, dikases dari :
Saifudin, A.B. 2012. Ilmu Kebidanan. Jakarta : PT.Bina Pustaka Sarwono Prawirohardjo
Saleha, S. 2009. Asuhan Kebidanan pada Masa Nifas. Jakarta: Salemba medika
Siswosudarmo, R. & Emilia, O. 2010. Obstetri Fisiologi. Yogyakarta: Pustaka Cendekia
Sugi dan Yuli. 2014. Pengaruh umur dan jarak kehamilan terhadap kejadian perdarahan karena atonia uteri. Bidan Prada : Jurnal Publikasi Kebidanan Akbid YLPP Purwokerto. Diakses di http://ojs.akbidylpp.ac.id
Sulistyawati, A. 2009. Buku Ajar Asuhan Kebidanan pada Ibu Nifas, Yogyakarta: CV. Andi Offset
Varney, H., Kriebs, J.M. & Gegor, C.L. 2015. Buku Ajar Asuhan Kebidanan Edisi 4 Volume 2. Jakarta : EGC
World Health Organization (WHO). 2012. WHO Recommendations for The Prevention and Treatment of Postpartum Haemorrhage. Geneva: WHO Library Cataloguing-inPublication Data
, 2014. WHO, UNICEF, UNFPA, The World Bank. Trends in maternal mortality: 1990 to 2013. Geneva: World Health Organization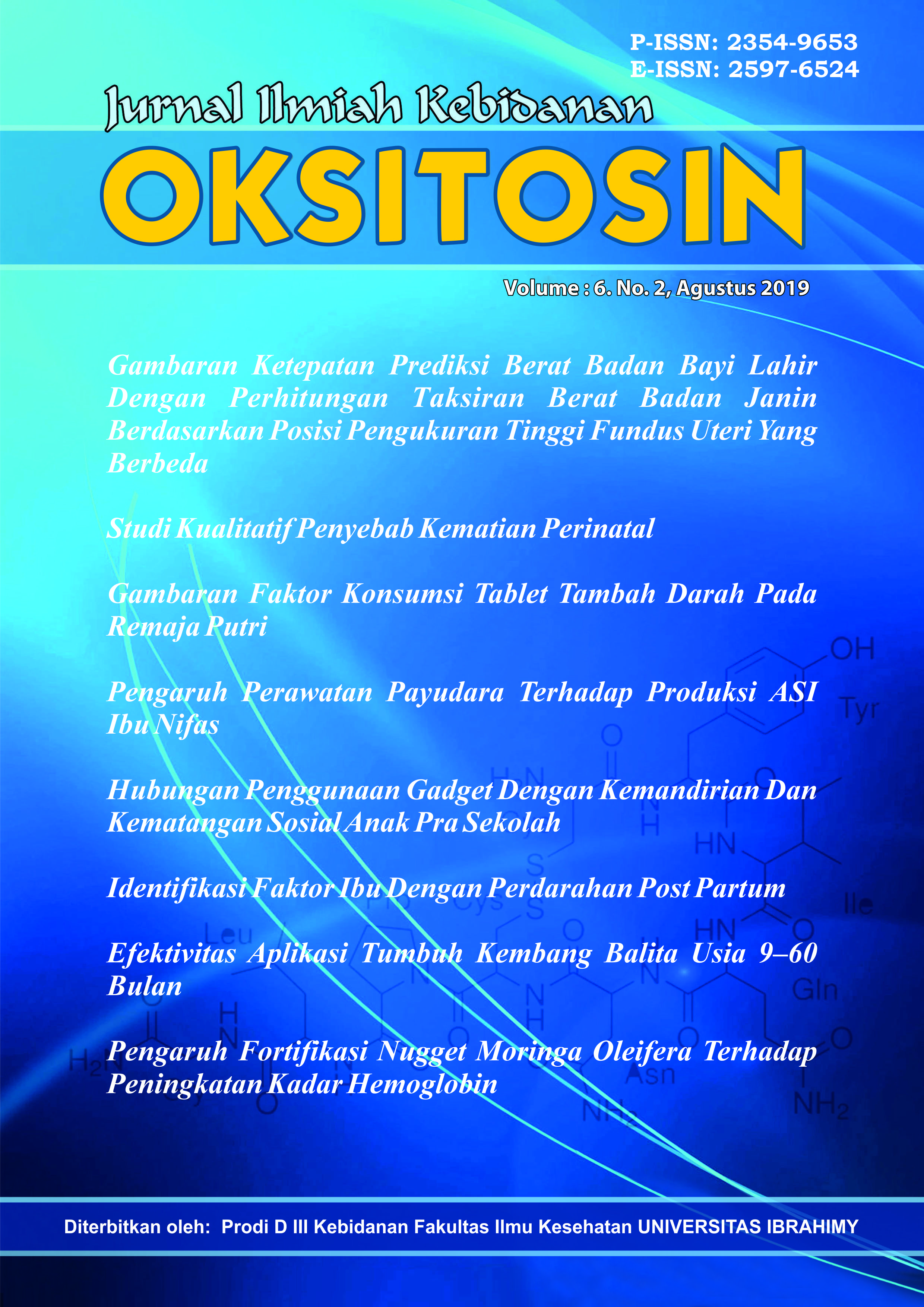 How to Cite
Yunadi, F. D., Andhika, R. and Septiyaningsing, R. (2019) "Identifikasi Faktor Ibu Dengan Perdarahan Post Partum ", Oksitosin : Jurnal Ilmiah Kebidanan, 6(2), pp. 119-126. doi: 10.35316/oksitosin.v6i2.489.
Abstract viewed = 279 times

PDF downloaded = 268 times