GAMBARAN TINGKAT PENGETAHUAN TENTANG PENANGANAN DISMENORE
Astik Umiyah

Akademi Kebidanan Ibrahimy
Keywords:
Knowledge, Adolescent, Treatment of Primary Dysmenorrhea
Abstract
Dysmenorrhea is feeling abdominal pain can be currently menstrual can light cramps on genetalia part until interference accident in daily task. This research  study aims to describe the level of knowledge of handling the review of primary dysmenorrhea on teenage girls age 12-15 years in MTs. Al Azhar Mojosari Asembagus Situbondo year 2014. This type of research is descriptive with cross sectional method, using a total sampling techniques and data collection using the questionnaire. The population in this study were all adolescents with primary dysmenorrhea during menstruation. This study  was found that almost half of young women are less knowledgeable about the treatment of primary dysmenorrhea as many as 29 girls (49.15%). By age that nearly half  of  young women aged 14 years (25.43%) less knowledgeable, based on education that is a small fraction of young women in class VIII (22.03%) less knowledgeable, based on socio economic status of parents of young women is income sufficient fraction (22.03%)  have less knowledge,  based  on  social  and  cultural  nearly half  of  young  women  are  less knowledgeable influenced culture (25.43%).
 Keywords: Knowledge, Adolescent, Treatment of Primary Dysmenorrhea.
ABSTRAK
Dismenore merupakan perasaan nyeri perut saat haid dapat berupa kram ringan pada bagian kemaluan   sampai   terjadi   gangguan   dalam   tugas   sehari-hari.   Penelitian   ini   bertujuan   untuk mendeskripsikan tingkat pengetahuan penanganan dismenore primer pada remaja putri usia 12-15 tahun di MTs. Al- Azhar Mojosari Asembagus Situbondo tahun 2014. Jenis penelitian yang digunakan adalah deskriptif dengan metode cross sectional, menggunakan tekhnik total sampling, dan pengumpulan data menggunakan lembar kuesioner. Populasi dalam penelitian ini adalah semua remaja yang mengalami dismenore primer saat menstruasi. Pada penelitian ini didapatkan bahwa hampir setengahnya remaja putri berpengetahuan kurang tentang penanganan dismenore primer yaitu sebanyak 29 remaja putri (49.15%). Berdasarkan umur yaitu hampir setengahnya remaja putri yang berumur 14 tahun (25,43%) berpengetahuan kurang, berdasarkan pendidikan yaitu sebagian kecil remaja putri yang kelas VIII (22,03%) berpengetahuan kurang,  berdasarkan sosial ekonomi orang tua remaja putri sebagian kecil berpendapatan cukup (22,03%) memiliki pengetahuan kurang, berdasarkan sosial budaya hampir setengahnya remaja putri dipengaruhi budaya berpengetahuan kurang (25,43%).
 Kata kunci: Pengetahuan, Remaja, Penanganan Dismenore Primer
Downloads
Download data is not yet available.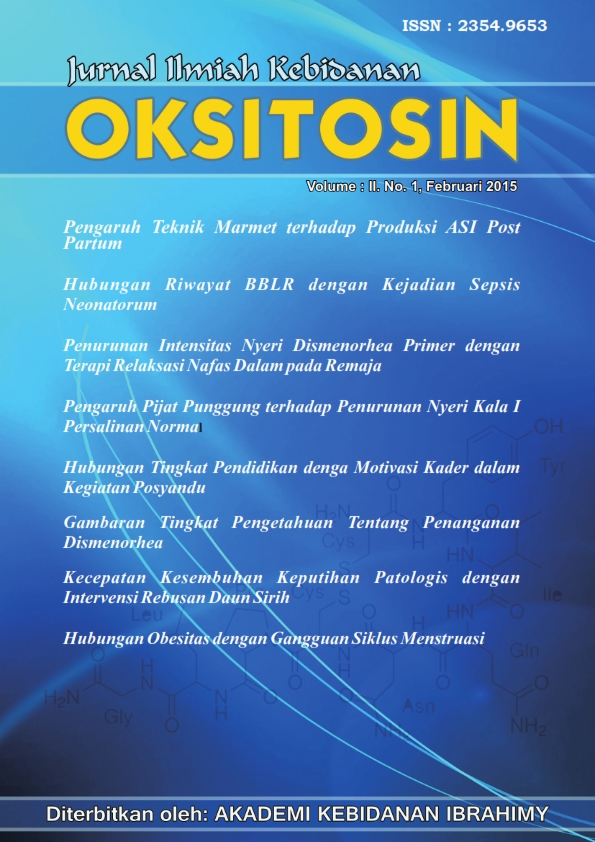 How to Cite
Umiyah, A. (2015) "GAMBARAN TINGKAT PENGETAHUAN TENTANG PENANGANAN DISMENORE", Oksitosin : Jurnal Ilmiah Kebidanan, 2(1), pp. 34-40. Available at: https://journal.ibrahimy.ac.id/index.php/oksitosin/article/view/421 (Accessed: 17August2022).
Abstract viewed = 422 times

PDF downloaded = 1272 times