PENGARUH PIJAT PUNGGUNG TERHADAP PENURUNAN NYERI KALA I PERSALINAN NORMAL
Debbiyatus Sofia

Akademi Kebidanan Ibrahimy
Keywords:
Pain of first Period of labor, Primigravida, Backs Massage
Abstract
In the delivery process changes cervical dilatation until 10th  opening which called first period. At the time of the opening will feel pain in the lumbar region, especially in primigravida. Primigravidas experienced longer delivery process so that labor pain is also longer. This causes primiparas feel more tired, increased pain and fear worse to increase the intensity of pain. The condition can lead to ineffective uterine contractions that trigger failure to progress in labor resulting in prolonged labor. Therefore, it must be done like doing massage treatment. This study aims to investigate the effect of backs massage on pain reduction in the first periode of a normal delivery of primigravida in BPS Tibyani Halim, S.ST Asembagus District of Situbondo year 2014. This study using pre-experimental design. Sample is 13 respondents who met the inclusion criteria. Mechanical sampling by accidental sampling. Data were analyzed using Fisher's Exact test. The result showed no effect of  massage on the back of the first period of reduction pain of  normal delivery intensity of primigravida mother.
 Keywords : Pain of first Period of labor , Primigravida , Backs Massage
ABSTRAK
Di dalam proses persalinan terjadi perubahan dilatasi serviks sampai pembukaan 10 yang disebut kala  I.  Pada  saat  terjadi  pembukaan  akan  terasa    nyeri  pada  daerah  pinggang  terutama  pada  ibu primigravida. Primigravida mengalami proses persalinan lebih lama sehingga nyeri persalinan juga lebih lama. Hal tersebut menyebabkan Primipara merasa lebih letih, nyeri meningkat dan rasa takut lebih parah yang dapat meningkatkan intensitas nyeri. Kondisi tersebut dapat mengakibatkan kontraksi uterus tidak efektif yang memicu kegagalan kemajuan persalinan sehingga terjadi persalinan lama. Oleh karena itu harus dilakukan penanganan seperti melakukan pijatan. Penelitian ini bertujuan mengetahui adanya pengaruh pijat punggung terhadap penurunan nyeri kala I persalinan normal ibu primigravida di BPS Tibyani Halim, S.ST Kecamatan Asembagus Kabupaten Situbondo tahun 2014. Desain penelitian ini pre-experimental.  Sampel  sebanyak  13  responden  yang  memenuhi kriteria  inklusi.  Teknik  sampling secara accidental sampling. Analisa data menggunakan  Fisher's Exact. Hasil penelitian didapatkan ada pengaruh pijat punggung terhadap penurunan intensitas nyeri kala I persalinan normal ibu primigravida.
 Kata kunci          : Nyeri Kala I Persalinan, Primigravida, Pijat Punggung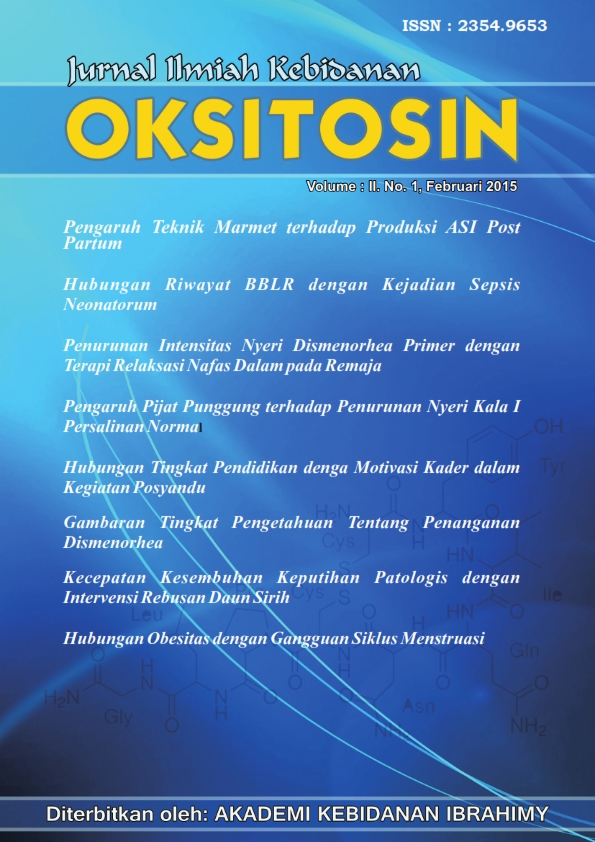 How to Cite
Sofia, D. (2015) "PENGARUH PIJAT PUNGGUNG TERHADAP PENURUNAN NYERI KALA I PERSALINAN NORMAL", Oksitosin : Jurnal Ilmiah Kebidanan, 2(1), pp. 22-28. Available at: https://journal.ibrahimy.ac.id/index.php/oksitosin/article/view/419 (Accessed: 17October2021).
Abstract viewed = 177 times

PDF downloaded = 418 times