HUBUNGAN USIA IBU DENGAN KEJADIAN BERAT BAYI LAHIR RENDAH
Dwi Herman Susilo

Akademi Kebidanan Ibrahimy Sukorejo Situbondo
Keywords:
Mother Age, Low Birth Weight
Abstract
Low birth weight is a baby born with less than 2500 grams of birth weight regardless of gestational weighing in 1 hour after birth. Low birth weight is still the cause of mortality (death) and morality (pain) during neonatal period (infants aged 0 - 28 days). Research design used was cross sectional approach. With the population of all babies born in the work area of ​​puskesmas banyuputih of Situbondo district as many as 818 babies, Sample in this study as many as 164 babies with the sampling method using proportionate atratifed random technique. Technique of taking data with medical record, executed in May 2015. Processing and data analysis using statistic test that was contingency coefficient test with level maximize α <0,05. The results showed that the results obtained p value = 0.00 which means there is a significant correlation of the mother age with low birth weight n the work area of ​​puskesmas banyuputih Situbondo regency. 
Keywords : Mother Age, Low Birth Weight
ABSTRAK
Berat bayi lahir rendah adalah bayi yang lahir dengan berat lahir kurang dari 2500 gr tanpa memandang masa gestasi yang di timbang dalam 1 jam setelah lahir. Berat bayi lahir rendah sampai saat ini masih merupakan penyebab mortalitas (kematian) dan morbilitas (kesakitan) pada masa neonatal (bayi umur 0 – 28 hari). Desain penelitian yang digunakan adalah pendekatan cross sectional. Dengan populasi semua bayi yang lahir di wilayah kerja puskesmas banyuputih kabupaten situbondo sebanyak 818 bayi, sampel penelitian sebanyak 164 bayi dengan dengan metode sampling menggunakan teknik proportionate atratifed random. Teknik pengambilan data dengan medical record, dilaksanakan pada bulan Mei 2015. Pengolahan dan analisa data menggunakan uji statistic yaitu uji koefesien contingensi dengan tingkat kemaksimalan α <0,05. Hasil penelitian menunjukkan bahwa diperoleh hasil nilai p= 0,00 yang artinya ada hubungan yang signifikan antara Usia ibu dengan berat bayi lahir rendah di wilayah kerja puskesmas banyuputih Kabupaten Situbondo.
Kata Kunci : Usia Ibu, Berat Bayi Lahir Rendah
Downloads
Download data is not yet available.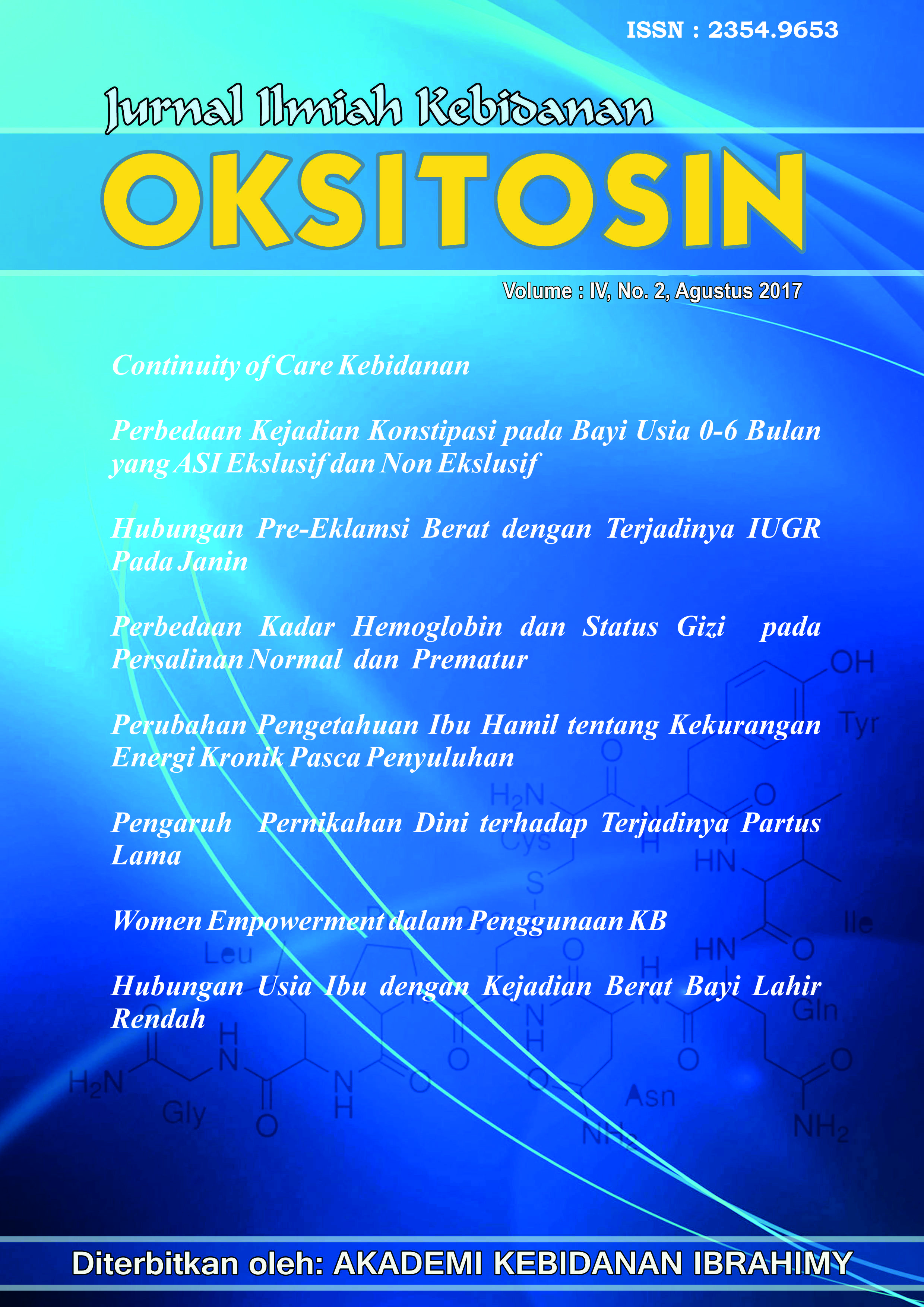 How to Cite
Susilo, D. H. (2017) "HUBUNGAN USIA IBU DENGAN KEJADIAN BERAT BAYI LAHIR RENDAH", Oksitosin : Jurnal Ilmiah Kebidanan, 4(2), pp. 123-128. doi: 10.35316/oksitosin.v4i2.369.
Abstract viewed = 176 times

PDF downloaded = 632 times