CONTINUITY OF CARE KEBIDANAN
Dewi Andariya Ningsih

Akademi Kebidanan Ibrahimy
Keywords:
Continuity of Care, Midwifery
Abstract
Continuity Of Care in obstetric care is a service through a continuous service model for women throughout pregnancy, birth and post partum. Because all women are at risk of complications during prenatal, natal and post natal periods. The problems that often arise with the existence of negative experiences in women due to lack of quality interaction between midwives and women. This literature study aims to determine the role of continuity of care in midwifery facilities. This study is a literature review (Literature Review) about the continuity of care midwifery service. Sources for conducting this literature review include a systematic search of a computerized database (International Journal of Integrated Care, BMC, BJOG, Midwifery, Lancet, Scand J Caring Sci, Journal of Health Science, Nurse Education in Practice) form a journal of research totaling 16 journals. The literature search strategy by entering the keys: Continuity of care midwifery, Experienced Continuity of Care, Effects of Continuity Care, using research with 2010-2015 issue, selecting journal in accordance with the problem, looking for literature that essentially as a material of triagulation or comparability. Writing this scientific article using harvard style bibliography writing. Continuity of care services contribute to the improvement of quality and safety at the time of Partus. Women receiving such services are more likely to receive effective services, more efficient experiences, better quality clinical outcomes and some evidence to improve access to services that are difficult to achieve and more useful coordination.
Keywords: Continuity of Care, Midwifery
ABSTRAK
Continuity of Care dalam pelayanan kebidanan merupakan layanan melalui model pelayanan berkelanjutan pada perempuan sepanjang masa kehamilan, kelahiran serta masa post partum. Karena semua perempuan berisiko terjadinya komplikasi selama masa prenatal, natal dan post natal. Permasalahan yang sering timbul dengan adanya pengalaman negatif pada perempuan karena kurangnya kualitas interaksi antara bidan dengan perempuan.  Studi literatur ini bertujuan untuk mengetahui peranan continuity of care dalam fasilitas kebidanan. Studi ini merupakan suatu kajian literatur (Literature Review) tentang servis continuity of care kebidanan. Sumber untuk melakukan tinjauan literatur ini meliputi studi pencarian sistematis database terkomputerisasi (International Journal of Integrated Care, BMC, BJOG, Midwifery, Lancet, Scand J Caring Sci, Health Science Journal, Nurse Education in Practice) bentuk jurnal penelitian yang berjumlah 16 jurnal. Strategi pencarian literatur dengan memasukkan kunci : Continuity of care midwifery, Experienced Continuity of Care, Effects of Continuity Care, menggunakan penelitian dengan tahun terbitan 2010-2015, memilih jurnal sesuai dengan permasalahan, mencari literatur yang secara esensi sebagai bahan triagulasi atau komparatif. Penulisan artikel ilmiah ini menggunakan penulisan bibliografi harvard style. Pelayanan kebidananan secara continuity of care berkontribusi pada peningkatan kualitas dan keselamatan pada saat partus. Perempuan yang mendapatkan pelayanan tersebut lebih cenderung menerima pelayanan yang efektif, pengalaman yang lebih efisien, hasil klinis yang lebih bermutu dan beberapa bukti dapat meningkatkan akses pelayanan yang sulit dicapai serta koordinasi yang lebih bermanfaat.
Kata kunci : Continuity of Care, Kebidanan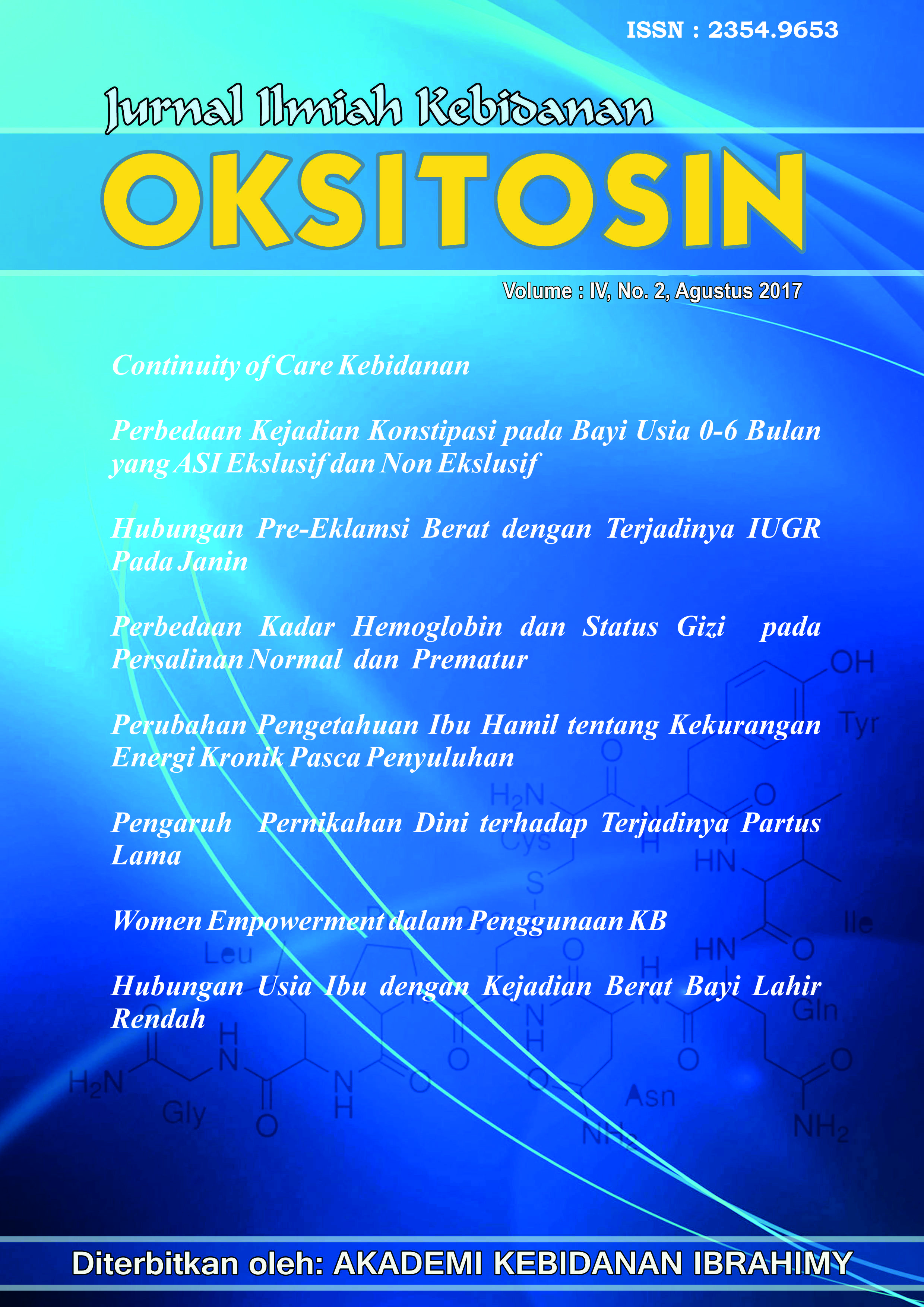 How to Cite
Ningsih, D. A. (2017) "CONTINUITY OF CARE KEBIDANAN", Oksitosin : Jurnal Ilmiah Kebidanan, 4(2), pp. 67-77. doi: 10.35316/oksitosin.v4i2.362.
Abstract viewed = 3754 times

PDF downloaded = 16737 times