Tingkat Pengetahuan Ibu Balita Tentang Stunting
Muzayyaroh Muzayyaroh

Universitas Pesantren Tinggi Darul Ulum Jombang
Keywords:
Stunting, Pengetahuan Ibu
Abstract
Stunting is a condition of a child's body that looks stunted or short if it is based on the body length index according to age. The incidence of stunting is very much found in toddlers aged 12-36 months. Indonesia is a country that has the third highest number of stunting cases in Southeast Asia. The number of stunting cases is nothing but the result of the level of knowledge of parents who do not understand stunting. Parents, especially mothers, have a very important role in the process of child growth and development, especially in meeting the nutritional needs of children so that children can grow well and avoid malnutrition and stunting. The purpose of this research was to find out about the level of knowledge of parents who have toddlers about editing. The method used in this research was descriptive method with data collection through filling out a questionnaire. The population in this study were all mothers of toddlers who attended PAUD Irsyadus Salam with a total of 35 mothers. Sampling by non-probability sampling with purposive sampling type. The result of this research is that most mothers of toddlers have a low level of knowledge about stunting. With the counseling about stunting, it is hoped that all mothers who have children under five can prevent stunting and achieve optimal health and development of toddlers.
Keywords: Stunting, Mother's Knowledge
ABSTRAK
Stunting merupakan kondisi tubuh seorang anak yang terlihat kerdil atau pendek apabila didasarkan pada indek panjang badan menurut umur. Kejadian stunting sangat banyak di temukan pada balita usia 12-36 bulan. Indonesia merupakan negara yang mempunyai kasus stunting ketiga terbanyak seAsia Tenggara. Banyaknya kasus stunting tidak lain akibat dari tingkat pengetahuan orang tua  yang kurang memahami tentang stunting. Orang tua khususnya ibu mempunyai peranan yang sangat penting dalam proses tumbuh kembang anak, terutama dalam pemenuhan kebutuhan gizi anak sehingga anak bisa tumbuh dengan baik dan terhindar dari gizi buruk serta stunting. Tujuan dari penenlitian ini adalah untuk mengetahui tentang tingkat pengetahuan dari orang tua yang mempunyai balita tentang sunting. Metode yang digunakan dalam penelitian ini adalah metode deskriptif dengan pengambilan data melalui pengisian kuesioner. Populasi pada penelitian ini adalah semua ibu balita yang sekolah di PAUD Irsyadus Salam sejumlah 35 ibu. Pengambilan sampel dengan jalan non propability sampling dengan tipe purposive sampling. Hasil dari penelitian ini bahwa paling banyak ibu balita yang mempunyai tingkat pengetahuan yang kurang tentang stunting. Dengan adanya penyuluhan tentang stunting diharapakan semua ibu yang mempunyai anak usia balita bisa mencegah terjadinya stunting dan tercapainya kesehatan tumbuh kembang balita secara optimal.
Kata kunci : Stunting, Pengetahuan Ibu
Downloads
Download data is not yet available.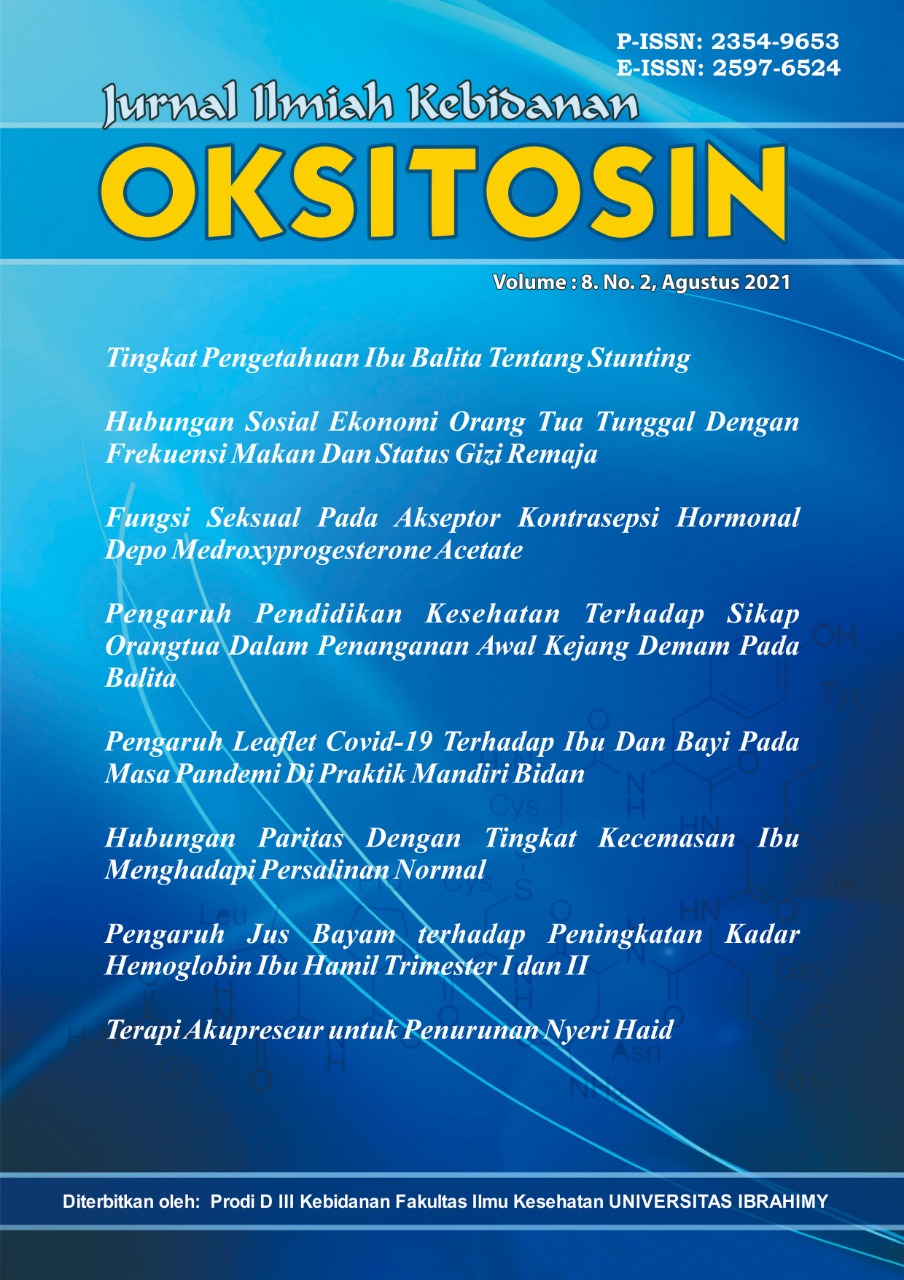 How to Cite
Muzayyaroh, M. (2021) "Tingkat Pengetahuan Ibu Balita Tentang Stunting ", Oksitosin : Jurnal Ilmiah Kebidanan, 8(2), pp. 81-92. doi: 10.35316/oksitosin.v8i2.1373.
Abstract viewed = 277 times

PDF downloaded = 462 times