PESAN DAKWAH USTADZ ABDUL SOMAD DI YOUTUBE "SAYANGI ORANG TUAMU" (ANALISIS FRAMING GAMSON DAN MODIGLIANI)
Maysarah

Universitas Ibrahimy Situbondo

Wisri

Universitas Ibrahimy Situbondo
Keywords:
Dakwah Message, Framing Analysis, Birrul Walidain
Abstract
Birrul walidain or serving both parents is an obligation for every child, because without parents the child will not be present in this natural world, considering the sacrifices
made by parents, the love they give to children, the upbringing and teachings they teach
to children and there are many more services that parents have for children that children
must remember and know, so that children always feel like serving both parents. for this
reason, glorifying parents, being devoted to parents, doing good to both of them, and
pleasing them are things that a child must do towards his parents. The focus of this research is what is the meaning of Ustadz Abdul Somad's da'wah messages in the moral aspect in videos downloaded from social media Youtube about "love your parents". In this
study, the researcher used qualitative methods with non-discipline research with media
text analysis methods using framing analysis models. And the data collection technique
uses observation and documentation techniques. Thus the conclusion of this study is that
people who are devoted to their parents will easily get the grace, pleasure and blessings
of Allah SWT, as well as expand their sustenance by Allah SWT. On the other hand, a
person who is disobedient to his parents will have a narrow and difficult life due to the lack of blessing and blessings from Allah SWT.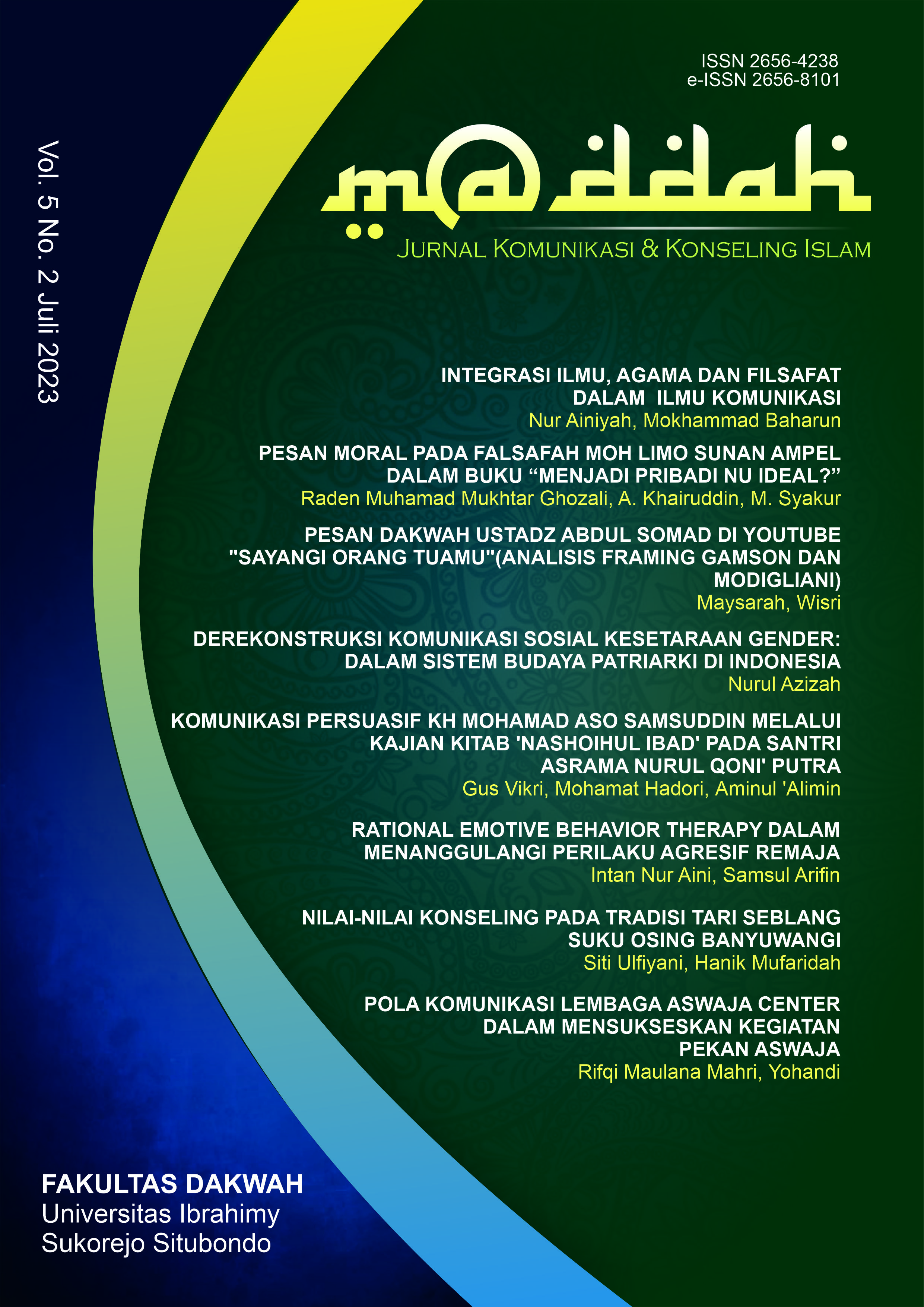 How to Cite
Maysarah, & Wisri. (2023). PESAN DAKWAH USTADZ ABDUL SOMAD DI YOUTUBE "SAYANGI ORANG TUAMU" (ANALISIS FRAMING GAMSON DAN MODIGLIANI). Maddah : Jurnal Komunikasi Dan Konseling Islam, 5(2), 115-125. https://doi.org/10.35316/maddah.v5i2.3470
Copyright (c) 2023 Maysarah, Wisri
This work is licensed under a Creative Commons Attribution 4.0 International License.
Abstract viewed = 15 times

PDF downloaded = 6 times