DISKURSUS BAHASA TUHAN DALAM PERSPEKTIF STRUKTURALISME LINGUISTIK MODERN
Tauhedi As'ad

Universitas Jember, Indonesia

Munif Shaleh

Universitas Ibrahimy Situbondo, Indonesia
Keywords:
Strukturalisme, Linguistik Modern, Bahasa Tuhan
Abstract
God's language is not reached by human nature because God's language enters the parole area which cannot be verified, because parole language is God's revelation that cannot be intervened by the human language system. This model, is very new to be continued in the approach of Islamic studies, especially modern linguistic studies developed by Ferinand De Sausure, then by Paul Ricouer as the post structuralist father. However, if you re-understand the language of God in the perspective of modern linguistics as an approach in Islamic thought, then there is a problem that is addressed, namely the existence of God's Revelation which wraps into Arabic, then the corpus is formalized as a manuscript written by humans. Then God's revelation will lose the existence of authority as the owner of the message of revelation so that the Koran that is read now by all Muslims is no longer sacred and authentic. This is the revelation imprisoned by Arabic as the Ottoman Manuscripts.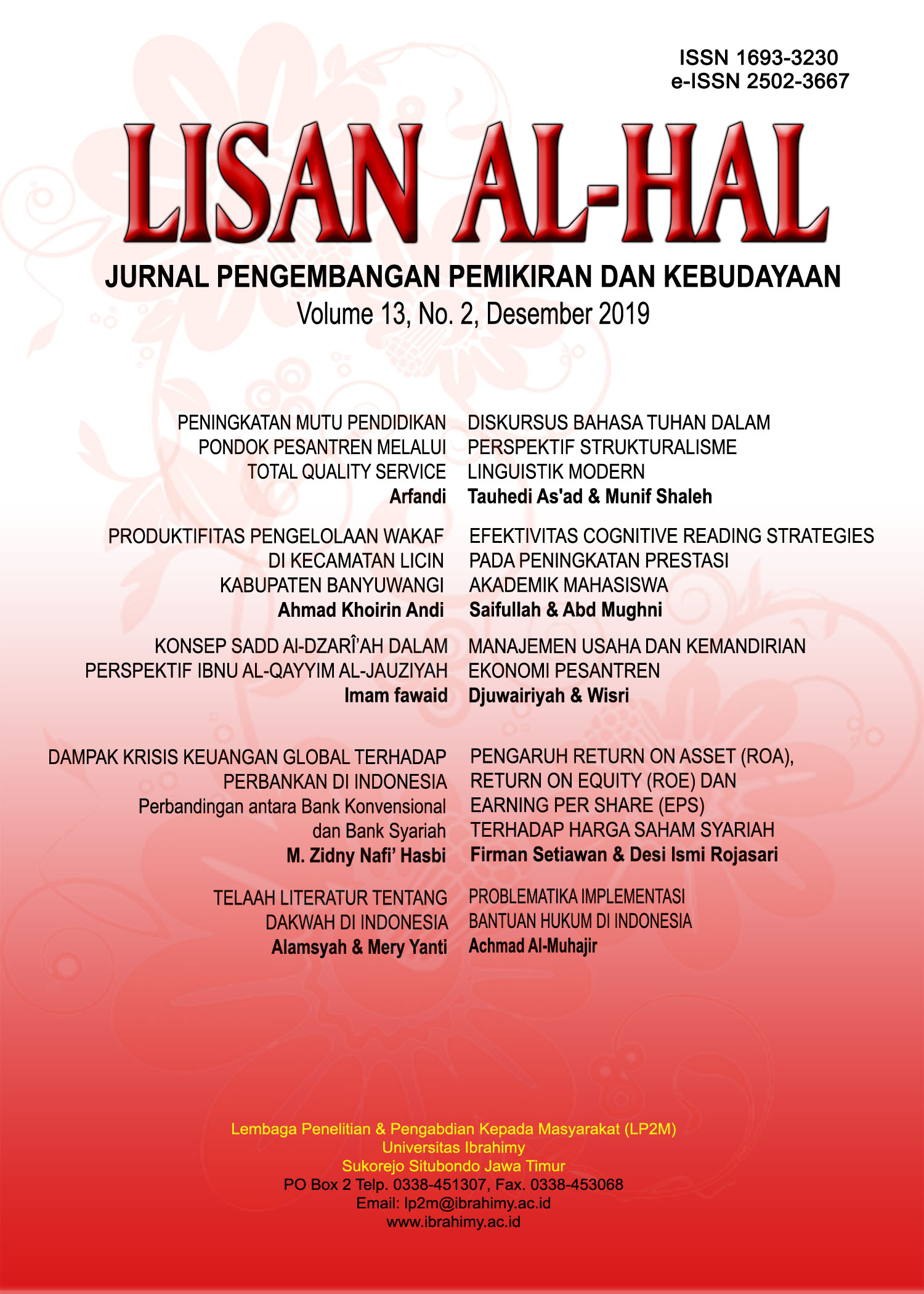 How to Cite
Tauhedi As'ad, & Munif Shaleh. (2019). DISKURSUS BAHASA TUHAN DALAM PERSPEKTIF STRUKTURALISME LINGUISTIK MODERN. LISAN AL-HAL: Jurnal Pengembangan Pemikiran Dan Kebudayaan, 13(2), 367-384. https://doi.org/10.35316/lisanalhal.v13i2.601
Copyright (c) 2019 LISAN AL-HAL: Jurnal Pengembangan Pemikiran dan Kebudayaan
This work is licensed under a Creative Commons Attribution-ShareAlike 4.0 International License.
Abstract viewed = 298 times

pdf downloaded = 171 times