PROBLEMATIKA IMPLEMENTASI BANTUAN HUKUM DI INDONESIA
Achmad Al-Muhajir

STIS Al Maliki Bondowoso, Indonesia
Keywords:
Problematika, Implementation, Legal Aid
Abstract
Legal aid represent constitutional rights for every citizen in front of law which arranged in Act Number 16 Year 2011 concerning Legal Aid, specially to impecunious society (the poor). Researcher tries to investigate the problem of Legal Aid implementation in Indonesia. To answer the the problems used by method research of normatif yuridis, having the character of analytical descriptive, using justice theory, used data of sekunder of book study, with approach of legislation. Results of this research concluded that implementation giving of legal aid to the poor as arranged in Act Number 16 Year 2011 About Legal Aid not yet can walk it to, there still found by many resistance and constraint, like human resource factor related to amount and quality giver of legal aid, and related/relevant culture factor society itself the lack of knowledge of society about legal aid. Potency receiver of its amount legal aid very big, but run legal aid system in this time not yet as according to real requirement to legal aid. Access to legal aid program to society still limited especially because its minim of existence of organization giver of legal aid or access inaccesible region geographically. Factor enforcer of less owning law of integrity, moralitas, and idealism of profesionalitas. Factor is lack of budget or financing of Local Government, and lack of observation and control.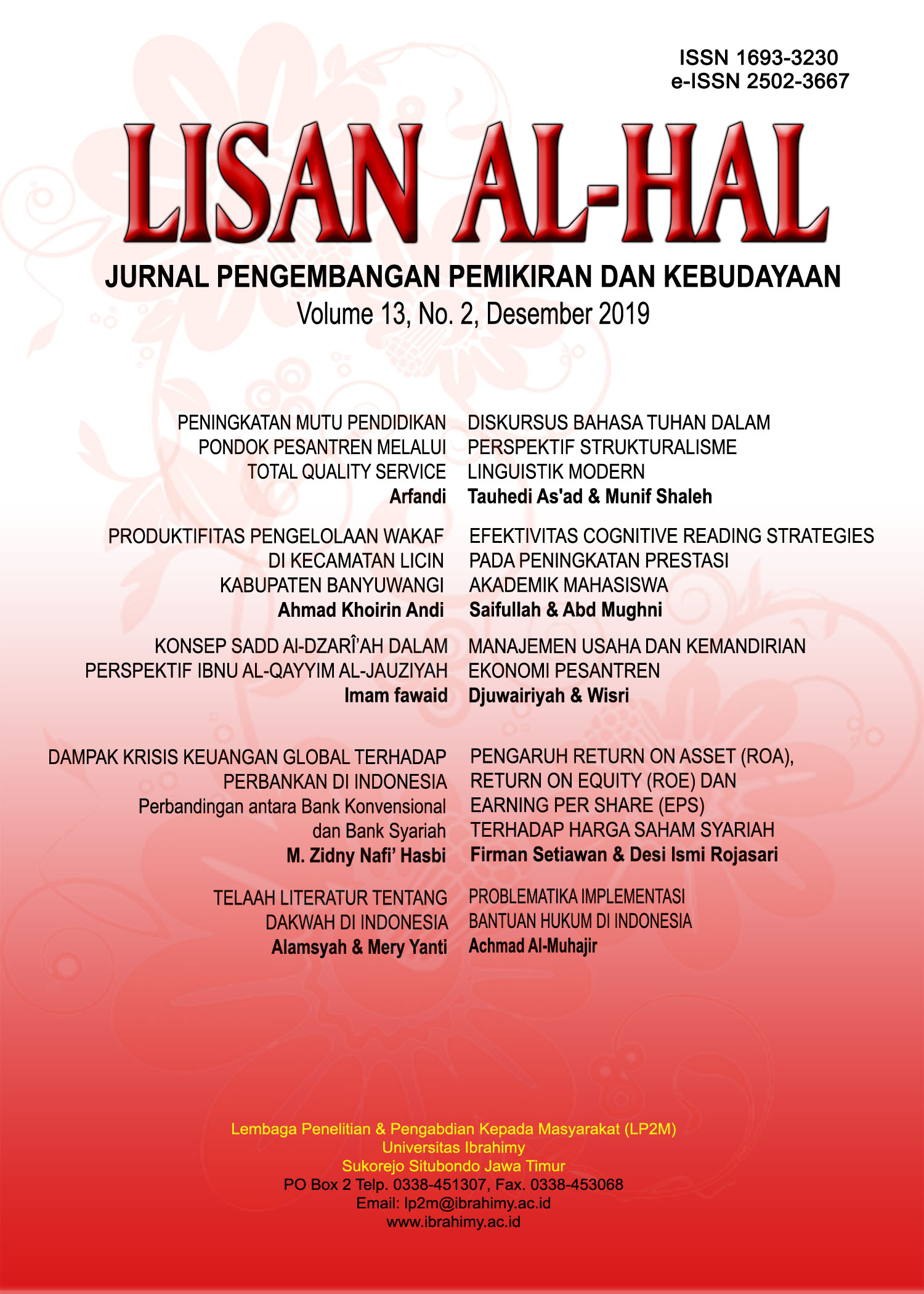 How to Cite
Achmad Al-Muhajir. (2019). PROBLEMATIKA IMPLEMENTASI BANTUAN HUKUM DI INDONESIA. LISAN AL-HAL: Jurnal Pengembangan Pemikiran Dan Kebudayaan, 13(2), 341-366. https://doi.org/10.35316/lisanalhal.v13i2.600
Copyright (c) 2019 LISAN AL-HAL: Jurnal Pengembangan Pemikiran dan Kebudayaan
This work is licensed under a Creative Commons Attribution-ShareAlike 4.0 International License.
Abstract viewed = 30 times

pdf downloaded = 36 times