MANAJEMEN USAHA DAN KEMANDIRIAN EKONOMI PESANTREN
Djuwairiyah

Universitas Ibrahimy Situbondo, Indonesia

Wisri

Universitas Ibrahimy Situbondo, Indonesia
Keywords:
Manajemen Usaha, Kemandirian Ekonomi, Pesantren
Abstract
The progress of Islamic boarding school education can also be proven by the development of student character. It is not uncommon to find competitions held in Islamic boarding schools, both races among students of Islamic boarding schools, competitions at the village, sub-district, district, provincial and national levels. The success of the Islamic Boarding School education system is certainly based on reasons. Many factors are the basis of the success of santriwati santriwati in Islamic boarding schools, not only in terms of academics but also in the formation of their character. These factors are also the main attraction of Islamic boarding school.
This study uses qualitative research methods because the intent of the author's research is to know the analysis of Business Management and Economic Independence Nurul Haromain Islamic Boarding School Lembuak Village Narmada District West Lombok Regency. Based on data exposure and discussion of business unit management at Nurul Haramain Islamic Boarding School above, there are a number of points that can be concluded: 1. Nurul Haramain Islamic Boarding School has 14 types of businesses engaged in different fields. The overall management process of the business unit includes business design, Islamic boarding school business dynamics, business benefits and entrepreneurship ethics in Islam. The management model that is applied in the existing business units in Nurul Haromain Islamic Boarding School is the Planning, Organizing, Actuiting and Controlling model which is finally abbreviated to the POAC model. Supporting Factors: Willingness of alumni, guardians of students and sympathizers to help both in energy and mind when needed, the amount of trust and interest of consumers, good enough service and prices are relatively cheap. Inhibiting Factor: The lack of employees who occupy their fields and the existence of several business units in the pesantren complex, as a result the business cannot run properly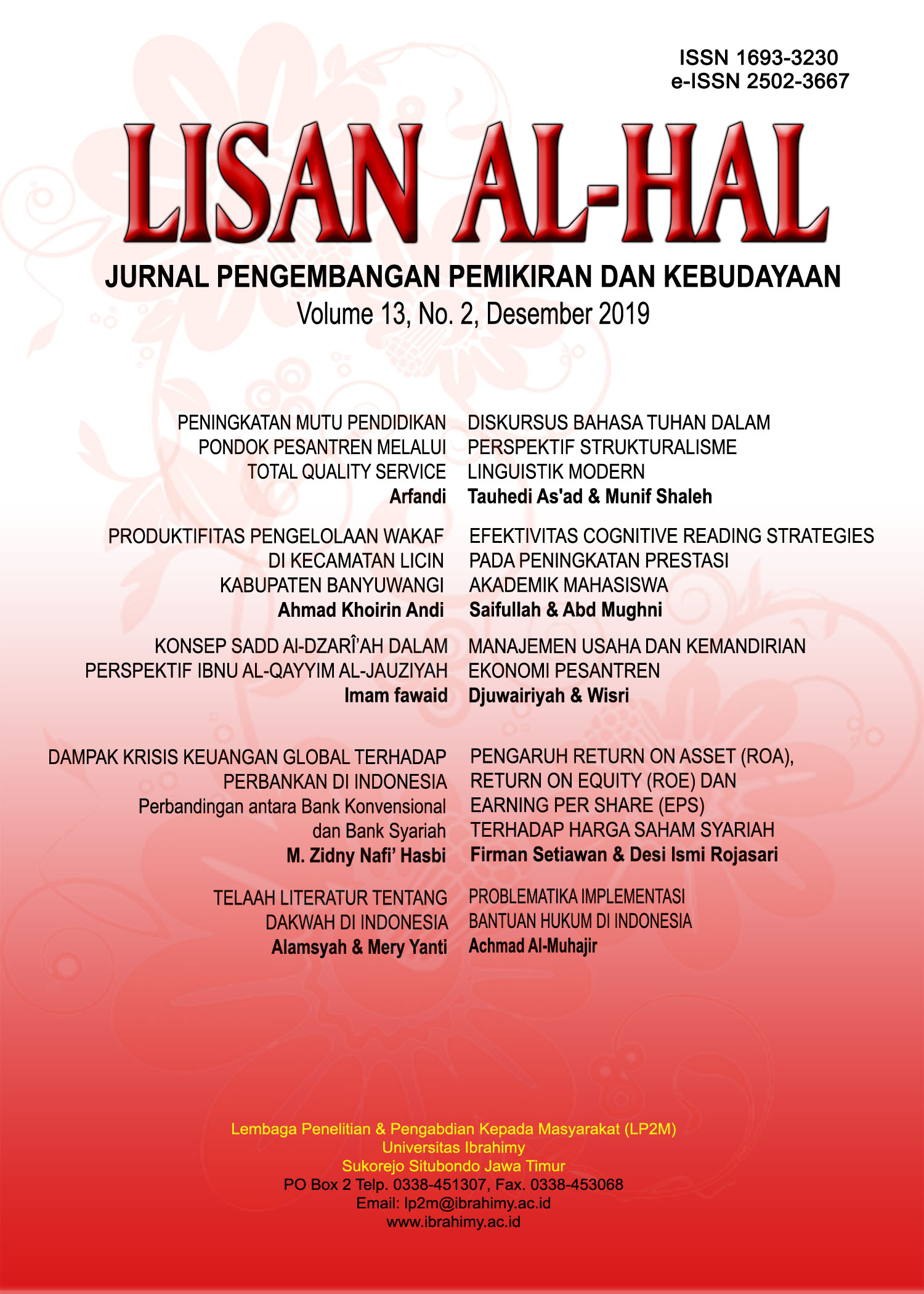 How to Cite
Djuwairiyah, & Wisri. (2019). MANAJEMEN USAHA DAN KEMANDIRIAN EKONOMI PESANTREN . LISAN AL-HAL: Jurnal Pengembangan Pemikiran Dan Kebudayaan, 13(2), 281-308. https://doi.org/10.35316/lisanalhal.v13i2.597
Copyright (c) 2019 LISAN AL-HAL: Jurnal Pengembangan Pemikiran dan Kebudayaan
This work is licensed under a Creative Commons Attribution-ShareAlike 4.0 International License.
Abstract viewed = 54 times

pdf downloaded = 30 times