PENINGKATAN MUTU PENDIDIKAN PONDOK PESANTREN MELALUI TOTAL QUALITY SERVICE
Arfandi

Universitas Ibrahimy Situbondo, Indonesia
Keywords:
Mutu, Pendidikan, Total Quality Service, Pondok Pesantren
Abstract
One of the quality management concepts that can be applied in pesantren is total quality service (TQS). Total Quality Service is a modern management concept of study that focuses of five areas, 1) customer focus, 2) total involvement, 3) measurement, 4) systematic support, and 5) connous improvement. Pesantren education institute is said quality meaning refers on resulting product quality by pesantren, one that covers; a lot of it student that have achievement well at akademik area and also at non academic, mark sense good lead support among pesantren "its customer", out put and out came pesantren corresponds to expectation, and is still a lot of again. Pesantren education quality in perspektif this, can also be seen of two things, which is points on education process and education result. Process quality education pointed out by components exhaustive involvement pesantren in education activity. Education result can be seen of insofar which pesantren grad have interest and personality corresponds to pesantren vision and mission.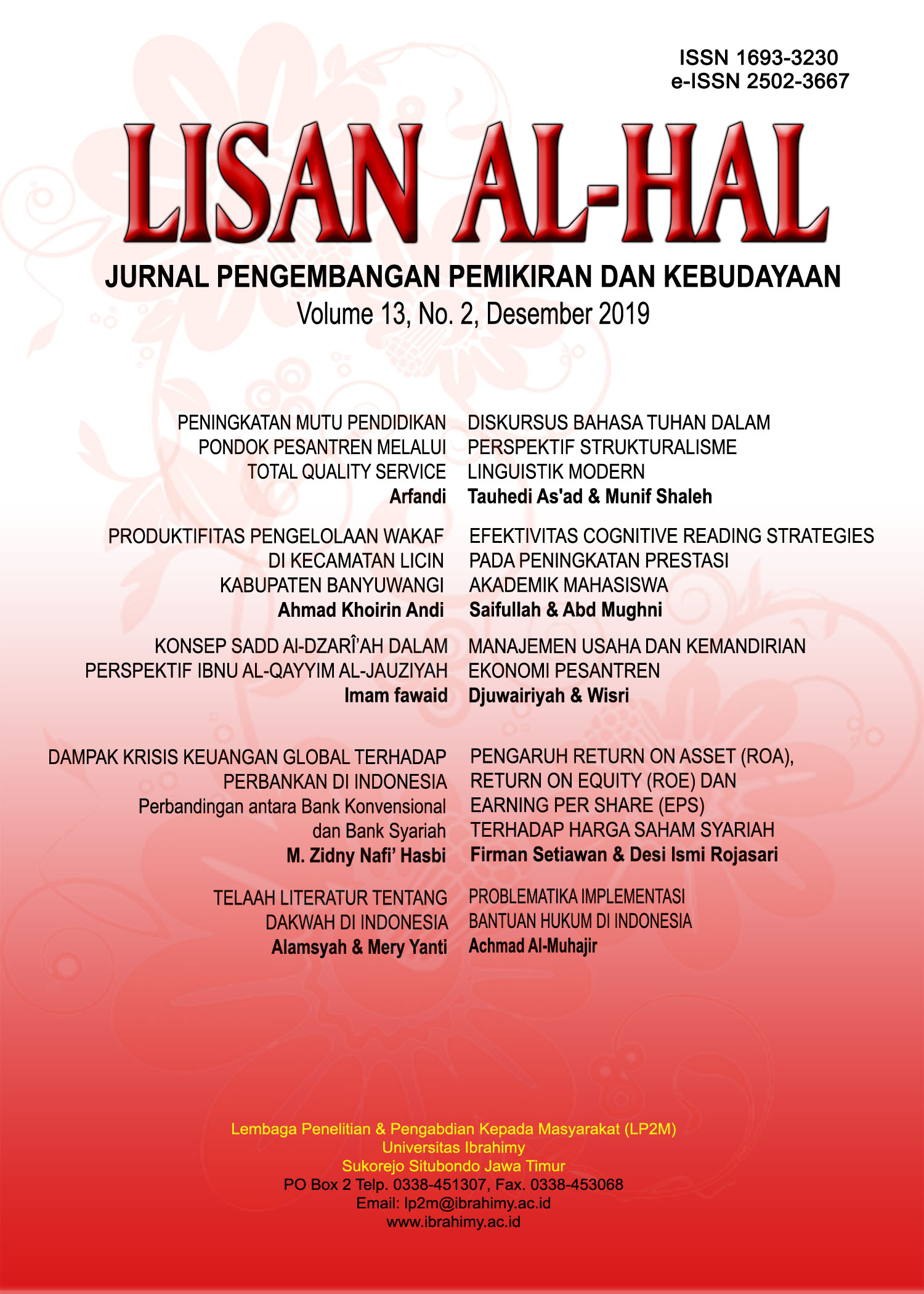 How to Cite
Arfandi. (2019). PENINGKATAN MUTU PENDIDIKAN PONDOK PESANTREN MELALUI TOTAL QUALITY SERVICE. LISAN AL-HAL: Jurnal Pengembangan Pemikiran Dan Kebudayaan, 13(2), 239-258. https://doi.org/10.35316/lisanalhal.v13i2.595
Copyright (c) 2019 LISAN AL-HAL: Jurnal Pengembangan Pemikiran dan Kebudayaan
This work is licensed under a Creative Commons Attribution-ShareAlike 4.0 International License.
Abstract viewed = 41 times

pdf downloaded = 26 times