STUDI KASUS PENERAPAN KURIKULUM TINGKAT SATUAN PENDIDIKAN (KTSP) INTEGRATIF DI SMP IBRAHIMY 2 SUKOREJO SITUBONDO
Rahwan Rahwan

Universitas Ibrahimy Situbondo
Keywords:
Integration, KTSP, Islamic Boarding School, Middle School
Abstract
The curriculum is the intention and hope as outlined in the form of an education plan or program to be carried out by the teacher in the school. Curriculum content is scientific knowledge, including activities and learning experiences arranged according to the level of student development. One of the efforts of curriculum development is by integrating integrative KTSP curriculum. Recently, the integrated integrative KTSP curriculum has become the excellent in each education unit. One of the educational units that applied was SMP 2 Ibrahimy, Sukorejo Situbondo. As an educational unit structurally under the auspices of the National Education Board and culturally under the auspices of the Salafiyah Syafi'iyah Sukorejo Situbondo Islamic Boarding School, SMP 2 Ibrahimy is required to be able to implement KTSP which is integrated between the pesantren curriculum and the national standard curriculum. From this background, SMP Ibrahimy 2 integrated KTSP (general and pesantren) since (2003) until now (2012). To find out the three main points, this research was arranged in 3 (three) formulation of the problem; how is the preparation, implementation, and indication in the success of integrating integrative KTSP in SMP 2 Ibrahimy?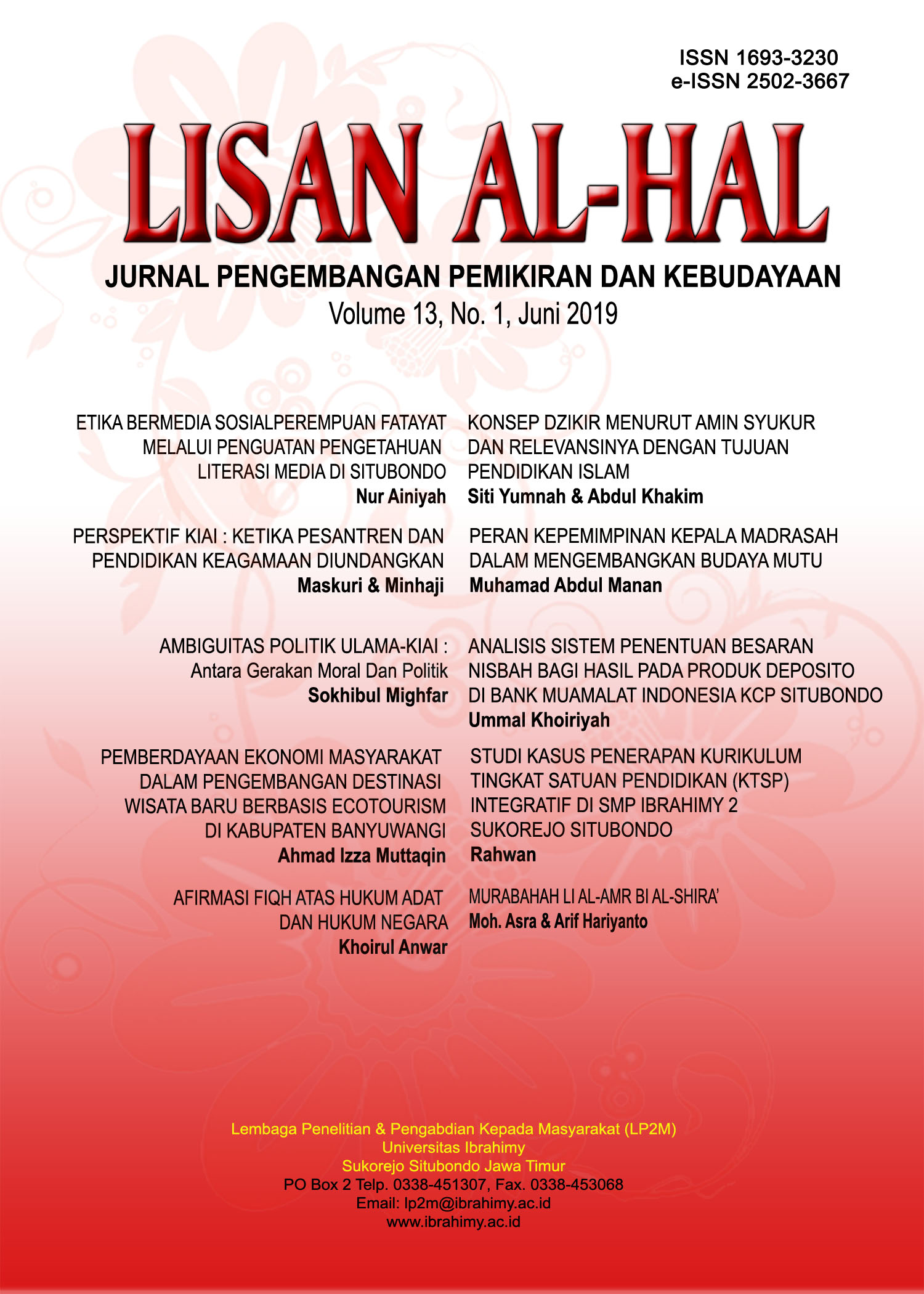 How to Cite
Rahwan, R. (2019). STUDI KASUS PENERAPAN KURIKULUM TINGKAT SATUAN PENDIDIKAN (KTSP) INTEGRATIF DI SMP IBRAHIMY 2 SUKOREJO SITUBONDO. LISAN AL-HAL: Jurnal Pengembangan Pemikiran Dan Kebudayaan, 13(1), 197-218. https://doi.org/10.35316/lisanalhal.v13i1.457
Copyright (c) 2019 LISAN AL-HAL: Jurnal Pengembangan Pemikiran dan Kebudayaan
This work is licensed under a Creative Commons Attribution-ShareAlike 4.0 International License.
Abstract viewed = 110 times

pdf downloaded = 68 times