AFIRMASI FIQH ATAS HUKUM ADAT DAN HUKUM NEGARA
Khoirul Anwar

Universitas Ibrahimy Situbondo
Keywords:
Hukum Adat, Fiqh, Hukum Negara
Abstract
There are many religious practices are found in the construction of fiqh, both 'ubudiyah (vertical relations) and mu'amalah (horizontal relations), which are the results of the adoption of pre-Islamic Arabic traditions. Hajj, umrah, hadd al-zina and stealing, drinking khamr, qishas, ​​diyat, qasamah and 'aqilah, until slavery and polygamy are examples of Arabic traditions (customary law) which are reformulated in the construction of fiqh. In the science of ushul fiqh, tradition gained attention, and even became one of the sources of Islamic law. In the context of life of nation and state, whatever state provisions can also be accommodated by fiqh. Therefore, customary law and also state law can be accommodated by Islam as long as it does not conflict with Islamic vision. And so, Islam does not become rigid and easily accepted by the people, as preached by the Prophet Muhammad SAW in Arab and Walisongo in Indonesia.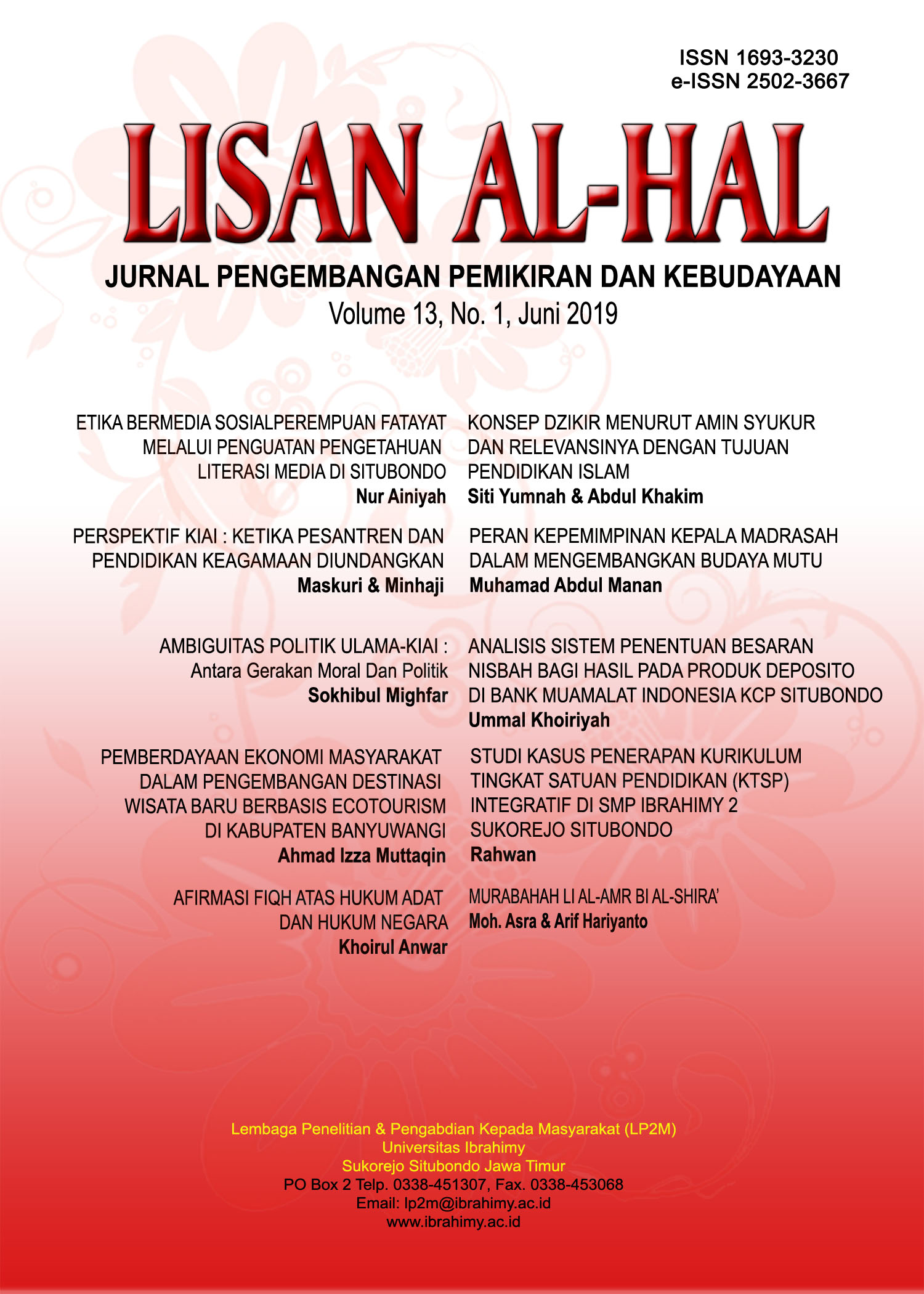 How to Cite
Anwar, K. (2019). AFIRMASI FIQH ATAS HUKUM ADAT DAN HUKUM NEGARA. LISAN AL-HAL: Jurnal Pengembangan Pemikiran Dan Kebudayaan, 13(1), 119-136. https://doi.org/10.35316/lisanalhal.v13i1.452
Copyright (c) 2019 LISAN AL-HAL: Jurnal Pengembangan Pemikiran dan Kebudayaan
This work is licensed under a Creative Commons Attribution-ShareAlike 4.0 International License.
Abstract viewed = 67 times

pdf downloaded = 58 times