ETIKA BERMEDIA SOSIAL PEREMPUAN FATAYAT MELALUI PENGUATAN PENGETAHUAN LITERASI MEDIA DI SITUBONDO
Nur Ainiyah

Universitas Ibrahimy Situbondo
Keywords:
Perempuan Fatayat, Media Sosial, Etika
Abstract
Media and technology take us to an era of information literacy. The pattern of communication and conversation on social media recently tends to provoke, shows the low ethics of Indonesian society in in the public domain communication such as social media. It is undeniable that women also took part as a subject in social media, including the Fatayat group in Situbondo. This study emphasizes the empowerment of social media ethics towards fatayat women in Situbondo through media literacy to fight hoax. It was a qualitative-explorative research by examined how fatayat ethics and behavior in communication through social media and how women are ethically empowered through strengthening knowledge media literacy. Social media in fatayat women live brings and forms a new world in interacting and communicating. Manage contents via Facebook shared and published by fatayat members, making them learn literacy. Strengthening social media ethics through media literacy is carried out in various stages, especially through monthly meetings, thematic discussions and the role of women through fatayat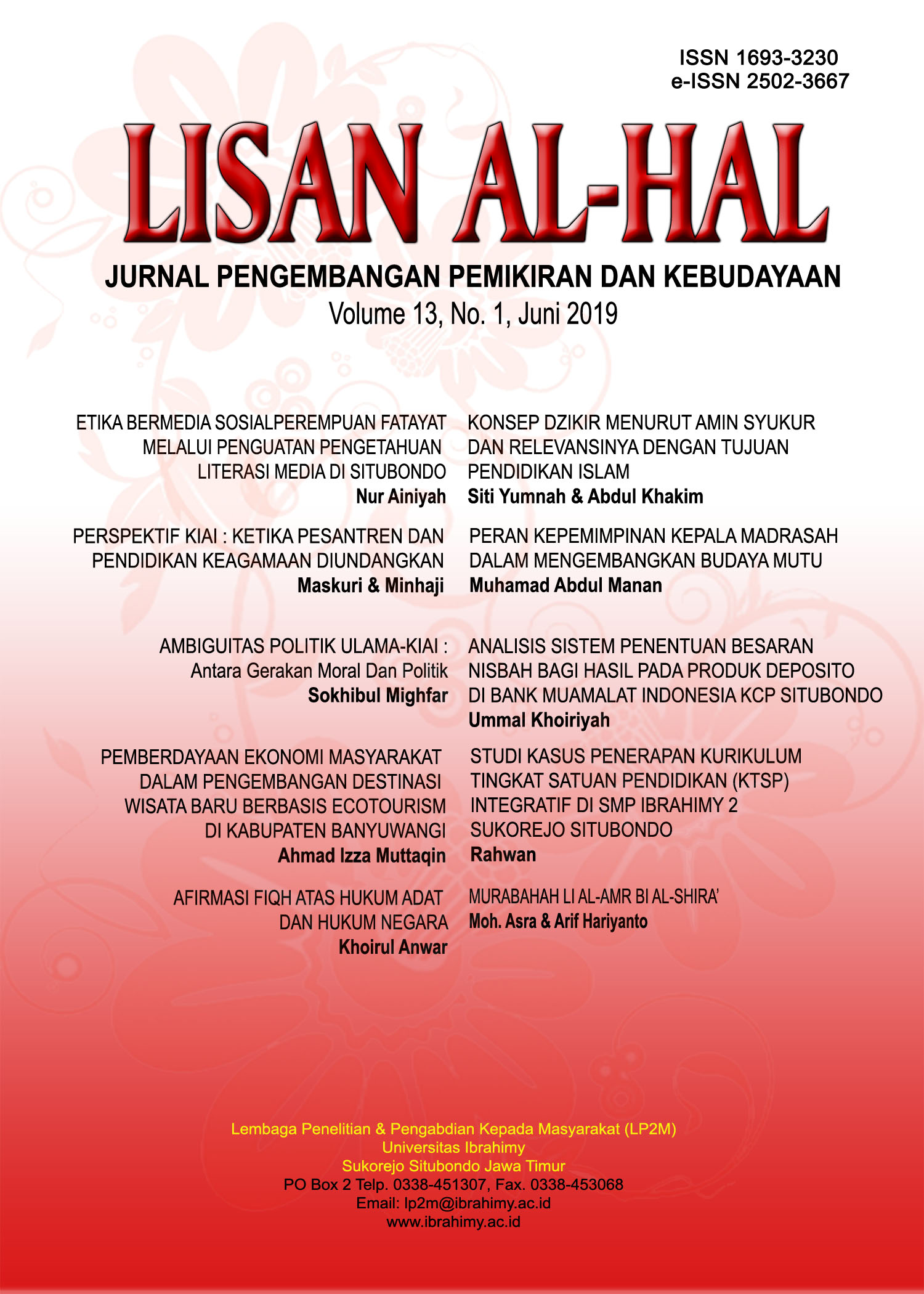 How to Cite
Ainiyah, N. (2019). ETIKA BERMEDIA SOSIAL PEREMPUAN FATAYAT MELALUI PENGUATAN PENGETAHUAN LITERASI MEDIA DI SITUBONDO. LISAN AL-HAL: Jurnal Pengembangan Pemikiran Dan Kebudayaan, 13(1), 69-96. https://doi.org/10.35316/lisanalhal.v13i1.450
Copyright (c) 2019 LISAN AL-HAL: Jurnal Pengembangan Pemikiran dan Kebudayaan
This work is licensed under a Creative Commons Attribution-ShareAlike 4.0 International License.
Abstract viewed = 95 times

pdf downloaded = 90 times