PEMBERDAYAAN EKONOMI MASYARAKAT DALAM PENGEMBANGAN DESTINASI WISATA BARU BERBASIS ECOTOURISM DI KABUPATEN BANYUWANGI
Ahmad Izza Muttaqin

IAI Ibrahimy Genteng
Keywords:
policy implementation, community economic empowerment
Abstract
The purpose of this study is to describe community economic empowerment in developing new tourist destinations based on ecotourism and describe the factors that influence the economic empowerment of the community in developing tourist destinations in Banyuwangi district. This research use desciptive qualitative approach. Locations of community economic empowerment research in the development of new ecotourism-based tourist destinations are in the Primitive Village of Purwodadi Village, Gambiran District, Tourism Objects of Pine Mangrove in Temborejo Village, Muncar District and Sumberum Village, Songgon District, Banyuwangi Regency. The research location is the object of research, the research activities carried out were randomly selected. In this study, the sources of research data are primary data and secondary data. The data analysis uses data reduction, data display and conclusion drawing / verification. Broadly speaking, community economic empowerment in the development of new ecotourism-based tourist destinations is carried out by means of; a) The involvement of the community around the new tourist destinations in various types of management and utilization of these destinations b) Strengthening the surrounding human resources as workers with certain criteria and needs c) Providing business space especially small and medium micro businesses in filling the tenants of new tourist destinations. D) Strengthening tourism management by providing sustainable tourism management counseling.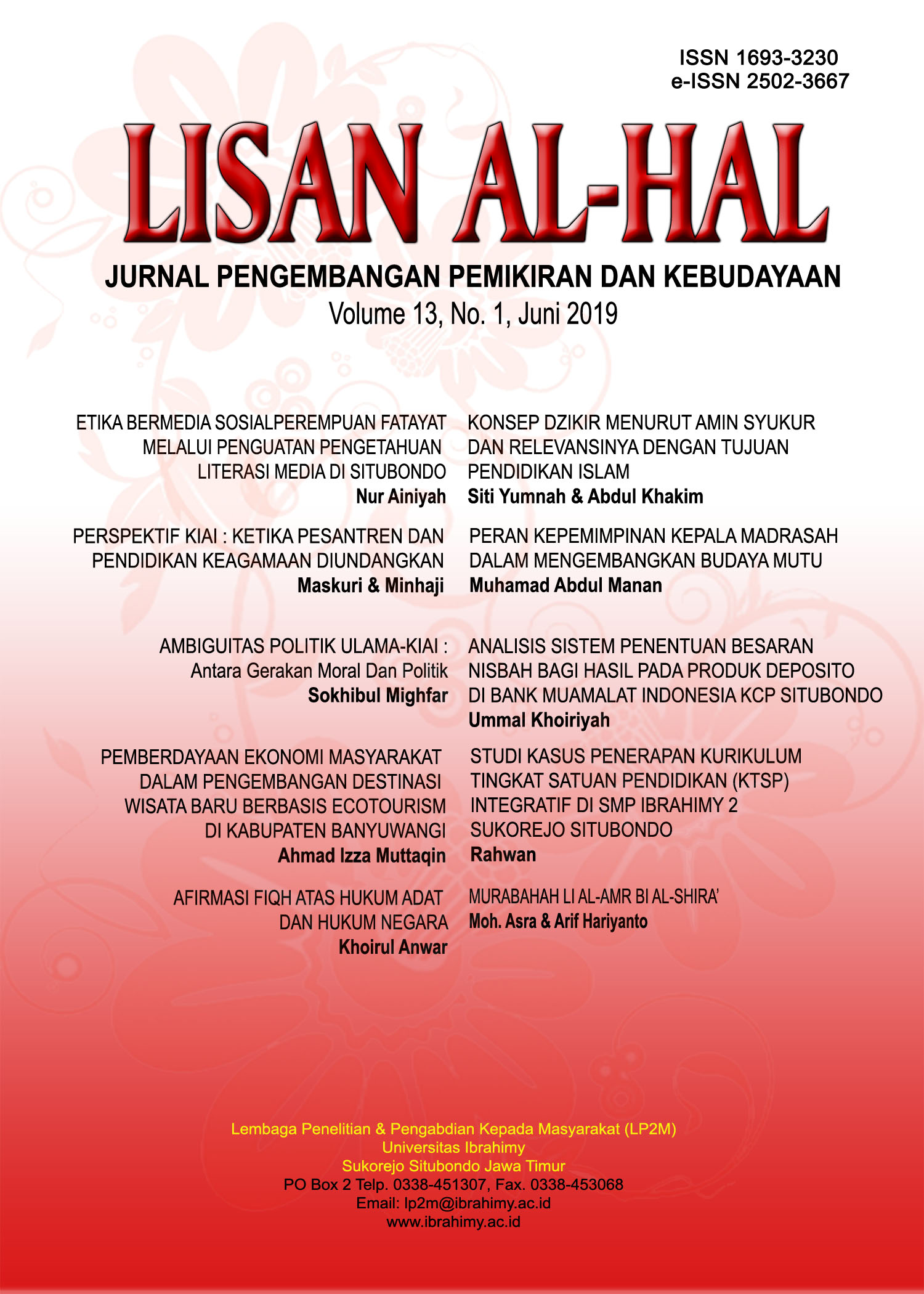 How to Cite
Muttaqin, A. I. (2019). PEMBERDAYAAN EKONOMI MASYARAKAT DALAM PENGEMBANGAN DESTINASI WISATA BARU BERBASIS ECOTOURISM DI KABUPATEN BANYUWANGI. LISAN AL-HAL: Jurnal Pengembangan Pemikiran Dan Kebudayaan, 13(1), 51-68. https://doi.org/10.35316/lisanalhal.v13i1.449
Copyright (c) 2019 LISAN AL-HAL: Jurnal Pengembangan Pemikiran dan Kebudayaan
This work is licensed under a Creative Commons Attribution-ShareAlike 4.0 International License.
Abstract viewed = 114 times

pdf downloaded = 131 times