AMBIGUITAS POLITIK ULAMA-KIAI
Antara Gerakan Moral dan Politik
Shokhibul Mighfar

Universitas Ibrahimy Situbondo
Keywords:
Political Performance, Politik Moral, Politik Kekuasaan
Abstract
The political process in Indonesia has experienced reform, and succeeded in overthrowing the political construction of the old regime which was monolithic authoritarian and militaristic while opening the way for the process of democratization and social transformation. Nowadays, the involvement of kyai as an actor in national politics has taken the attention of public and political observers. From the long history of the kyai's political stage, there has been a shift and change in direction, especially the shift from national politics to power politics. Kyai who initially moved on the cultural path, called the cultural broker, in the current political process seemed to be the actor who gave political legitimacy. The line of kyai's struggle began to shift along with political changes in the country. Kyai began to explore the political area of the party with all political maneuvers such as giving support (legitimacy) known as blessing. Politics is profane which necessitates the existence of tendencies, and consequently narrows down vision, mision and advocacy only to certain groups or mass of supporters. Necessarily, the legitimacy of kyai is not obtained through power and political supports but from his attitude and moral actions, in addition to the religious authority. So that going into politics does not further strengthen the prestige and charisma of kyai, but rather politicians' hegemony kyai.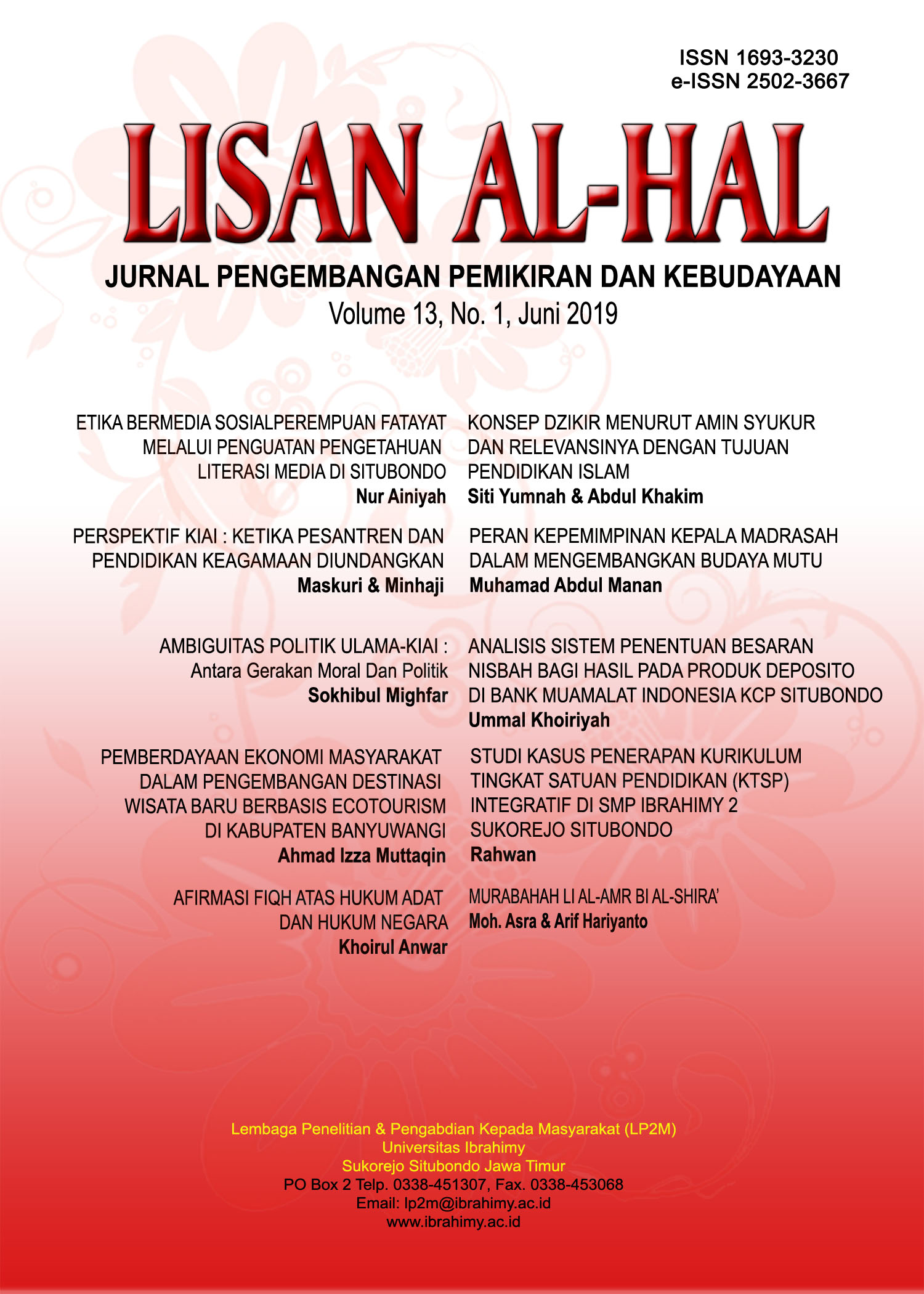 How to Cite
Mighfar, S. (2019). AMBIGUITAS POLITIK ULAMA-KIAI. LISAN AL-HAL: Jurnal Pengembangan Pemikiran Dan Kebudayaan, 13(1), 37-50. https://doi.org/10.35316/lisanalhal.v13i1.448
Copyright (c) 2019 LISAN AL-HAL: Jurnal Pengembangan Pemikiran dan Kebudayaan
This work is licensed under a Creative Commons Attribution-ShareAlike 4.0 International License.
Abstract viewed = 118 times

pdf downloaded = 97 times