TIGA PILAR FORMULASI KURIKULUM PESANTREN MAHASISWA YANG MENGANTARKAN PADA KERUKUNAN UMAT
Keywords:
Elaboration of Philosophy, Islamic Theology, Tasawuf, Islamic Boarding School Curriculum
Abstract
Islamic boarding school is non-formal educational institution that has many contributions to shape the mindset and attitude patterns of students. Generaly contribute to a diverse social life, both in the context of religion, culture, race and language. An attitude of mutual respect and respect for one another is the noble ideals of education. The variety of religious problems that arise becomes the reason for pesantren to take part in maintaining religious harmony. Philosophy, Islamic theology and tasawuf become knowledge that is able to shape the character of human personality. If Islamic boarding school play a role in developing an education oriented towards maintaining harmony then pesantren is an oasis for the aridity of wisdom in thinking and acting, refusing reasoning for an understanding of God without limits, and the lack of attitude or moral in social life. In line with this, then this paper describes the educational curriculum of the Islamic Boarding School Baitul Hikmah STF (College of Philosophy) Al-Farabi Kepanjen-Malang, to realize religious harmony.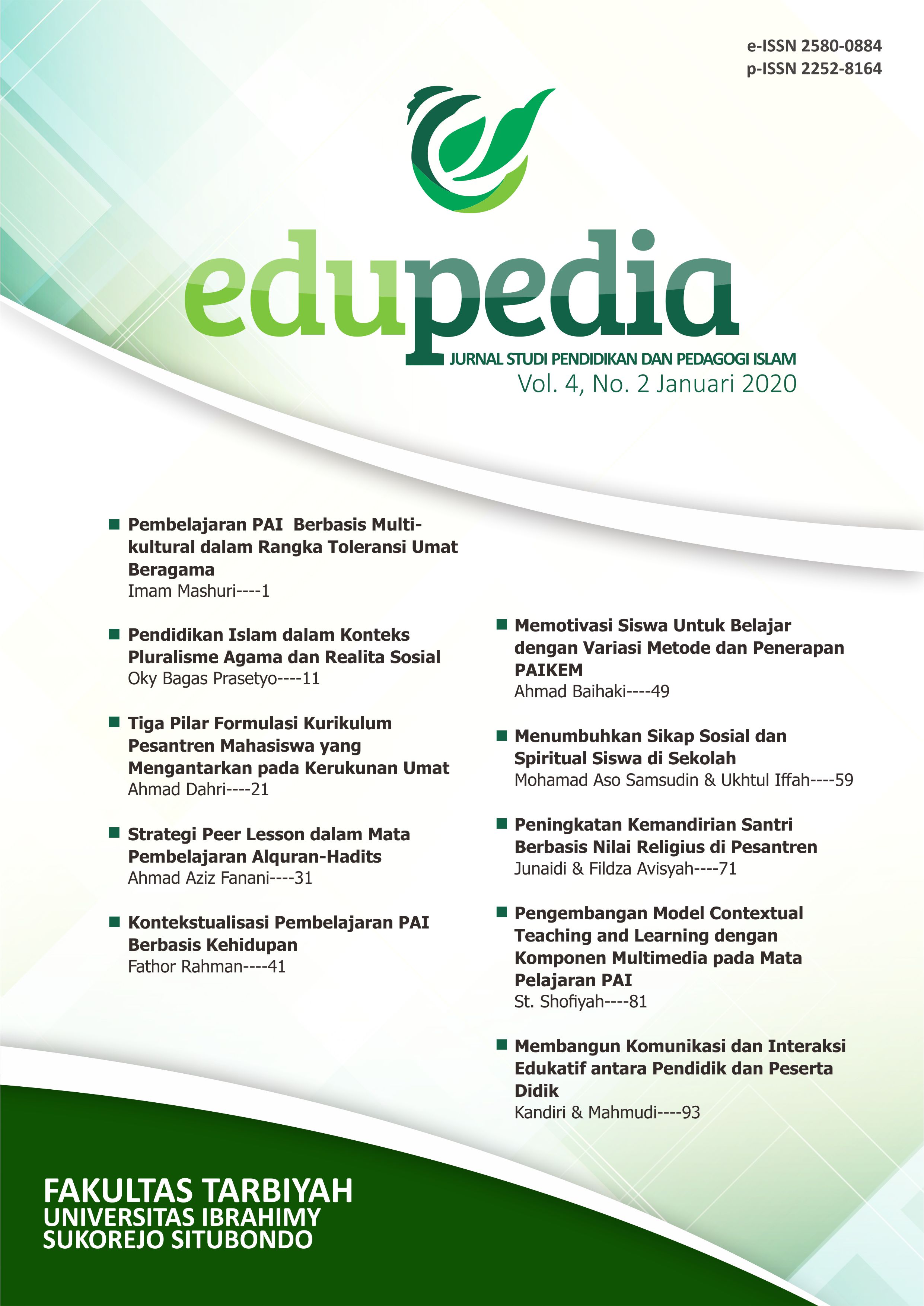 How to Cite
Dahri, A. (2020). TIGA PILAR FORMULASI KURIKULUM PESANTREN MAHASISWA YANG MENGANTARKAN PADA KERUKUNAN UMAT . Edupedia, 4(2), 21-29. Retrieved from https://journal.ibrahimy.ac.id/index.php/edupedia/article/view/663
Abstract viewed = 4 times

pdf downloaded = 0 times