ISLAMISASI ILMU PENGETAHUAN MENURUT ISMAIL RAJI AL-FARUQI
Keywords:
Islamization of Science, Integration of Science, Al-Faruqi
Abstract
The idea of Islamization was triggered by a dichotomy. This dichotomy is not only extendsin the realm of science, but also extends in domain of religion in the context of state. From the first dichotomy generated the stigma of religious and general knowledge, while from the second dichotomy, it caused a secular attitude. As a result of this dichotomy, most Muslims keep far themselves from general science and government which results in their backwardness in the development of science and technology. On the other hand, Islam itself has the concept of tauhid in its faith. This concept was used as the foundation by Ismail Raji al-Faruqi in carrying out and succeeding the idea of Islamization of science in order to catch up Muslims' backwardness for centuries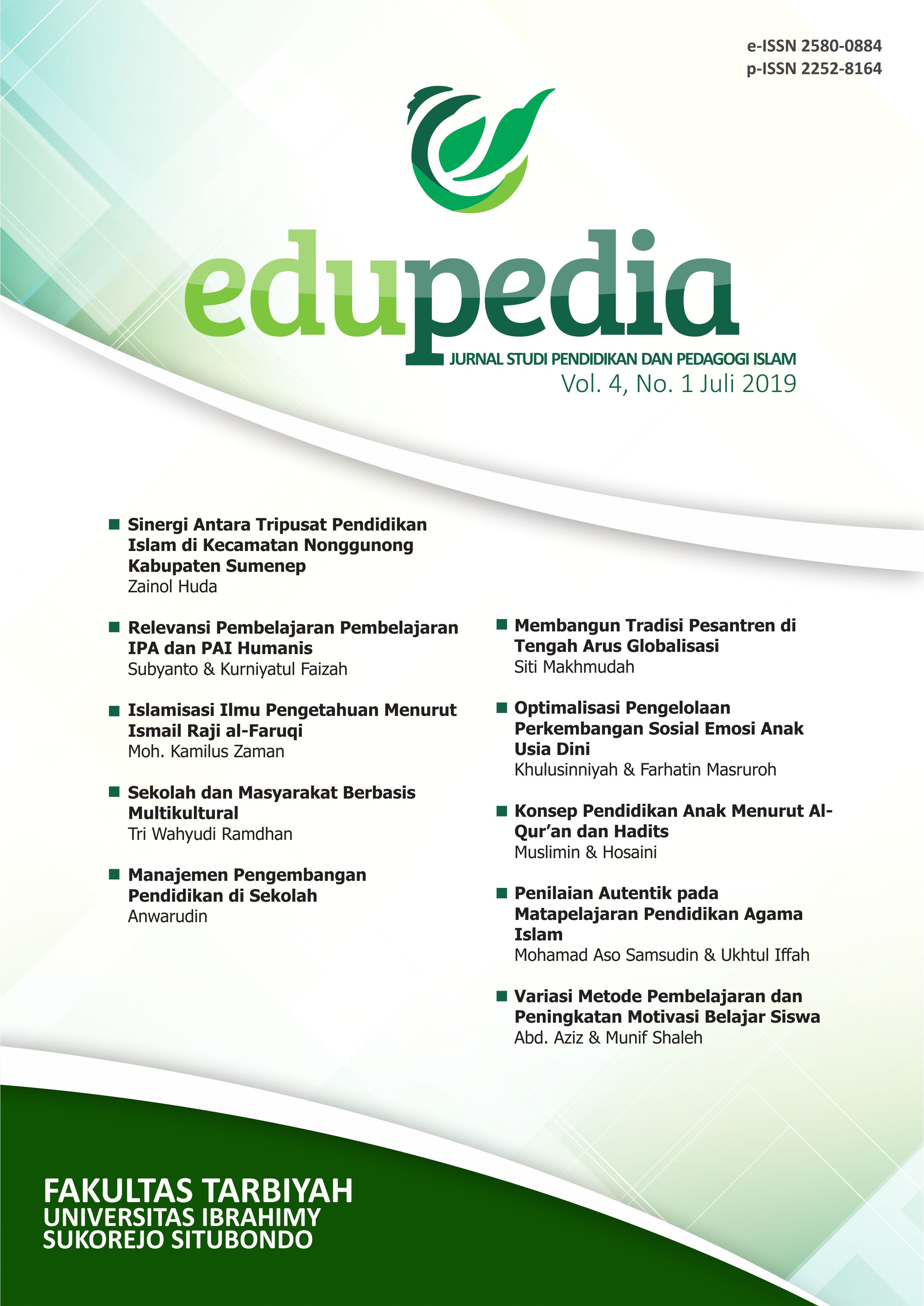 How to Cite
Zaman, M. K. (2019). ISLAMISASI ILMU PENGETAHUAN MENURUT ISMAIL RAJI AL-FARUQI . Edupedia : Jurnal Studi Pendidikan Dan Pedagogi Islam, 4(1), 23-29. https://doi.org/10.35316/edupedia.v4i1.522
Authors who publish with this journal approve to the terms below:
Authors retain copyright and grant the journal right of first publication with the work simultaneously licensed under a Creative Commons Attribution License that allows others to share the work with an acknowledgment of the work's authorship and initial publication in this journal.
Authors are able to enter into separate, additional contractual arrangements for the non-exclusive distribution of the journal's published version of the work (e.g., post it to an institutional repository or publish it in a book), with an acknowledgment of its initial publication in this journal.
Authors are permitted and encouraged to post their work online (e.g., in institutional repositories or on their website) prior to and during the submission process, as it can lead to productive exchanges, as well as earlier and greater citation of published work.
Abstract viewed = 233 times

pdf downloaded = 0 times