PEMBERDAYAAN BADAN USAHA MILIK DESA DALAM MENINGATKAN USAHA DAN EKONOMI MASYARAKAT DENGAN PENDEKATAN KELOMPOK DESA JABON KECAMATAN KALIDAWIR KABUPATEN TULUNGAGUNG
Siswahyudianto

IAIN Tulungagung
Keywords:
Pemberdayaan, BUMDes, Bisnis, Kelompok Ekonomi
Abstract
Establishment "BUMDes is also intended to encourage, facilitate, protect and empower economic activities in rural areas that are based on potential" villages or activities both" develop according to the customs and culture of the local community. Village economic institutional strengthening is ultimately intended to improve the socio-economic welfare of rural communities and support the optimization of poverty alleviation programs. The vision of BUMDes "Mekar Jaya" is to realize the welfare of the people of Jabon Village through the development of economic businesses and social services, with the motto, let's build the village together. Based on village deliberations, the village empowerment program concentrates on agriculture, fisheries and computer technology for entrepreneurs.
References
Afandi, Agus, dkk. Modul Participatory Action Reseacrh PAR IAIN Sunan Ampel Surabaya: Lembaga Pengabdian Masyarakat LPM, 2013.
Buku Panduan Pendirian dan Pengelolaan Dandan Usaha Milik Desa (BUMDes), Departemen Pendidikan Nasional Pusat Kajian Dinamika Sistem Pembangunan PKDSP, 2007.
Buku Petunjuk Teknis Pembentukan Badan Usaha Milik Desa BUMDesa
https://id.m.wikipedia.org/wiki/Badan-Usaha-Milik-Desa diakses pada 28 Juni 2019.
Hutomo, Mardi Yatmo. Pemberdayaan Masyarakat Dalam Bidang Ekonomi, Yogyakarta: Adiyana Pres, 2000.
Mahardika, Timor . Pendidikan Politik Pembangunan Desa, Yogyakarta: Pustaka Utama, 2001.
Nurman. Strategi Pembangunan Daerah, Jakarta: Rajawali Pers, 2015.
Sumaryadi, I Nyoman. Perencanaan Pembangunan Daerah Otonom dan Pemberdayaan Masyarakat, Jakarta: Citra Utama, 2005.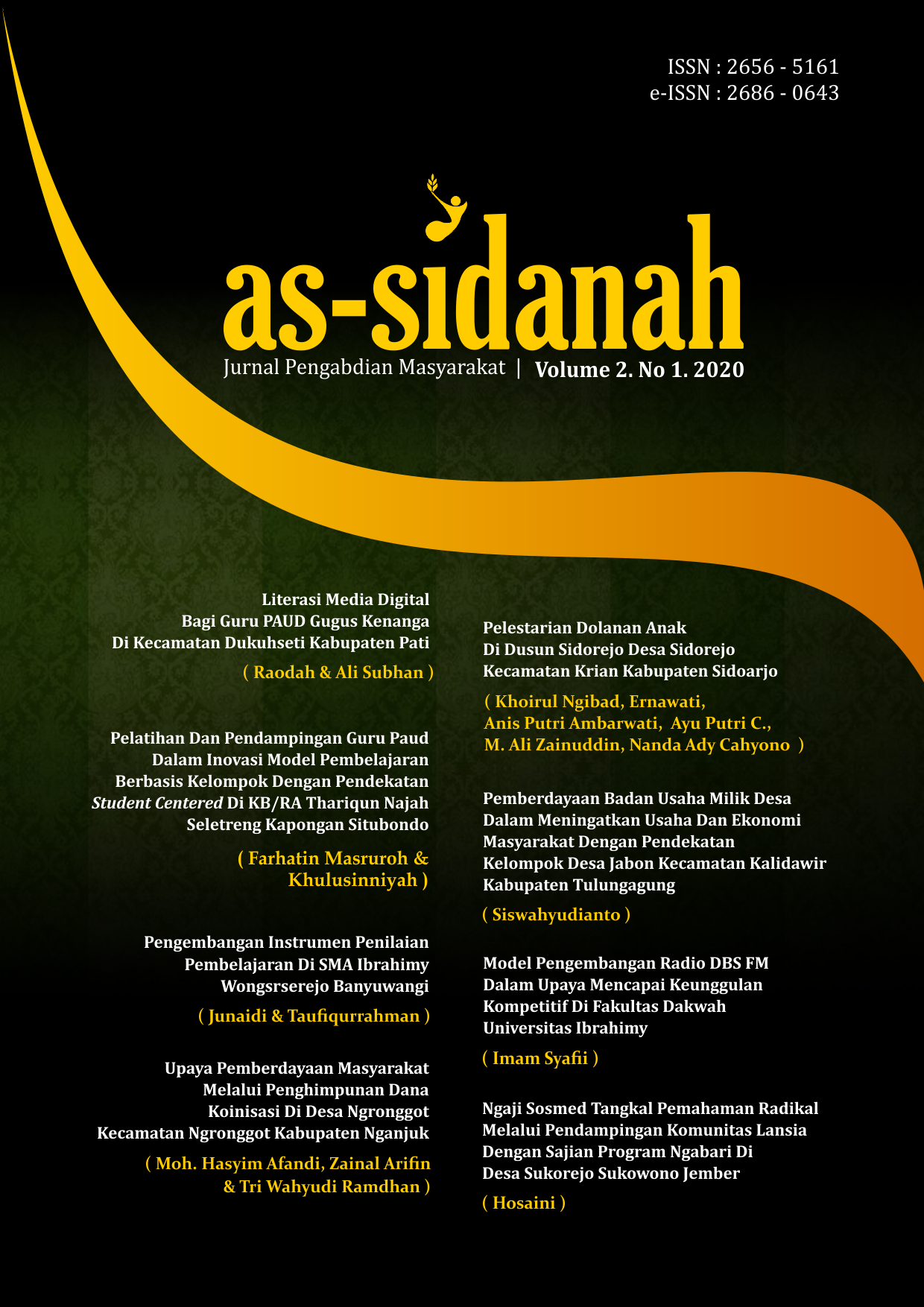 How to Cite
Siswahyudianto. (2020). PEMBERDAYAAN BADAN USAHA MILIK DESA DALAM MENINGATKAN USAHA DAN EKONOMI MASYARAKAT DENGAN PENDEKATAN KELOMPOK DESA JABON KECAMATAN KALIDAWIR KABUPATEN TULUNGAGUNG. As-Sidanah : Jurnal Pengabdian Masyarakat, 2(1), 99-126. https://doi.org/10.35316/assidanah.v2i1.697
Abstract viewed = 181 times

pdf downloaded = 103 times