PENDAMPINGAN KEGIATAN OPTIMALISASI TEKNOLOGI INFORMASI DALAM MENDUKUNG PROSES PENDIDIKAN DI TAMAN KANAK-KANAK
Muhammad Sholeh

Institut Sains & Teknologi AKPRIND Yogyakarta

Yuliana Rachmawati

Institut Sains & Teknologi AKPRIND Yogyakarta

Dina Andayati

Institut Sains & Teknologi AKPRIND Yogyakarta
Keywords:
Teacher, ICT, Learning, Internet
Abstract
The use of information technology in supporting the learning process has become one of the needs that must be prepared by teachers. Teachers must adapt to the development of information technology. Teachers must adapt and adapt to children who use information technology more and are smarter in using smartphones. There are many applications that can be used to support the information technology-based learning process. One application that can be used in making online questions is to use the Wordwall application. The purpose of this activity is to provide alternatives to teachers in using applications to create online practice questions. The selection of the Wordwall application with the consideration that the application is easy to use and the questions presented to students can be chosen in the form of games. By packing in the game, it is hoped that students will feel happy in doing the questions. The method in the activity is carried out by providing training and practicing directly. The use of this practical method is expected that teachers can directly implement the making of questions. As a result of this activity, the teachers were able to develop online questions and form the outputs of the questions with various forms of games and distribute the questions to students.
Downloads
Download data is not yet available.
References
Aini, Syifa Ainun Nur, Anayanti Rahmawati, and Jumiatmoko Jumiatmoko, 'Penerapan Video Animasi Interaktif Untuk Mengenalkan Nilai-Nilai Keagamaan Pada Anak', ThufuLA: Jurnal Inovasi Pendidikan Guru Raudhatul Athfal, 9.2 (2021), 313 <https://doi.org/10.21043/thufula.v9i2.11893>
Ajeng Rizki Safira, M.Pd., Media Pembelajaran Anak Usia Dini (Gresik: Caremedia Communication, 2020)
Andriyani, Andriyani, Happy Indira Dewi, and Zulfitria Zulfitria, 'Penggunaan Multimedia Dan Animasi Interaktif Terhadap Keterampilan Membaca Permulaan Siswa', Instruksional, 1.2 (2020), 172 <https://doi.org/10.24853/instruksional.1.2.172-180>
Enoh, Enoh, Huriah Rachmah, Masnipal Masnipal, and Nurul Afrianti, 'Pelatihan Penggunaan Aplikasi Rencana Pembelajaran PAUD Di Kota Bandung', ACADEMICS IN ACTION Journal of Community Empowerment, 3.1 (2021), 31 <https://doi.org/10.33021/aia.v3i1.1614>
Fachri, Barany, and H Hendry, 'Perancangan Animasi Interaktif Belajar Berhitung Berbasis Multimedia Pada TK-IT Al Washliyah Klambir Lima Hamparan Perak', Jurnal Teknologi Informasi, 3.1 (2019), 66 <https://doi.org/10.36294/jurti.v3i1.690>
Febrialismanto, Febrialismanto, and Hidayatun Nur, 'Kemampuan Guru Menggunakan TIK Untuk Pengembangan Di Taman Kanak-Kanak', KINDERGARTEN: Journal of Islamic Early Childhood Education, 2.2 (2020), 101 <https://doi.org/10.24014/kjiece.v2i2.8296>
Febrialismanto, and Hidayatun Nur, 'Hubungan Aktivitas Penggunaan Teknologi Dengan Memilih TIK Untuk Pengembangan Anak Usia Dini', PAUD Lectura: Jurnal Pendidikan Anak Usia Dini, 3.2 (2020), 68–77
Hartawan, I Made, 'Peningkatan Kreativitas Pada Anak Usia Dini Melalui Pembelajaran Berbasis TIK Di TK Tunas Mekar Kecamatan Sukasada Kabupaten Buleleng', Jurnal Warna : Pendidikan Dan Pembelajaran Anak Usia Dini, 5.2 (2020), 100–111 <https://doi.org/10.24903/jw.v5i2.536>
Herman., Dkk, 'Media Pembelajaran Berbasis Teknologi Informasi Di Taman Kanak-Kanak', Journal of Education and Teaching, 2.2 (2021), 213
Hermanto, Hermanto, Marsudi Marsudi, Edy Subali, and Enie Hendrajati, 'Efektifitas TIK Untuk Peningkatan Proses Belajar Mengajar Di PAUD, TK Dan Madrasah Diniyah "Mamba'Ul Hisan Dusun Sekargadung, Desa Balerejo Ii, Kecamatan Panggungrejo, Kabupaten Blitar', IPTEK Journal of Proceedings Series, 0.5 (2018), 77 <https://doi.org/10.12962/j23546026.y2018i5.4425>
Herwanti, Bakti, Christin Angelina Febriani, and Fitri Eka Sari, 'Pengaruh Edukasi Metode Bernyanyi Dan Video Animasi Cuci Tangan Pakai Sabun Terhadap Kemampuan Mencuci Tangan Dengan Benar Pada Siswa-Siswi Taman Kanak -Kanak', HJK, 15.4 (2021), 647–54
Iftitah, Selfi Lailiyatul, Evaluasi Pembelajaran Anak Usia Dini (Pamekasan: Duta Media Publishing, 2019)
Jumiatin, Dedah, and Ririn Hunafa Lestari, 'Native Speaker : Media Pembelajaran Berbasis Teknologi Informasi Dan Komunikasi Dalam Memperkenalkan Bahasa Inggris Untuk Anak Usia Dini', Jurnal Tunas Siliwangi, 7.1 (2021), 1–6
Kanak, Taman, Kanak Dan, and Raudhatul Athfal, 'Pelatihan " Pembelajaran Berbasis ICT " Bagi Guru-Guru', 2.2 (2017), 111–15
Kartini, Kartini, I Nyoman Sudana Degeng, and Nurmida Catherine Sitompul, 'Pengembangan Multimedia Interaktif Tema Binatang Untuk Pembelajaran Di Taman Kanak-Kanak', Jurnal Inovasi Teknologi Pendidikan, 7.2 (2020), 128–39 <https://doi.org/10.21831/jitp.v7i2.33879>
Khaerudin, M, Abdul Qohar, and Ewin Suciana, 'Perancangan Pembelajaran Menggunakan Animasi Flash Untuk Taman Kanak – Kanak ( TK )', 9.1 (2021), 22–35
Kustiawan, Usep, PENGEMBANGAN MEDIA PEMBELAJARAN ANAK USIA DINI (Malang: Penerbit Gunung Samudera, 2016)
Lestariningrum, Anik, Nur Lailiyah, Ridwan, Rr. Forijati, and Intan Prastihastari Wijaya, INOVASI PEMBELAJARAN ANAK USIA DINI (Gresik: Bayfa Cendekia Indonesia, 2021)
Munawar, Badri, Ade Farid Hasyim, and Minhatul Ma'arif, 'Pengembangan Bahan Ajar Digital Berbantuan Aplikasi Animaker Pada PAUD Di Kabupaten Pandeglang', Jurnal Golden Age, 4.02 (2020), 310–20 <https://doi.org/10.29408/jga.v4i02.2473>
Sakti Gunawan Irianto, Wahyu, Harits Ar Rosyid, and Muhammad Iqbal Akbar, 'Pelatihan Pembelajaran Berbasis Game Online Pada Guru TK As-Salam Kota Malang', Inovasi Teknik Dan Edukasi Teknologi, 1.6 (2021), 416–23 <https://doi.org/10.17977/um068v1i62021p416-423>
Septanto, Henri, Harya Bima Dirgantara, Prodi Informatika, Fakultas Industri Kreatif, and Itbk Kalbis Jln Pulomas Selatan Kav, 'Perancangan Media Pembelajaran Pengenalan Hewan Berbasis Animasi Multimedia Untuk Anak-Anak TK', Jurnal Komputer Dan Informatika, 15.1 (2020), 99–109
Syahyuni, Tuti, 'Pengaruh Pembelajaran Melalui Media Teknologi Informasi Komunikasi (TIK) Dan Media Cetak Terhadap Kreativitas Anak Usia Dini Di TK Aminah Hamdi. Kec. Medan Marelan Kota Medan', in PROCEEDING : THE DREAM OF MILLENIAL GENERATION TO GROW, 2018, pp. 1–12
Windarto, Agus Perdana, Iin Parlina, and Anjar Wanto, 'Training For Early Childhood Teachers " Melek " Technology of Simalungun District', Jurnal Tunas, 1.1 (2019), 1–6
Zulfahmi, Muhammad Nofan, 'Implementasi Pelatihan Pemanfaatan TIK Bagi Guru Sekolah Binaan KB Sya'roniyah Purwogondo', Kiddo: Jurnal Pendidikan Islam Anak Usia Dini, 2.2 (2021), 191–204 <https://doi.org/10.19105/kiddo.v2i2.5040>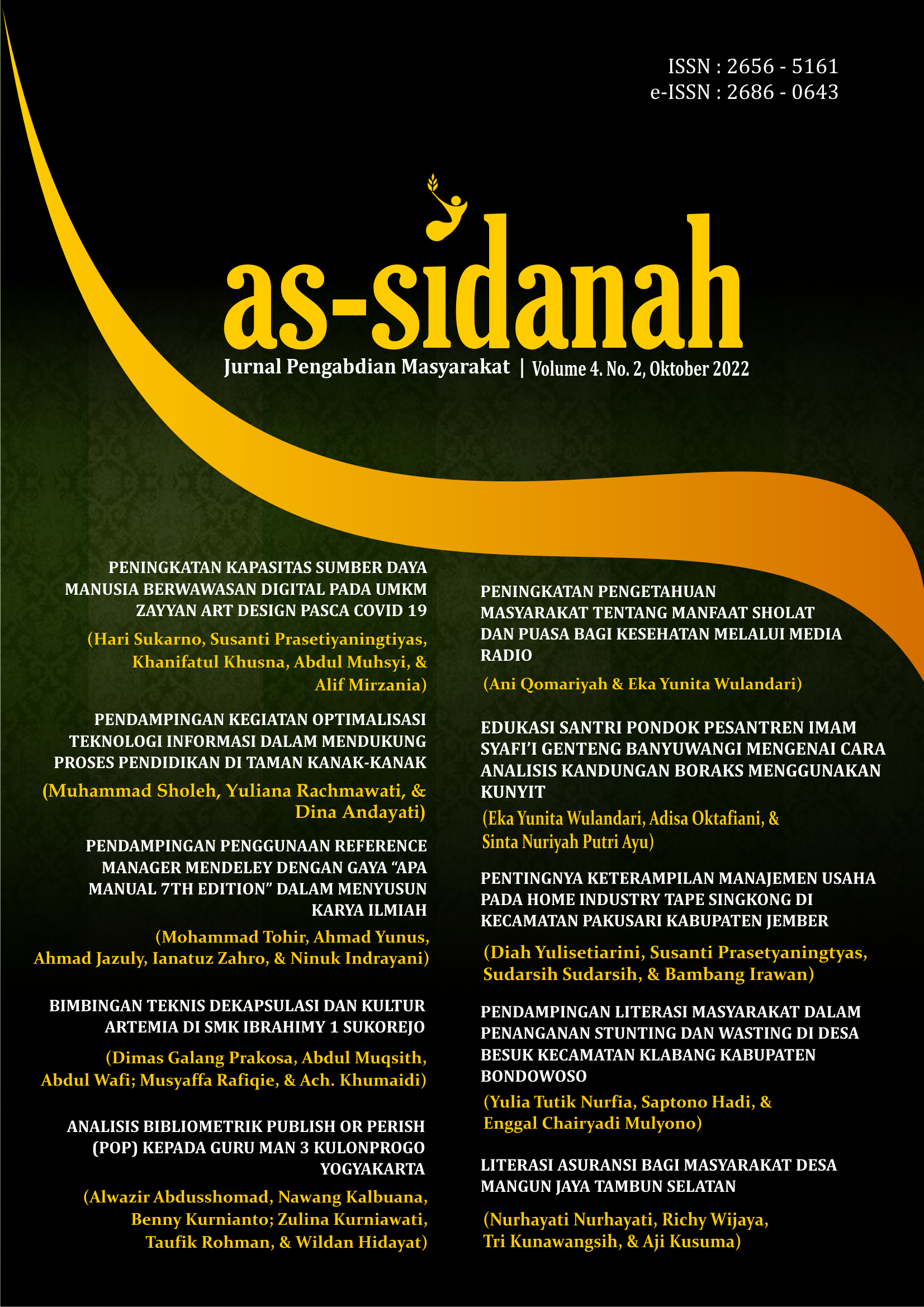 How to Cite
Sholeh, M., Rachmawati, Y., & Andayati, D. (2022). PENDAMPINGAN KEGIATAN OPTIMALISASI TEKNOLOGI INFORMASI DALAM MENDUKUNG PROSES PENDIDIKAN DI TAMAN KANAK-KANAK. As-Sidanah : Jurnal Pengabdian Masyarakat, 4(2), 124-136. https://doi.org/10.35316/assidanah.v4i2.124-136
Copyright (c) 2022 Muhammad Sholeh, Yuliana Rachmawati, Dina Andayati
This work is licensed under a Creative Commons Attribution-ShareAlike 4.0 International License.
The following conditions apply to authors who submit contributions to the As-Sidanah: Jurnal Pengabdian Masyarakat:
The author owns the copyright and provides the editorial board with the first right to publish the work under a
Creative Commons License (CC BY-SA 4.0)
that allows others to share (copy and redistribute) the content in any media or format adaptation of works for any purpose.
Separate, extra-contractual arrangements may be entered into by authors for the non-exclusive dissemination of the Journal's published work (for example, uploading it to institutional repositories or publishing it in books), with an acknowledgement of the Journal's first publication.
Abstract viewed = 252 times

FULL TEXT PDF downloaded = 282 times