INOVASI PEMASARAN PORDUK GULA KACANG MELALUI SISTEM PENANDA LOKASI GLOBAL POSITIONING SYSTEM(GPS)
Harminto Mulyo

Universitas Islam Nahdlatul Ulama Jepara, Indonesia

Kartika Widiastuti

Universitas Islam Nahdlatul Ulama Jepara, Indonesia

Zubaedah Zubaedah

Universitas Islam Nahdlatul Ulama Jepara, Indonesia

Muhammad Verdy Fahrudin

Universitas Islam Nahdlatul Ulama Jepara, Indonesia

Mochamad Handre Fidiyanto

Universitas Islam Nahdlatul Ulama Jepara, Indonesia

Rahmawan Arniyanto

Universitas Islam Nahdlatul Ulama Jepara, Indonesia
Keywords:
innovation, Marketing, GPS locator system
Abstract
Increasing marketing innovation is very important in progress in entrepreneurship. Of course, in Micro, Small and Medium Enterprises (MSMEs). MSMEs is a commercial business whose management is carried out by individuals or individuals as well as business entities with a small scope, better known as micro. The problem faced by most small businesses or industries is that they do not have a Global Positioning System (GPS) partner business location marker system. Global Positioning System (GPS) is a navigation system that uses more than 24 MEO (Medium Earth Orbit) satellites that can provide information on the user's position wherever they are. GPS also plays an important role in increasing marketing to MSMEs. By using GPS, it is easier for people to access the location of MSMEs. With community service related to MSMEs assistance in traditional types of peanut sugar, it is hoped that it can provide MSMEs solutions. The problem solving method used is based on a management approach in improving production and sales results with 3 (three) stages of program implementation, namely preparation, implementation and monitoring and evaluation.
References
Opan Arifudin, Fenny Damayanti Rusmana, Rahman Tanjung, & Udin Wahrudin. Inovasi Kemasan Dan Perluasan Pemasaran Dodol Nanas Di Subang Jawa Barat. Dinamisia : Jurnal Pengabdian Kepada Masyarakat, 4(3), 408–417. https://doi.org/10.31849/dinamisia.v4i3.4469. 2020.
Sutarno. Serba-Serbi Manajemen Bisnis. Journal of Chemical Information and Modeling, 53(9), 2012.
Vernia, D. M., Widiyarto, S., Narsih, D., & Mubasyira, M. Sosialisasi Dan Pembekalan Strategi Pemasaran Produk Olahan Pisang Pada Siswa Pondok. 3(2), 2019.
Zaky, M., Mufti, A., & Rahman, A. Perancangan Sistem Kendali Berbasis Gps (Global Positioning System) Pada Kapal Tanpa Awak. Jurnal Komputer, Informasi Teknologi, Dan Elektro, 3(2), 2018.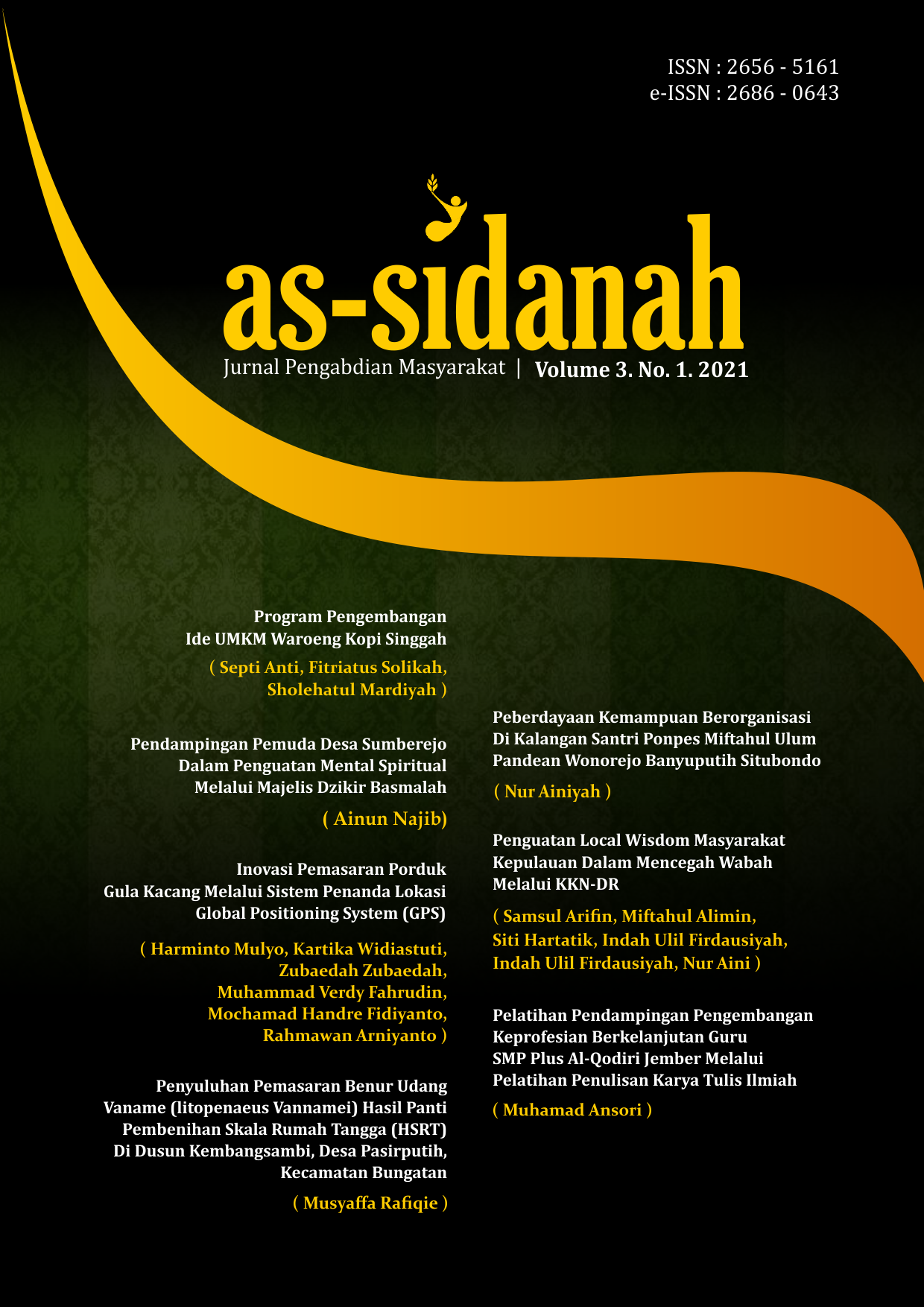 How to Cite
Mulyo, H., Widiastuti, K., Zubaedah, Z., Fahrudin, M. V., Fidiyanto, M. H., & Arniyanto, R. (2021). INOVASI PEMASARAN PORDUK GULA KACANG MELALUI SISTEM PENANDA LOKASI GLOBAL POSITIONING SYSTEM(GPS). As-Sidanah : Jurnal Pengabdian Masyarakat, 3(1), 39-54. https://doi.org/10.35316/assidanah.v3i1.1208
Abstract viewed = 41 times

pdf downloaded = 34 times