الطريقة السمعية الشفهية وتطبيقها في تعليم اللغة العربية
Shofwatul Fu'adah

Fakultas Tarbiyah Universitas Ibrahimy

Nur Agung

IAI Muhammadiyah Sinjai

Agus Nu'man

STAI Nurul Huda Kapongan Situbondo
Keywords:
Sam'iyah Syafahiyah Method, Audiolingual, Learning Arabic Language
Abstract
The Sam'iyah Syafahiyah or Audiolingual method arose in the fifties of the twentieth century as a of applying the doctrine of foreign language learning with the aim to helping American officers and soldiers acquire the languages ​​of the peoples who were fighting them during war in quick and fruitful ways.  Then this method developed rapidly and was used in language learning in the world including in learning English and Arabic language. This method is a combination of behaviorism theory in psychology and structural theory in linguistics and based on a structural approach in language teaching. The purpose of this method is to master the four language skills of listening, speaking, reading and writing. This is not much different from other language teaching methods, however the principle of this method is to teach speaking skills before writing "hearing and speaking" first, then reading and writing after that. This study aims to explore the early emergence of the Sam'iyah Syafahiyah method, so this study uses the literature study method in finding the data. The points in this study include the history of the emergence of the Sam'iyah Syafahiyah method, the theories and approaches used by this method, the functions of the learning elements (including teacher, students and teaching materials), the practice in learning Arabic language and the advantages and disadvantages of the Sam'iyah Syafahiyah method in learning Arabic language.
References
صيني، محمود إسماعيل. وقائع ندوات تعليم اللغة العربية. المدينة المنورة: مكتب التربية العربي لدل الخليج. 1985
طعيمة، رشدي أحمد. الأسس المعجمية والثقافية لتعليم اللغة العربية لغير الناطقين بها. مكة المكرمة:جامعة أم القرى
العبدان، عبد الرحمن عبد العزيز. مذاهب وطرائق في تعليم اللغات. الرياض: دار عالم الكتب. 1989
العربي، صلاح الدين عبد المجيد. تعلّم اللغات الحيّة وتعليمها بين النظرية والتطبيق. القاهرة:مكتبة لبنان
العصيلي، عبد العزيز بن إبراهيم. طرائق تدريس اللغة العربية. رياض: جامعة الإمام محمد بن سعود الإسلامية
____، عبد العزيز بن إبرهيم. النظريات اللغوية والنفسية وتعليم اللغة العربية. الرياض. جامعة الإمام محمد بن سعود الإسلامية. 1999
علي يونس، فتحى و محمد عبد الرؤف. المرجع في تعليم اللغة العربية للأجانب "من النظرية إلى التطبيق". القاهرة: مكتبة وهبة. 2003
مذكور، علي أحمد. تدريس فنون اللغة العربية. الرياض: دار الشواقب. 1991
Afroni, Mochamad. "Metode Sam'iyah Syafawiyah Dalam Pembelajaran Bahasa Arab", Jurnal Al-Lahjah, Vol.2, NO.1 (Januari 2019), hal 19-28.
Effendy, Ahmad Fu'ad. Metodologi Pengajaran Bahasa Arab. Malang: Miskat. 2004
Fu'adah, Shofwatul. "I'dâd al-Mawâd al-Ta'lîmiyyah li Mahârati al-Kalâm Fî Dhoui al-Madkhal al-Wadzhîfî Fî Maskan al-Khairiyyah Sukorejo Situbondo", Jurnal Alibbaa', Vol.2, No.2 (Juli 2021), hal 141-160. https://doi.org/10.19105/ajpba.v2i2.4757
_______, Shofwatul. "Tathbîq Tiknûlûjiyâ (Istirâtîjiyah al-Kharîthah al-Dzihniyah) li Hilli Musykilah Ta'lîm Mufradât al-Lughah al-'Arabiyah Lada Thullâb al-Fashl al-Sâbi' fî al-Madrasah al-Tsânawiyah "Nurul Jadid Banyuputih-Situbondo", Jurnal Alibbaa', Vol.1, No.2 (Juli 2020), hal 201-218, https://doi.org/10.19105/alb.v1i2.3572
Hanani, Nurul. "Efektivitas Penggunaan Metode Audiolingual dalam Pembelajaran Bahasa Arab", Realita: Jurnal Penelitian dan Kebudayaan Islam, Vol .14, No.2 (2016), hal 246-256. https://doi.org/10.30762/realita.v14i2.250
Hasyem, Syarifuddin. "الطريقة السمعية الشفهية وتطبيقها على تدريس الكلام" , Lisanuna; Jurnal Ilmu Bahasa Arab & Pembelajarannya, Vol.4, No.2 (2015). hal 236-250, http://dx.doi.org/10.22373/l.v4i2.845
Hermawan, Acep. Metodologi Pembelajaran Bahasa Arab. Bandung : PT Remaja Rosdakarya. 2011
Maspalah. "Metode Audiolingual dalam Pembelajaran Bahasa Arab Untuk Meningkatkan Kemampuan Berbicara", Jurnal Pendidikan Bahasa & Sastra, Vol.15, No.1 (April 2015), hal 68-78. https://doi.org/10.17509/bs_jpbsp.v15i1.800
Panigoro, Muhammad Rifian & Abdur Rahman Adi Saputra, "Implementasi Metode Sam'iyah Syafahiyah Pada Siswa Sebagai Upaya Meningkatkan Kemampuan Penguasaan Mufradat", 'A Jamiy, Vol.9, No.2 (September 2020), hal 164-178. http://dx.doi.org/10.31314/ajamiy.9.2.164-178.2020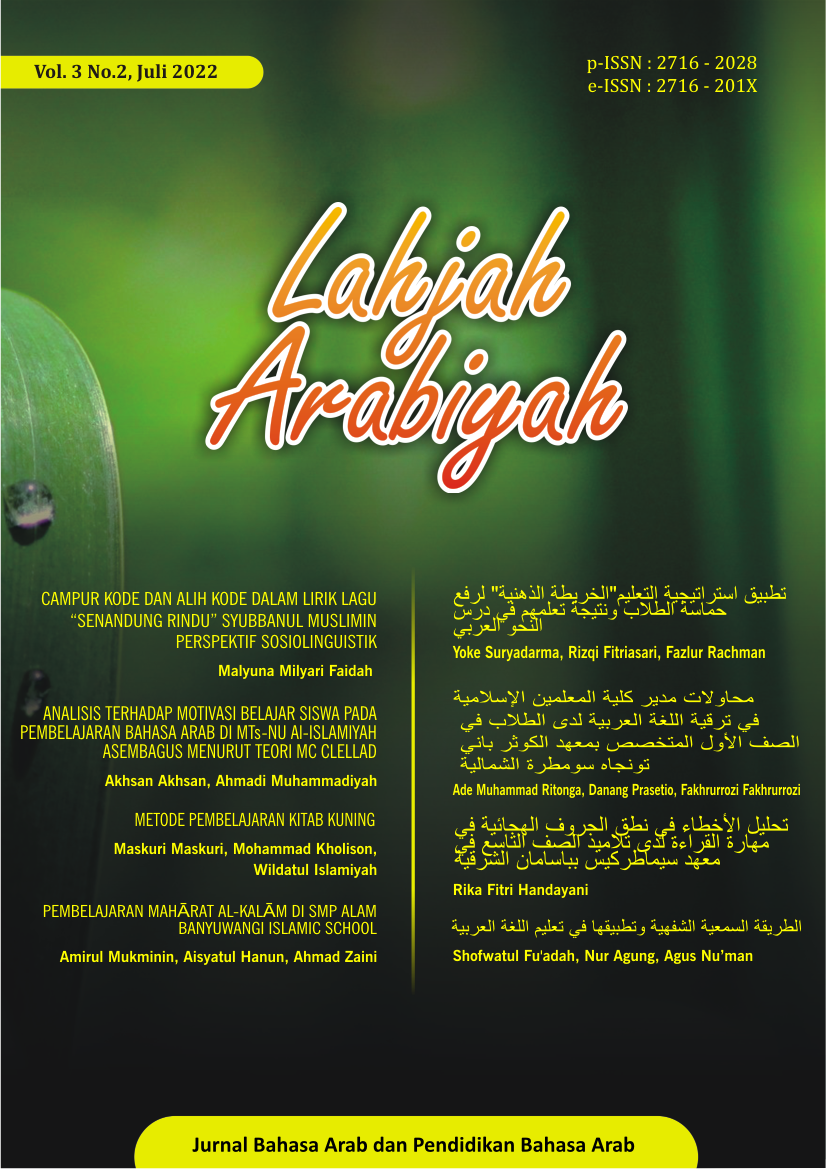 How to Cite
Fu'adah, S., Agung, N., & Nu'man, A. (2022). الطريقة السمعية الشفهية وتطبيقها في تعليم اللغة العربية. Lahjah Arabiyah: Jurnal Bahasa Arab Dan Pendidikan Bahasa Arab, 3(2), 109-121. https://doi.org/10.35316/lahjah.v3i2.109-121
Copyright (c) 2022 Lahjah Arabiyah: Jurnal Bahasa Arab dan Pendidikan Bahasa Arab
This work is licensed under a Creative Commons Attribution-ShareAlike 4.0 International License.
Authors who publish with this journal agree to the following terms:
Authors are able to enter into separate, additional contractual arrangements for the non-exclusive distribution of the journal's published version of the work (e.g., post it to an institutional repository or publish it in a book), with an acknowledgement of its initial publication in this journal.
Authors are permitted and encouraged to post their work online (e.g., in institutional repositories or on their website) prior to and during the submission process, as it can lead to productive exchanges, as well as earlier and greater citation of published work.
Abstract viewed = 98 times

FULL TEXT PDF downloaded = 58 times