فعالة تعليم مهارة الكلام باللغة العربية أثناء الوباء كوفد 19 عبر الإنترنت
Keywords:
Arabic Language, Media, Pandemic, Speaking Skill
Abstract
The government has issued a policy in which schools require their students to study at home. Starting in March, the school implemented the online learning. This research aims to find out the effectiveness of online education in the era of the Covid-19 epidemic in teaching speaking skill at the Department of Arabic Language Teaching at the State Islamic University Jember. This research used the quantitative approach using the semi-experimental method. The method of data collection is the questionnaire, and the data was analyzed from the effectiveness of the test using N-Gain Score. The results of this research are It is said that online learning of speech skill is less effective, and the results of the performed calculations are 43%. According to the criteria of the N-Gain Interpretation which states that if the percentage value is 40-55, it means "less effective". Because learning the skill of speaking requires direct and interactive skills.
References
Ariesta, Atik. "Kajian Learning Management System (LMS) Dengan Qualitative Weight and Sunm ( QWS ): Studi Kasus D3 Unggulan Universitas Budi Luhur." JURNAL BIT 9, no. 2 (2012): 10–17. https://journal.budiluhur.ac.id/index.php/bit/article/view/504/436.
Daheri, Mirzon, Juliana Juliana, Deriwanto Deriwanto, and Ahmad Dibul Amda. "Efektifitas WhatsApp Sebagai Media Belajar Daring." Jurnal Basicedu 4, no. 4 (2020)
Darmawan, Agus. "PEMILIHAN SISTEM LEARNING MANAGEMENT SYSTEM ( LMS ) METODE AHP MENGGUNAKAN CRITERIUM DECISION PLUS 3 . 0." Faktor Exacta 7, no. 3 (2014): 260–270. Elearning, LSM, Analytic Hierarchy Process, Criterium Decision Plus 3.0%0AAbstract.
Dhawan, Shivangi. "Online Learning: A Panacea in the Time of COVID-19 Crisis." Journal of Educational Technology Systems 49, no. 1 (2020)
Fatkhurrozi, Achmad, Inqidloatul Amaniyah, Ika Rahmawati, and Siti Lailiyah. "EFEKTIVITAS PEMBELAJARAN DARING MENGGUNAKAN GOOGLE MEET DAN WHATSAPP GROUP UNTUK MENINGKATKAN HASIL BELAJAR MATEMATIKA SELAMA." MODELING: Jurnal Program Studi PGMI 8, no. 1 (2021) http://jurnal.stitnualhikmah.ac.id/index.php/modeling/article/view/717.
Ghofur, Abd. "USING GOOGLE CLASSROOM ON INQUIRY BASED LEARNING TO IMPROVE STUDENTS ' LEARNING PARTICIPATION." Jurnal Penelitian Pendidikan 10, no. 2 (2018): 1503–1509. https://ejournal.stkippacitan.ac.id/index.php/jpp/article/view/226.
Kulsum, Siti, and Syifa Husnul. "Pemanfaatan Media Pembelajaran , Inovasi Di Masa Pandemi Covid-19." EDUKATIF : JURNAL ILMU PENDIDIKAN 3, no. 4 (2021): 2149–2158. http://journal.stmikjayakarta.ac.id/index.php/jisamar/article/view/181.
Mendikbud RI. Surat Edaran Nomor 4 Tahun 2020 Tentang Pelaksanaan Kebijakan Pendidikan Dalam Masa Darurat Penyebaran Coronavirus Disease (COVID-19), 2020. https://www.kemdikbud.go.id/main/blog/2020/03/se-mendikbud-pelaksanaan-kebijakan-pendidikan-dalam-masa-darurat-penyebaran-covid19.
Monica, Junita, and Dini Fitriawati. "Efektivitas Penggunaan Aplikasi Zoom Sebagai Media Pembelajaran Online Pada Mahasiswa Saat Pandemi Covid-19 As An Online Learning Medium For Students During The Covid-19 Pandemic." Jurnal Communio: Jurnal Jurusan Ilmu Komunikasi 9, no. 2 (2020): 1630–1640. http://ejurnal.undana.ac.id/JIKOM/article/view/2416.
Muslik, Ahmad. "Google Classroom Sebagai Alternatif Digitalisasi Pembelajaran Matematika Di Era Revolusi Industri 4.0." Andragogi: Jurnal Diklat Teknis Pendidikan dan Keagamaan 7, no. 2 (2019): 246–255. https://pusdiklattekniskemenag.e-journal.id/andragogi/issue/view/8.
Naserly, Mursyid Kasmir. "IMPLEMENTASI ZOOM, GOOGLE CLASSROOM, DAN WHATSAPP GROUP DALAM MENDUKUNG PEMBELAJARAN DARING (ONLINE) PADA MATA KULIAH BAHASA INGGRIS LANJUT (Studi Kasus Pada 2 Kelas Semester 2, Jurusan Administrasi Bisnis, Fakultas Ekonomi Dan Bisnis, Universitas Bina Sa." Jurnal AKSARA PUBLIC 4, no. 2 (2020): 155–165. http://aksarapublic.com/index.php/home/article/view/417.
Pakpahan, Roida, and Yuni Fitriani. "Analisa Pemafaatan Teknologi Informasi Dalam Pemeblajaran Jarak Jauh Di Tengah Pandemi Virus Corona Covid-19." JISAMAR (Journal of Information System, Applied, Management, Accounting and Researh) 4, no. 2 (2020): 30–36. http://journal.stmikjayakarta.ac.id/index.php/jisamar/article/view/181.
Pohan, Albert Efendi. Konsep Pembelajaran Daring Berbasis Pendekatan Ilmiah. CV. Sarnu Untung, 2020. https://books.google.co.id/books?hl=id&lr=&id=s9bsDwAAQBAJ&oi=fnd&pg=PR3&dq=Konsep+Pembelajaran+Daring+Berbasis+Pendekatan+Ilmiah&ots=CsVWQ6FmPm&sig=WlOe1VvO8w0mjoK7KsNBxo8gChc&redir_esc=y#v=onepage&q=Konsep Pembelajaran Daring Berbasis Pendekatan Ilmiah&.
Reksoatmodjo, T. N. Statistika Untuk Psikologi Dan Pendidikan. Bandung: PT Refika Aditama, 2007.
Sugiyono. Metode Penelitian Kuantitatif, Kualitatif, Dan R&D. Bandung: Alfabeta, 2012.
Susilo, Adityo, C Martin Rumende, Ceva W Pitoyo, Widayat Djoko Santoso, Mira Yulianti, Robert Sinto, Gurmeet Singh, et al. "Coronavirus Disease 2019 : Tinjauan Literatur Terkini." Jurnal Penyakit Dalam Indonesia 7, no. 1 (2020): 45–67. http://www.jurnalpenyakitdalam.ui.ac.id/index.php/jpdi/article/view/415.
Thuaimah, Rusydi Ahmad; Naqah, Kamil Mahmud. Al Kitab Al Asasiy Li Ta'lim Al Lughah Al Arabiyyah Li an Nathiqina Bi Lughat Ukhra (I'daduhu Wa Tahliluhu Wa Taqwimuhu). Makkah: جامعة أم القرى, 1983.
Wargadinata, Wildana, Iffat Maimunah, and Suci Ramadhanti. "Mediated Arabic Language Learning for Arabic Students of Higher Education in COVID-19 Situation." Izdihar: Journal of Arabic Language Teaching, Linguistics, and Literature 3, no. 1 (2020): 1–20. http://ejournal.umm.ac.id/index.php/izdihar/article/view/11862.
Warsita, Bambang. Pendidikan Jarak Jauh: Perancangan, Pengembangan, Implementasi, Dan Evaluasi Diklat. Bandung: Remaja Rosdakarya, 2011.
Yuliana. "Corona Virus Diseases (Covid -19); Sebuah Tinjauan Literatur." WELLNESS AND HEALTHY MAGAZINE 2, no. 1 (2020): 187–192. https://www.wellness.journalpress.id/wellness/article/view/21026/pdf.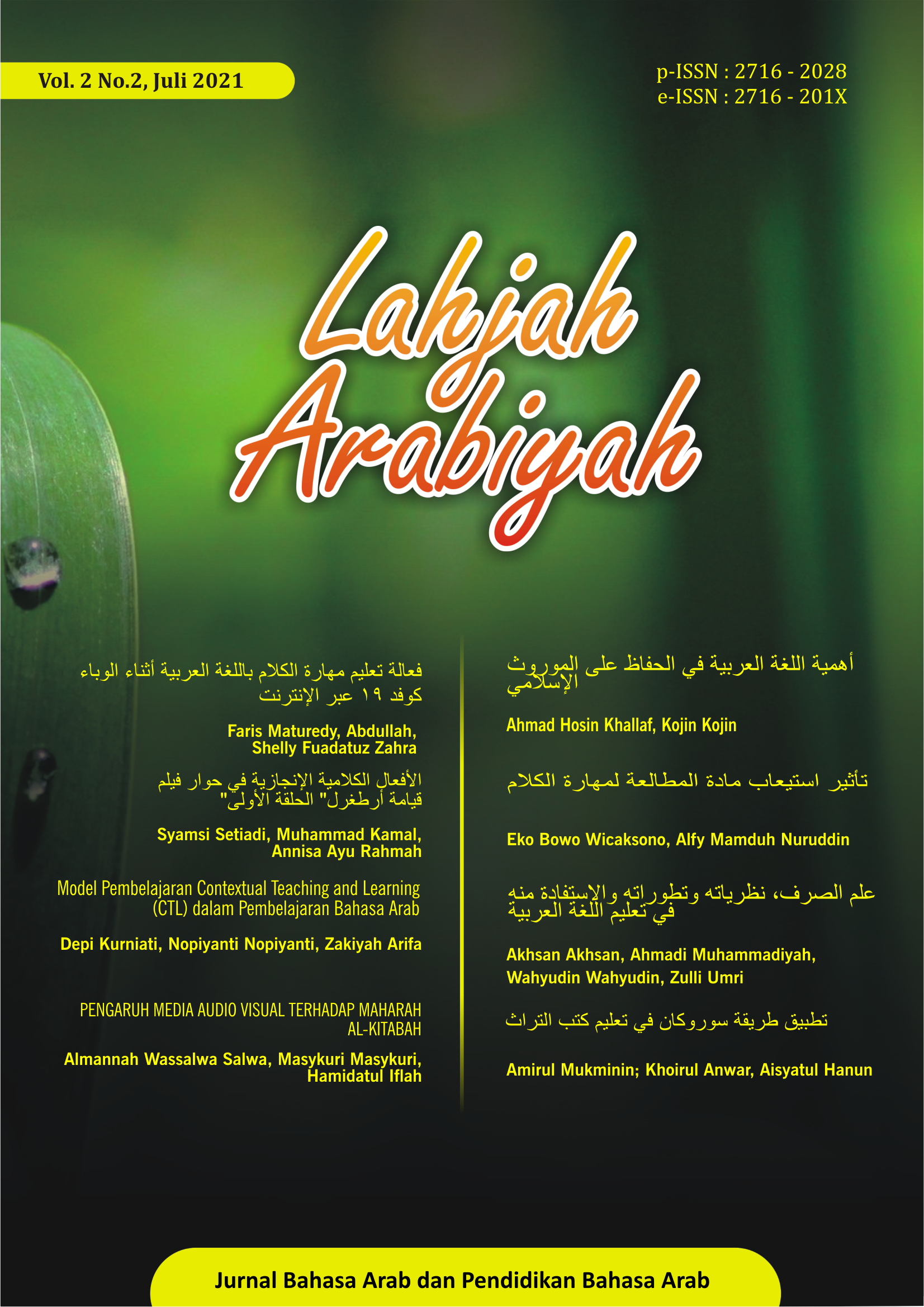 How to Cite
Faris Maturedy, Abdullah, A. H., & Shelly Fuadatuz Zahra. (2021). فعالة تعليم مهارة الكلام باللغة العربية أثناء الوباء كوفد 19 عبر الإنترنت. Lahjah Arabiyah: Jurnal Bahasa Arab Dan Pendidikan Bahasa Arab, 2(2), 113-123. https://doi.org/10.35316/lahjah.v2i2.113-123
Copyright (c) 2021 Lahjah Arabiyah: Jurnal Bahasa Arab dan Pendidikan Bahasa Arab
This work is licensed under a Creative Commons Attribution-ShareAlike 4.0 International License.
Authors who publish with this journal agree to the following terms:
Authors are able to enter into separate, additional contractual arrangements for the non-exclusive distribution of the journal's published version of the work (e.g., post it to an institutional repository or publish it in a book), with an acknowledgement of its initial publication in this journal.
Authors are permitted and encouraged to post their work online (e.g., in institutional repositories or on their website) prior to and during the submission process, as it can lead to productive exchanges, as well as earlier and greater citation of published work.
Abstract viewed = 190 times

FULL TEXT PDF downloaded = 168 times