SISTEM INFORMASI PENGOLAHAN DATA PERTANIAN BERBASIS WEB DI DESA KARANG DUREN
Resti Sutianingtyas

Guruh Wijaya

Miftahur Rahman

Universitas Muhammadiyah Jember
Abstract
The agricultural sector is one of the employment sectors for most residents of Karang Duren village. In general, the management of agricultural process data at the planting and harvesting stages has not yet implemented information technology, so there are several weaknesses such as inefficient and effective data management. The agricultural process data management application is an application designed for the planting and harvesting stages. With this application you can schedule planting, fertilizing, managing drugs and pests, as well as harvesting. This application is made using the steps of the waterfall model software engineering method. To ensure the suitability of the running of this application is tested using black box testing. This app will help farmers with planting planning, fertilizing, managing pesticides and harvesting. With this planning, each activity can be monitored with a plan that has been prepared to minimize deviations that occur.
References
[1] Cyberextension, "Pentingnya Melakukan Persiapan Lahan Sebelum tanam," cybex.pertanian, 2019. cybex.pertanian.go.id/mobile/artikel/73792/Pentingnya-Melakukan-Persiapan-Lahan-Sebelum-tanam/ 1/4 (accessed Jul. 16, 2023).
[2] M. H. Sobih, "Rancang Bangun Sistem Informasi Produksi Pertanian Berbasis Web di Kabupaten Jombang," Universitas Islam Negeri Maulana Malik Ibrahim Malang, 2009.
[3] S. Widaningsih, A. Suheri, and R. Z. Hakim, "Aplikasi Pengelolaan Data Pertanian Berbasis Web Web Based Application of Agricultural Data Management," Indones. J. Inf. Syst., vol. 5, no. 2, pp. 1–10, 2022.
[4] M. Rahman and M. Dasuki, "Pembuatan Aplikasi Pembelajaran Rukun Islam Dan Kumpulan Do'a Berbasis Android," JUSTIFY J. Sist. Inf. Ibrahimy, vol. 1, no. 1, pp. 1–7, 2022, doi: 10.35316/justify.v1i1.1958.
[5] M. F. Adiman, M. K. Roziqin, and M. Rahman, "Perancangan Sistem Informasi Manajemen Distribusi Gas Elpiji Berbasis Web Pada PT. Bumi Gasindo Raya," JUSTIFY J. Sist. Inf. Ibrahimy, vol. 1, no. 2, pp. 110–117, 2023, doi: 10.35316/justify.v1i2.2593.
[6] R. A. Sukamto and M. Shalahuddin, Rekayasa Perangkat Lunak (Terstruktur dan Berorientasi Objek), Revisi. Bandung: Informatika, 2018.
[7] Syafnidawaty, "Black Box Testing," 2020. https://raharja.ac.id/2020/10/20/black-box-testing/ (accessed Jul. 15, 2023).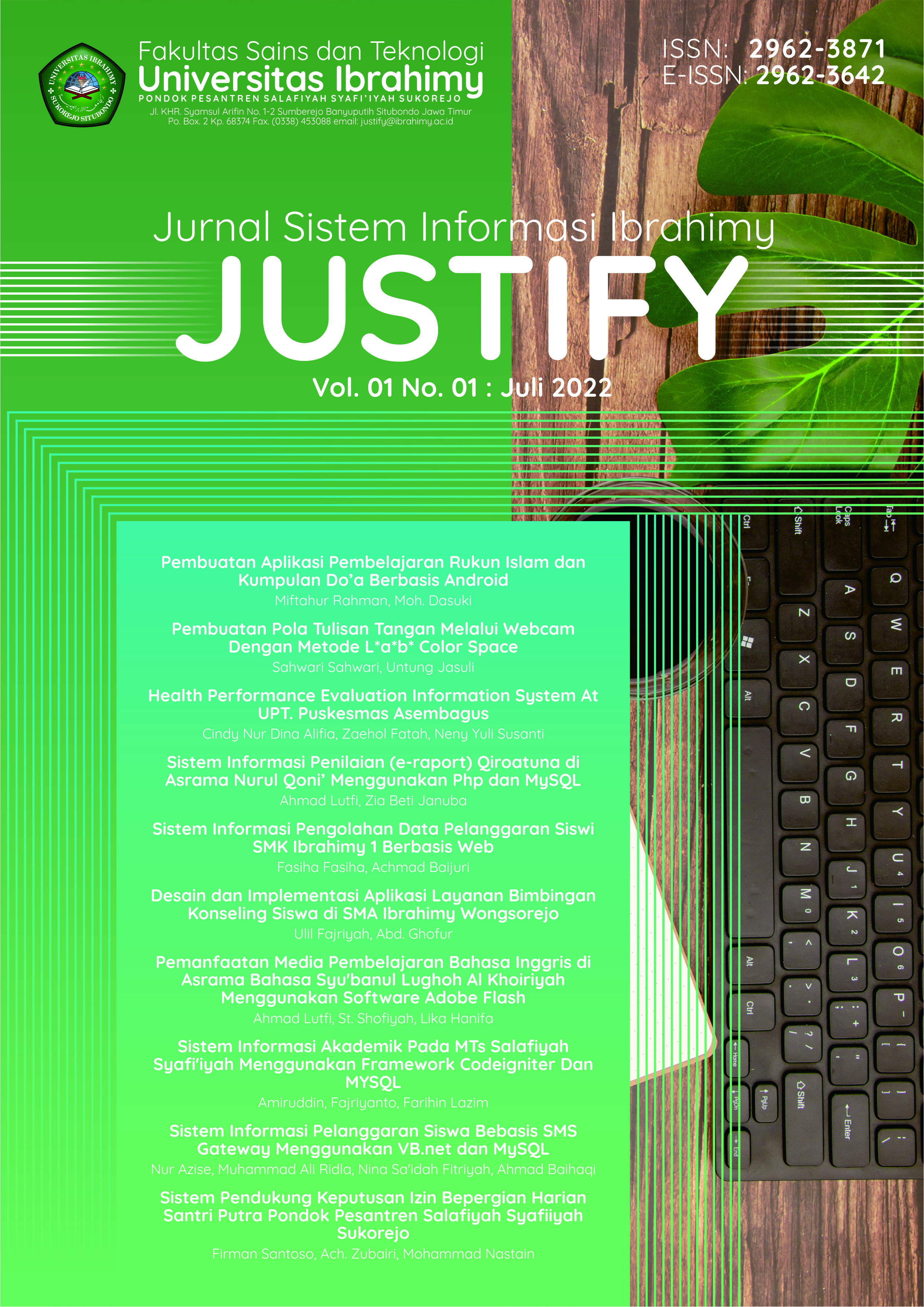 How to Cite
Resti Sutianingtyas, Guruh Wijaya, & Rahman, M. (2023). SISTEM INFORMASI PENGOLAHAN DATA PERTANIAN BERBASIS WEB DI DESA KARANG DUREN. JUSTIFY : Jurnal Sistem Informasi Ibrahimy, 2(1), 89-96. https://doi.org/10.35316/justify.v2i1.3419
Copyright (c) 2023 Resti Sutianingtyas, Guruh Wijaya, Miftahur Rahman
This work is licensed under a Creative Commons Attribution-NonCommercial 4.0 International License.
Abstract viewed = 52 times

PDF (Bahasa Indonesia) downloaded = 53 times