Natural Breeding of Snakehead Fish (Channa striata) On Concrete Ponds in Cangkringan Center For Aquaculture Technology Development Special Region of Yogyakarta
Kurniawan Wahyu Hidayat

Polytechnic of Marine and Fisheries Pangandaran

DH. Guntur Prabowo

Program Studi Budidaya Ikan, Politeknik Kelautan dan Perikanan Pangandaran

Dwi Amelia

Program Studi Budidaya Ikan, Politeknik Kelautan dan Perikanan Pangandaran

Supanto

Balai Pengembangan Teknologi Perikanan Budidaya (BPTPB) Cangkringan Daerah Istimewa Yogyakarta
Keywords:
Snakehead fish, Channa striata, reproduction, hatching rate
Abstract
Snakehead fish (Channa striata) is a member of the Channidae family, which can live in freshwater areas or rivers, brackish water, and swamps. Snakehead fish belong to the group of savage and aggressive carnivorous fish. Snakehead fish reproduce through spawning naturally in the rainy season. Natural physiological and environmental factors can be used as a signal to stimulate spawning in this type of fish. This fieldwork practice was carried out at the Center for Aquaculture Technology Development (BPTPB), this work practice used observation, interview, and documentation methods, parameters observed included fecundity, egg fertilization, hatching rate, specific growth rate, and survival rate. The results of the observation showed that it produced 10,000 eggs, a fertilization rate of 92%, a hatching rate of 94% growth rate, a specific growth rate of 15% and a survival rate of 94%.
References
Andy O, S. Bin 2005. Modul Praktikum Biologi Perikanan. Jurusan Perikanan Fakultas Ilmu Kelautan Dan Perikanan. Universitas Hassanuddin. Makasar. 168 hal.
Bijaksana, U. 2011. Pengaruh beberapa parameter Air pada Pemeliharaan Larva Ikan Gabus Channa striatas Blkr di dalam Wadah Budidaya. Temu Teknisi Balai Benih Ikan Air Tawar se-Kalimantan Selatan. Kalimantan Selatan.
Dinas Kelautan dan Perikanan Provinsi Jambi. 2006. Famili Channidae. Inventarisasi Keragaman Ikan Lokal Air Tawar Provinsi Jambi. 98 hlm.
Effendi, H. 2003. Telaah Fisika Kimia Air Bagi Pengelolaan Sumber Daya Dan Lingkungan Perairan. Kanisius. Yogyakarta. 258 hlm.
Efrizal. 1995. Pengaruh penyuntikan 17α hidroksi Progesteron dan hCG terhadap ovulasi dan kualitas telur ikan lelel dumbo (Clarias gariepinus). [Tesis] Pascasarjana IPB. 73 hal.
Fujaya, Y. 2001. Biologi Dan Teknologi Teleostei. Institut Pertanian Bogor. Bogor.
Ghufran, M. 2010. Pakan Udang: Nutrisi, Formulasi, Pembuatan, dan Pemberian. Akademia. Jakarta.
Hartini S, Sasanti A.D, Taqwa FH. 2013. Kualitas Air, Kelangsungan Hidup Dan Pertumbuhan Benih Ikan Gabus (Channa Striata) Yang Dipelihara Dalam Media Dengan Penambahan Probiotik. Jurnal Akuakultur Rawa Indonesia, 1(2) :192-202.
Makmur, S. 2004. Pertumbuhan Ikan Gabus (Channa striata Bloch) Di Daerah Banjiran Talang Fatima DAS Sumatera Selatan. Jurnal Penelitian Perikanan Indonesia. Pusat Riset Perikanan Budidaya. 10(6): 1-6.
Muchlisin, Z.A. 2013. Potency of freshwater fishes in Aceh waters as a basis for aquaculture development program. Jurnal Iktiologi Indonesia. 13(1): 91-96.
Muflikhah, N., S. Makmur, dan N.K. Suryati. 2008. Gabus. Badan Riset Kelautan dan Pusat Riset Perikanan Tangkap Balai Riset Perikanan Perairan Umum.
Murtidjo, B.A. 2001. Pedoman Meramu Pakan Ikan. Kanisius. Yogyakarta.128 hal.
Muslim. 2007. Jenis-jenis ikan rawa yang bernilai ekonomis. UNSRI.Indralaya.
Muslim. 2012. Potensi, Peluang dan Tantangan Budidaya Ikan Gabus (Channa striata) di Sumatera Selatan. Prosiding Seminar Nasional Forum Perairan Umum Indonesia IV, Palembang 30 November 2007. Badan Riset Kelautan dan Perikanan. Departemen Kelautan dan Perikanan. ISBN : 978-979-1156-10-3.
Narbuko, C dan Achmadi, A. 2005. Metode Penelitian. Bumi Aksara. Jakarta. Hal 216.
Nazir, M. 1988. Metodologi Penelitian. Ghalia Indonesia.Jakarta.
Suparmoko. 1995. Metode Penelitian. BPFE.Yogyakarta.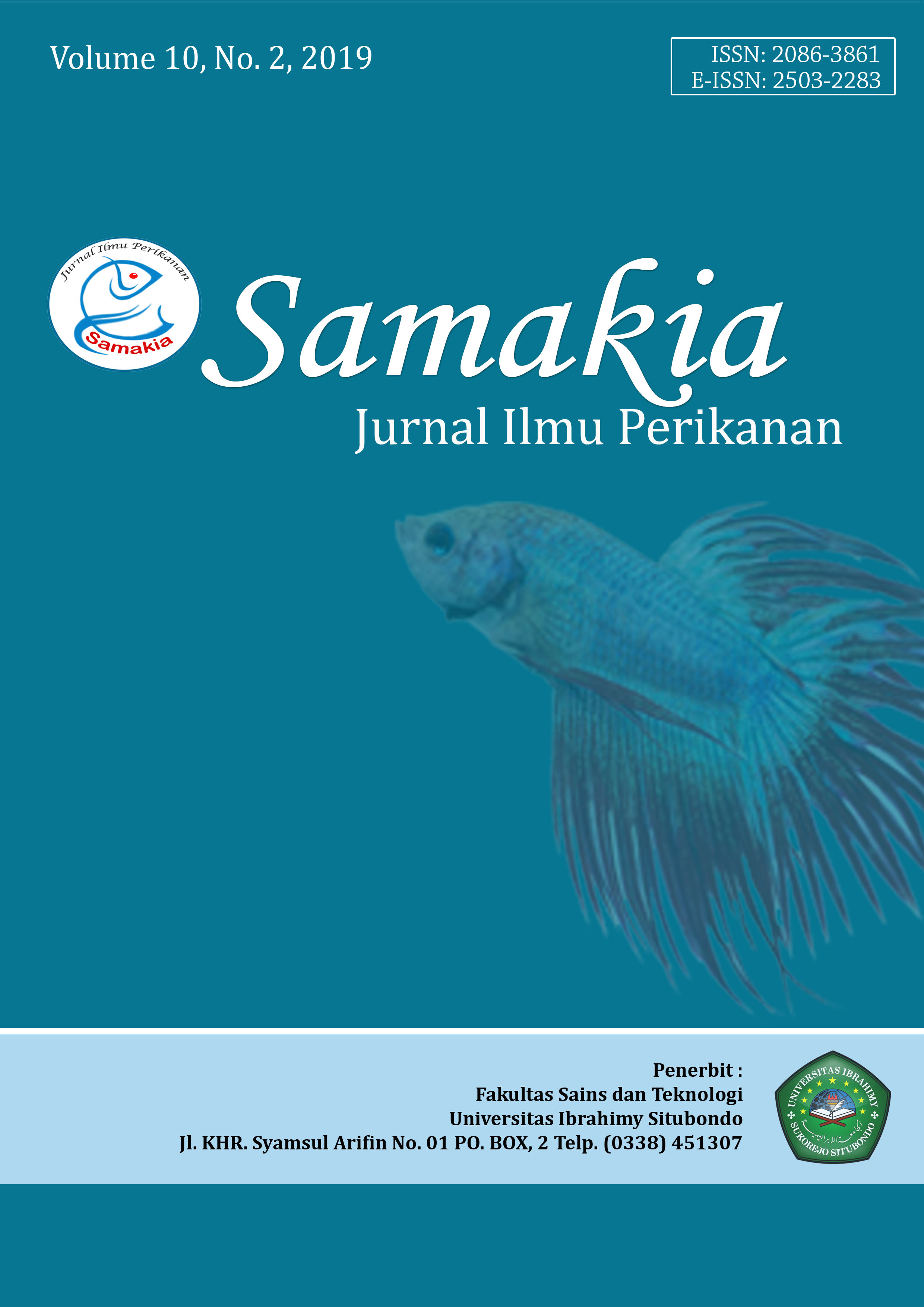 How to Cite
Hidayat, K. W., DH. Guntur Prabowo, Dwi Amelia, & Supanto. (2019). Natural Breeding of Snakehead Fish (Channa striata) On Concrete Ponds in Cangkringan Center For Aquaculture Technology Development Special Region of Yogyakarta. Samakia : Jurnal Ilmu Perikanan, 10(2), 83-93. https://doi.org/10.35316/jsapi.v10i2.495
Copyright (c) 2019 Kurniawan Wahyu Hidayat, DH. Guntur Prabowo, Dwi Amelia, Supanto
This work is licensed under a Creative Commons Attribution-NonCommercial 4.0 International License.
Abstract viewed = 218 times

PDF downloaded = 0 times