Growth Performance of Jouvenile of Gourami (Osphronemus gouramy) by Mixing Commercial Feed With Fermented Gamal Leaves
Fitria Apriani

Program Studi Akuakultur, Universitas Bangka Belitung

Eva Prasetiyono

Program Studi Akuakultur, Universitas Bangka Belitung

Denny Syaputra

Program Studi Akuakultur, Universitas Bangka Belitung
Keywords:
Fermented gamal leaves; gouramy,; commercial food; growth.
Abstract
Gouramy is freshwater fish commodity with higher market demand than other freshwater fish that mostly cultured. There are many obstacles in cultivating process i.e the slow growth and the increasing of feed price that is not automatically followed by the increasing of the fish price causing the efforts to decrease the feeding cost are urgently needed. The aims of this study were to evaluate the effect of fermented gamal leaf addition into commercial feed to the growth of gouramy fry. The design of experiment using completely randomized design with 4 levels of treatment and 3 replicates each. The result showed that the addition of fermented gamal leaf into commercial feed gives a significant effect to growth of the fry. The mix of 75% gamal leaf and 25% commercial feed is able to decrease the using of commercial feed
References
Amarwati, H. Subandiyono & Pinandoyo. (2015). Pemanfaatan Tepung Daun Singkong (Manihot utilissima) yang di Fermentasi dalam Pakan Buatan Terhadap Pertumbuhan Benih Ikan Nila Merah (Oreochromis niloticus). Journal of Aquaculture Management and Technology, 4( 2), 51-59.
Ardita, N., Agung, B., & Siti L.A.S. (2015). Pertumbuhan dan Rasio Konversi Pakan Ikan Nila (Oreochromis niloticus) dengan Penambahan Probiotik. Bioteknologi, 12 (1), 16-20.
Babo, D. J., Sampekalo, H., & Pangkey. (2013). Pengaruh Beberapa Jenis Pakan Hijauan Terhadap Pertumbuhan Ikan Koan (Stenopharyngodon idella). Budidaya Perairan, 1 (3), 1-6.
Bidaryati, A. (2010). Pemakaian Daun Lamtorogung (Leucaena leucocephala) sebagai Bahan Baku Pakan Ikan Nila (Oreochromis niloticus)[Skripsi]. Bogor: Institut Pertanian Bogor, Fakultas Perikanan dan Ilmu Kelautan.
Boyd, C. 1992. Water Quality Management for Pond Fish Culture. Amsteram: Elsevier Science Publisher.
BPTU Sembawa. (2009). Keunggulan Gamal sebagai Pakan Ternak. Sembawa : : BPTU.
Effendi, M.I. 2002. Biologi Perikanan. Yogyakarta: Yayasan Pustaka Nusantara.
Hidayat, D., Ade,D.S., & Yulisman. (2013). Kelangsungan Hidup, Pertumbuhan dan Efisiensi Pakan Ikan Gabus (Channa Striata) yang diberi Pakan Berbahan Baku Tepung Keong Mas (Pomacea Sp). Jurnal Akuakultur Rawa Indonesia, 1(2), 161-172.
Ihsanudin, I., Sri, R., & Tristiana Y. (2014). Pengaruh Pemberian Rekombinan Hormon Pertumbuhan (rGH) melalui Metode Oral dengan Interval Waktu yang berbeda terhadap Pertumbuhan dan Kelulushidupan Benih Ikan Nila Larasati (Oreochromis niloticus). Jurnal of Aqaculture Management and Technology, 3(2), 94-102.
Khalil, M., Zahnalia & Prama, H. (2015). Studi Pengunaan Pakan Pelet Hasil Formulasi dari Bahan Baku Nabati untuk Meningkatkan Pertumbuhan Benih Ikan Gurami (Osphronemusgouramy). Berkala Perikanan Terubuk. 43(1), 32 – 44.
Kementerian Kelautan dan perikanan, (2014). Produksi Ikan Gurami. Jakarta : KKP
Laelasari & Purwadaira, T. 2004, Pengkajian Nilai Gizi hasil Fermentasi Mutan (Aspergillus niger) pada Substrat Bungkil Kelapa dan Bungkil Inti Sawit. Biodiversitas. 5(2) : 48-51.
Mardhiana, A,, Ibnu, D.B., Yuli, A., & Iskandar (2017). Suplementasi Probiotik Komersil pada Pakan Buatan untuk Induksi Pertumbuhan Ikan lele Sangkuriang (Clarias gariepinus). Jurnal Perikanan dan Kelautan, 8(2), 133-139.
Minggawati, I., & Saptono. 2012. Parameter Kualitas Air untuk Budidaya Ikan Patin (Pangasius pangasius) di Karamba Sungai Kahayan, Kota Palangka Raya. Jurnal Ilmu Hewani Tropika, 1(1), 27 – 30.
Pamungkas, W. 2011. Teknologi Fermentasi, Alternatif Solusi dalam upaya pemanfaatan Bahan Pakan Lokal. Jurnal Media Akuakultur, Vol 6 No 1.
Pratama, B.A., Susilowati, T., Yuniarti, T. 2018. Pengaruh Perbedaan Suhu Terhadap Lama Penetasan Telur, Daya Tetas Telur, Kelulushidupan Dan Pertumbuhan Benih Ikan Gurame (Osphronemus Gouramy) Strain Bastar. Jurnal Sains Akuakultur Tropis, 2 (1), 59-65.
Putri, F.S, Zahidan, H., & Kiki. H. 2012. Pengaruh Pemberian Bakteri Probiotik pada Pelet yang mengandung Kaliandra (Caliandracalothyrsua) Terhadap Pertumbuhan Benih Ikan Nila (Oreochromis niloticus). Jurnal Perikanan dan Kelautan, 3 (4), 283 – 291.
Sulhi, M. 2011. Penggunaan Kombinasi Beragam Pakan Hijauan dan Pakan Komersial Terhadap Pertambahan Bobot Ikan Gurame. Bogor : Balai Riset Perikanan Budidaya Air Tawar
Syaputra, R., Limin, S., & Tarsim. 2018. Pengaruh Penambahan Tepung Daun Gamal (Gliricidia Sepium) pada Pakan Buatan terhadap Sintasan dan Pertumbuhan Ikan Gurami (Osphronemus gouramy). Jurnal Sains Teknologi Akuakultur, 2(1), 1-11.
Virnanto, L. A, Diana, R., & Istiyanto, S. 2016. Pemanfaatan Tepung hasil Fermentasi Azolla (Azolla microphylla) sebagai Campuran Pakan Buatan untuk Meningkatkan Pertumbuhan dan Kelulushidupan Ikan Gurami (Osphronemus gouramy). Journal of Acuaculture Management and Technology, 5 (1), 1-7.
Warasto, Yulisman, & Fitrani, M. 2013. Tepung kiambang (Salvina molesta) Terfermentasi sebagai Bahan Pakan Ikan Nila (Oreochromis niloticus). Jurnal Akuakultur Rawa Indonesia, 1(2), 173- 183.
Wood, C.D., Stewart, J.L., & Vargas, J.E. 1998. Genetic variation in the nutritive value of Gliricidia sepium, Leaf chemical composition and fermentability by an in vitro gas production technique. Anim. Feed Sci. Tech., 75(1), 125-143.
Zonneveld N. E., Huisman, A., & Boon, J. H. 1991. Prinsip- Prinsip Budidaya Ikan. 1991. Jakarta : PT Gramedia Pustaka Utama.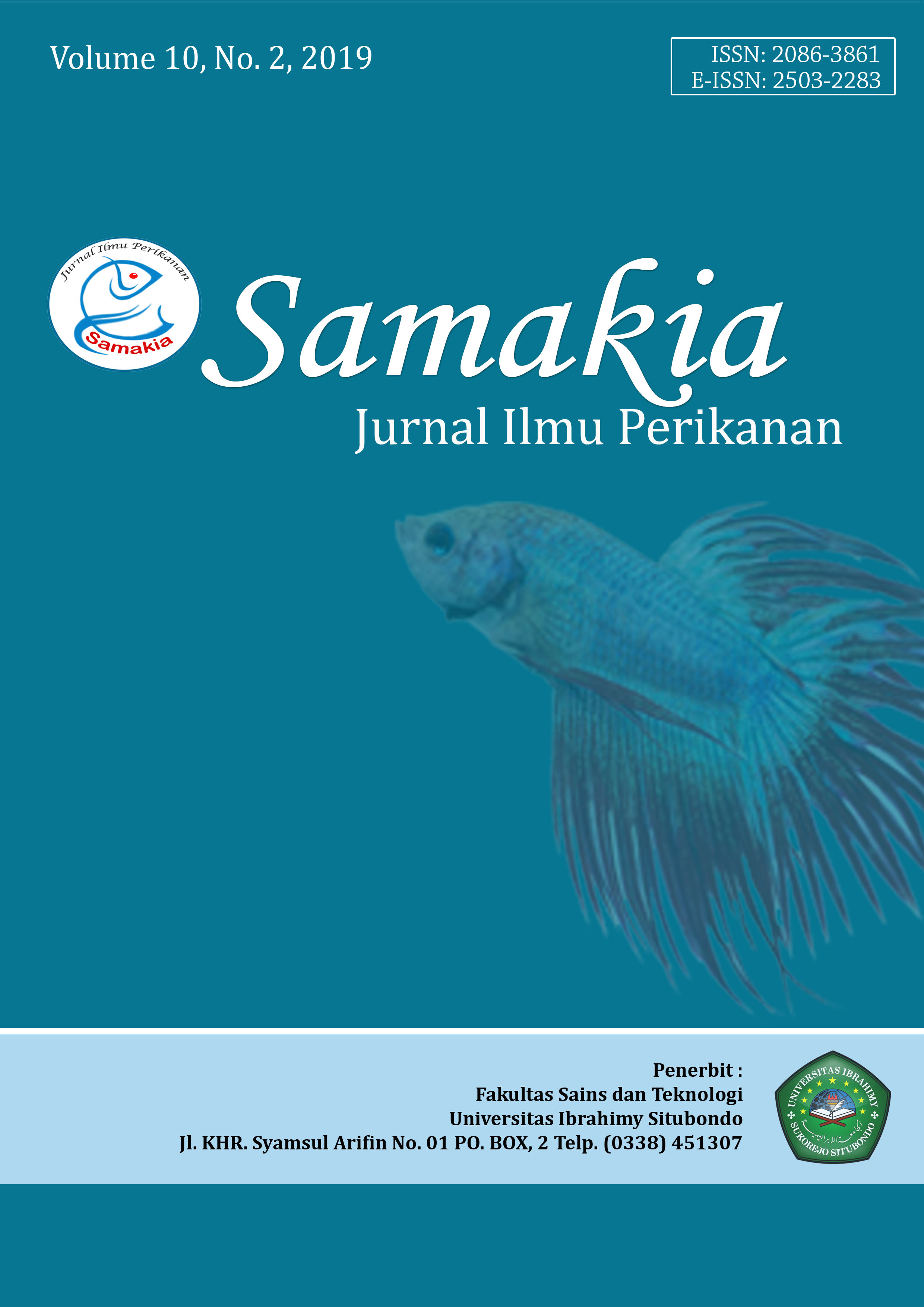 How to Cite
Fitria Apriani, Prasetiyono, E., & Denny Syaputra. (2019). Growth Performance of Jouvenile of Gourami (Osphronemus gouramy) by Mixing Commercial Feed With Fermented Gamal Leaves. Samakia : Jurnal Ilmu Perikanan, 10(2), 57-65. https://doi.org/10.35316/jsapi.v10i2.311
Copyright (c) 2019 Fitria Apriani, Eva Prasetiyono, Denny Syaputra
This work is licensed under a Creative Commons Attribution-NonCommercial 4.0 International License.
Abstract viewed = 168 times

PDF downloaded = 0 times