Identifikasi Alat Keselamatan Kerja Nelayan Kapal Purse Seine (Studi Kasus KM PIPOSS BERAU) yang Berpangkal di PPI Sambaliung
Ully Wulandari

Politeknik Kelautan dan Perikanan Karawang

M Natsir Kholis

Universitas Muaro Bungo Jambi

Rini Sahni Putri

Universitas Muhammadiyah Sidenreng Rappang

Syafiq Syafiq

Politenik Kelautan dan Perikanan Karawang
Keywords:
work safety, fisherman, purse seine, sambaliung
Abstract
The research was conducted in June-July 2020 at Sambaliung Fish Landing Base (PPI), Berau Regency, East Kalimantan Province. The purpose of this study was to identify safety equipment on purse seine ships at PPI Sambaliung. The method used is case study method by collecting data using observation method directly at KM Piposs Berau with systematic observation and recording of investigated phenomena and structured interviews. Analysis in this study was conducted using descriptive analysis of observation and interview results. The results of this study showed that the safety equipment on board KM Piposs Berau consists of 5 categories, namely: 1) Ship safety equipment: sea map, compass, GPS, radio, echosounder, bucket with rope, and strap to the ship, 2) Individual safety equipment: life jacket, life buoy, 3) Drug equipment (first aid), 4) Personal protective equipment: gloves, raincoats, 5) Work equipment: power blocks, rollers, joy stands, wheel, tools and workshop tools, as well as the thematic ropes.
Downloads
Download data is not yet available.
References
Abidin, H.Z., Andreas, H. Meilano, I., Gamal, M., Gumilar, I., dan Abdullah, C.I. 2009. Deformasi Koseismik dan Pascaseismik Gempa Yogyakarta 2006 dari Hasil Survei GPS. Jurnal Geologi Indonesia. 4 (4): 275-284.
Agustin, D. Y. 2017. Analisis Kelayakan Usaha Dan Strategi Pengembangan Usaha Perikanan Purse Seine One Boat System Di Daerah Perairan Muncar (Doctoral dissertation, Universitas Brawijaya).
Annisa, B. C., & Rifkiyatul, U. MR. (2020). Studi Kualitas Air pada Tambak Budidaya Anggur Laut (Caulerpa racemosa) di Balai Besar Perikanan Budidaya Air Payau (BBPBAP) Jepara. Samakia: Jurnal Ilmu Perikanan, 11(2), 58-65.
Apriliani, I. M., Herawati, H., Khan A. M., Dewanti L. P. 2018. Pengenalan Teknologi Global Positioning System (GPS) Sebagai Alat Bantu Operasi Penangkapan Ikan di Pangandaran. Dharmakarya, 7(3), 213-215.
Arikunto, S. 2013. Metode Penelitian Kuantitatif Kualitatif dan R&D. Alfabeta: Bandung.
Chairunnisa, S., Widjasena, B., & Suroto, S. 2016. Analisis Mitigasi Pertolongan Pertama pada Kecelakaan di PT. X. Jurnal Kesehatan Masyarakat (e-Journal), 4(2), 108-118.
Danielsson, P., van Berlekom, W., Stefensson, P., & Brown, M. 2005. Small Vessel Safety Review. SSPA.
Eriza, F. 2006. Implementasi Proyek Pengelolaan Sumber Daya Pesisir Dan Laut/MarineCoastal Resources Management Project (Studi Deskriptif Di Kabupaten Langkat).
Food and Agriculture Organization. 2000. The State of World Fisheries and Aquaculture.
Febrianto, T., Hestirianoto, T., & Agus, S. B. 2015. Pemetaan batimetri di perairan dangkal Pulau Tunda, Serang, Banten menggunakan singlebeam echosounder. Jurnal Teknologi Perikanan dan Kelautan, 6(2), 139-147.
Gay, L. R. 1992. dan Diehl, PL Research Methods for Business and. Management.
Ibad, S. 2017. Kearifan lokal pemberdayaan masyarakat dalam pengelolaan dan pembangunan sumberdaya perikanan yang berkelanjutan (Studi Kabupaten Situbondo). Samakia: Jurnal Ilmu Perikanan, 8(1), 24-31.
International Maritime Organization. 1974. Safety of Life at Sea consulated. International Maritime Organization. London.
Maulidi, A., Prasetyo, T., & Irmiyana, T. 2019. Disain Sistem Navigasi Automatic Identification System (Ais) Transceiver Berbasis Mini Computer Pada Kapal Nelayan Tradisional Di Madura. Jurnal INOVTEK POLBENG. IX (01).
Nontji, A. 2002. Coral reefs of Indonesia: past, present and future. In Proceedings of the Ninth International Coral Reef Symposium, Bali, 23-27 October 2000, (Vol. 1, pp. 17-27).
Nugraha, A. I. 2019. Tinjauan hukum pidana Islam terhadap sanksi komulatif tindak pidana pelayaran bagi Nahkoda yang melayarkan kapal tanpa surat ijin dari Syahbandar dan kapal tidak dilengkapi alat komunikasi radio: studi Putusan Pengadilan Nomor: 60/Pid. B/2018/PN Rno. Doctoral dissertation. UIN Sunan Ampel Surabaya.
Peraturan Menteri Tenaga Kerja dan Transmigrasi Republik Indonesia Nomor: PER.15/MEN/VIII/2008. Pertolongan Pertama Pada Kecelakaan di Tempat Kerja. Indonesia.
Santara, A. G., Purwangka, F., & Iskandar, B. H. 2016. Peralatan Keselamatan Kerja Pada Perahu Slerek di PPN Pengambengan, Kabupaten Jembrana, Bali. Jurnal IPTEKS Pemanfaatan Sumberdaya Perikanan, 1(1).
SOLAS. 1978. International Convention the Safety of Life at Sea.
Sugiyono. 2012. Metode Penelitian Kuantitatif, Kualitatif dan R&D (16th ed.). Bandung: Alfabeta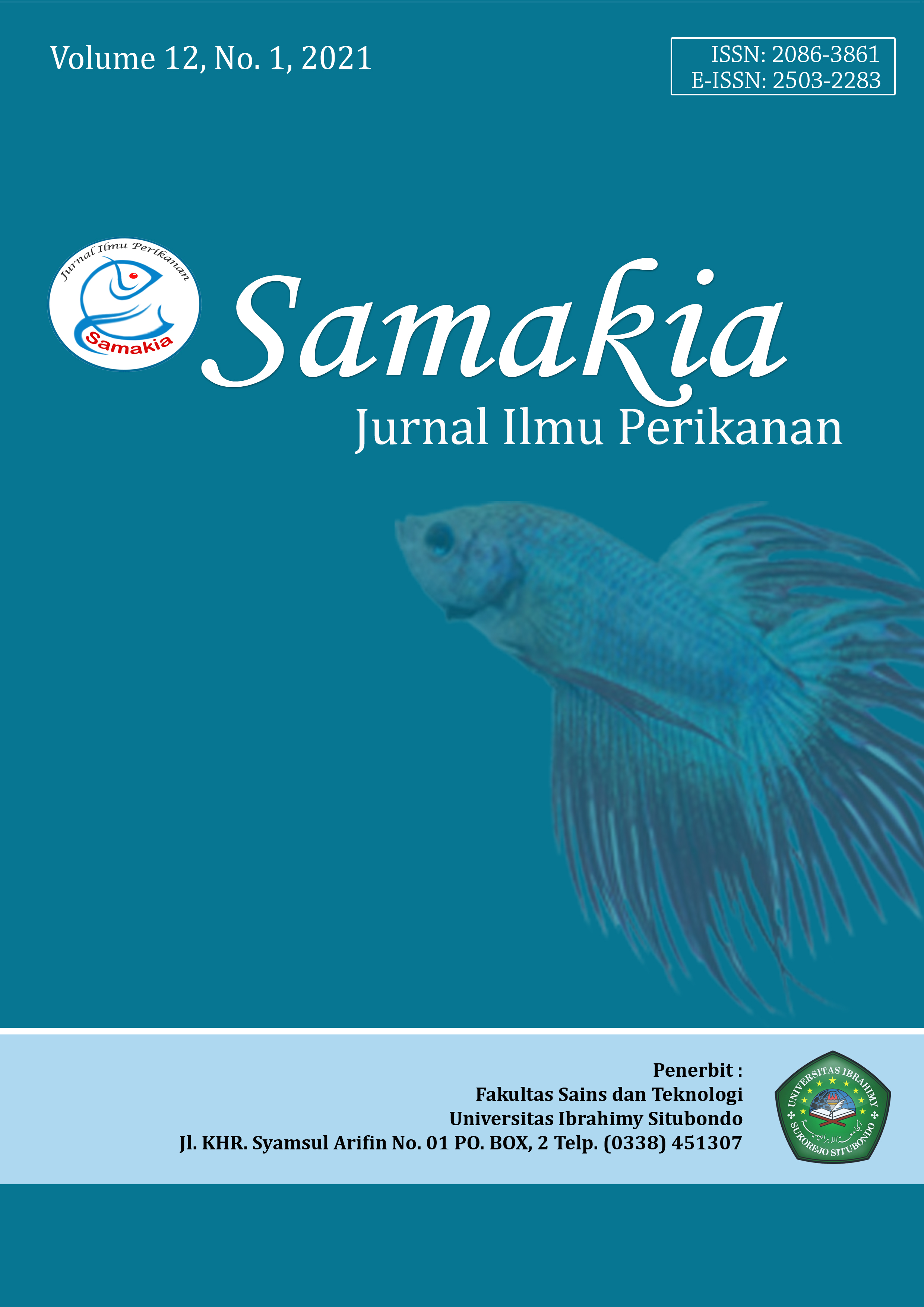 How to Cite
Wulandari, U., Kholis, M. N., Putri, R. S., & Syafiq, S. (2021). Identifikasi Alat Keselamatan Kerja Nelayan Kapal Purse Seine (Studi Kasus KM PIPOSS BERAU) yang Berpangkal di PPI Sambaliung. Samakia : Jurnal Ilmu Perikanan, 12(1), 38-46. https://doi.org/10.35316/jsapi.v12i1.1084
Copyright (c) 2021 Ully Wulandari, M Natsir Kholis, Rini Sahni Putri, Syafiq Syafiq
This work is licensed under a Creative Commons Attribution-NonCommercial 4.0 International License.
Abstract viewed = 139 times

PDF (Bahasa Indonesia) downloaded = 0 times