Pemilihan Jenis Kegiatan Wisata Dalam Pengembangan Ekowisata Pesisir Pantai Kutang Lamongan
Mukti Ali

Universitas Islam Lamongan

Fuquh Rahmat Shaleh

Program Studi Manajemen Sumberdaya Perairan, Universitas Islam Lamongan
Keywords:
Ecotourism, Kutang Beach, Multi Criteria Analysis, Lamongan
Abstract
Indonesia's environmental services and natural resources have great potential both on land and sea, especially for tourism purposes. One of the tourism sectors comes from coastal tourism. The development of coastal tourism areas must lead to a planned development in a comprehensive manner so that optimal benefits can be obtained for the community. The research was conducted in Labuhan village which is one of the coastal villages in Lamongan Regency. The method used was survey and observation methods coupled with closed interviews with questionnaires, while natural parameters were carried out by field observation. The research aims to analyze, choose the right type of tourism activity according to the suitability index of the type of tourism activity on Kutang beach, Labuhan village, Brondong District, Lamongan Regency. Data analysis was done by means of multi criteria analysis. This analysis is developed based on utility theory, with the assumption that a person's total (composite) utility is formed as an aggregate of the many attributes (components) that make up the utility. The type of tourism activity which is categorized as very suitable or feasible to do in the Kutang beach area is in the form of tracking activities with a suitability value of 84% and Safari Photo of 83%. Alternative types of activities (according to condition) are Canoeing with a suitability value of 80%, fishing and culinary 77% and swinging 74%.
Downloads
Download data is not yet available.
References
Agus A H dan Taryono. 2007. Ekonomi Pembangunan Perikanan. Universitas Terbuka. Jakarta.
Ahmad, M. M. (2020). Economical Analysis On Fishing Boats For Fishermen In The Coast Of Banyu Urip, Ujung Pangkah, Gresik. Samakia: Jurnal Ilmu Perikanan, 11(1), 26-33.
Aksornkoae, S. 1993. Ecology and Management Mangrove. IUCN. Bangkok. Thailand
Annisa. 2004. Identifikasi kerusakan Mangrove dengan Citra Satelit Landsat-ETM dan Sistem Informasi Geografis di Pesisir Selatan Provinsi Gorontalo. Skripsi. Jurusan Ilmu dan Teknologi Kelautan. FPIK. IPB
Bengen D G.2002. Pedoman Teknis Pengenalan dan Pengelolaan Ekosistem Mangrove. Pusat Kajian Sumberdaya Pesisir dan Lautan-Institut Pertanian Bogor. Bogor
Cater, C. & Cater, E. (2007). Marine Ecotourisme: Between the Devil and the Deep Blue Sea Oxfordshire, iddles Ltd, King's Lynn.
Choi HC & Sirakaya E (2006) Sustainability indicators for managing community tourism. Tourism Management, 27 (6):1274-1289.
Cooper, C., J. Fletcher, D. Gilbert & S. Wanhill. 1993. Tourism Principles and Practices. Pitman Publishing, London.
Dahuri R, J Rais., S.P. Ginting, dan M.J. Sitepu. 2004. Pengelolaan Sumberdaya Wilayah Pesisir dan Lautan Secara Terpadu. Edisi Revisi. Pradnya Paramita, Jakarta. 328 hal.
Dwison A. 2001 Pengembangan Ekowisata Di Kabupaten Bengkalis : Balitbang Bengkalis
FAO. (2010). The State Of World Fisheries And Aquaculture 2010. Rome: FAO
Farhaby, A. M., Safitri, Y., & Wilanda, M. (2020). Kajian Awal Kondisi Kesehatan Hutan Mangrove Di Desa Mapur Kabupaten Bangka. Samakia: Jurnal Ilmu Perikanan, 11(2), 108-117.
Marimin. 2004. Teknik dan Aplikasi Pengambilan Keputusan Kriteria Majemuk. Jakarta: PT Gramedia Widiasarana Indonesia.
Mathieson, A., & Wall, G. 1982. Tourism: Economic, Physical and Social Impacts. Longman, London.
Mendrofa S. 2014. Struktur Vegetasi Mangrove Di Kawasan Pesisir Desa Lasara Sawo Kecamatan Sawo Kabupaten Nias Provinsi Sumatera Utara. [Skripsi] Padang (ID): Universitas Bung Hatta.
Muqsith, A., Harahab, N., Mahmudi, M., & Fadjar, M. (2018). ESTIMATION OF COASTAL ASIMILATION CAPACITY BASED ON STANDARD EFFLUENT WASTE NITROGEN AND PHOSFORUS OF SHRIMP CULTIVATION. Samakia: Jurnal Ilmu Perikanan, 9(2), 81-87.
Nadia Y. 2002. The Analysis Of Small Krustasea Community (Family Ocypodidae And Grapsidae) In Mangrove Habitat Of Bengawan Solo River Estuary, Pangkahwetan Village Of Ujungpangkah, Gresik, East Java. [Skripsi], (ID): Bogor.Bogor Agricultural University. (Indonesia) : 1-2.
Noor A. 2009. Model Pengelolaan Kualitas Lingkungan Berbasis Daya Dukung (Carrying Capacity) Perairan Teluk Bagi Pengembangan Budidaya Keramba Jaring Apung Ikan Kerapu (Studi Kasus di Teluk Tamiang, Kabupaten Kotabaru, Propinsi Kalimantan Selatan) [disertasi]. Bogor (ID) : Institut Pertanian Bogor. 166p.
Nybakken, WJ. 1988. Biologi Laut Suatu Pendekatan Ekologi (Alih Bahasa oleh Eidma, dkk). Gramedia. Jakarta
Randa, G., Lestari, F., & Kurniawan, D. (2020). Production and decomposition of mangrove litter in Jang River Estuary, Bukit Bestari District, Tanjungpinang City. Samakia: Jurnal Ilmu Perikanan, 11(1), 34-43.
Rosa E. Hernandez Cruz, Eduardo Bello Baltazar, Guillermo Montoya Gomez & Erin I.J. Estrada Lugo . 2005 . Social Adaptation Ecotourism In The Lacandon Forest . El Colegio de la Frontera Sur, Me´xico.
Reindrawati, 2017 : Tantangan dalam implementasi social entrepreneurship pariwisata di Pulau Madura. Masyarakat, Kebudayaan dan Politik Vol. 30, No. 3, tahun 2017, hal. 215-228.
Rumagia, F. 2008. Analisis Pemanfaatan ruang wilayah pesisir dalam pelaksanaan otonomi daerah di Kabupaten Buru, Maluku [Tesis]. IPB. Bogor.
Saragih DS, Samosir AM, Taryono. 2010. Analisis Multi Kriteria Untuk Pemilihan Kegiatan Ekowisata di Segara Anakan, Cilacap Jawa Tengah. [Skripsi]. (ID) : Institut Pertanian Bogor.
Sekartjakrarini, S dan Legoh, N.K. 2004. Rencana Strategis Ekowisata Nasional. Penerbit : Kementerian Kebudayaan dan Pariwisata. Jakarta.
Supriharyono. 2000. Pelestarian dan Pengelolaan Sumber Daya Alam di Wilayah Pesisir Tropis. Jakarta: Gramedia.
Telfer DJ & Sharpley R (2008) Tourism and Development in the Developing World. Oxon: Routledge.
Yulianda, F. 2007. Ekowisata Bahari Sebagai Alternatif Pemanfaatan Sumberdaya Pesisir Berbasis Konservasi. Institut Pertanian Bogor. Jawa Barat
Yulianto, S. 2006. Analisis Kesesuaian Kawasan Ekowisata di Segara Anakan, Kabupaten Cilacap. Skripsi. Institut Pertanian Bogor. Jawa Barat
Yuniar A. 2000. Identifikasi Tipe-Tipe Mangrove dan Pemantauan Perubahan Luasan Mangrove Menggunakan Data Landsat-TM di Kawasan Mangrove Prapat Benoa, Bali. Skripsi. Jurusan Ilmu dan Teknologi Kelautan. FPIK.IPB
Yuwono et al. 2006. Ecological Status of Segara Anakan, Indonesia: A Mangrove-fringed Lagoon Affected by Human Activities. Universitas Diponegoro. Semarang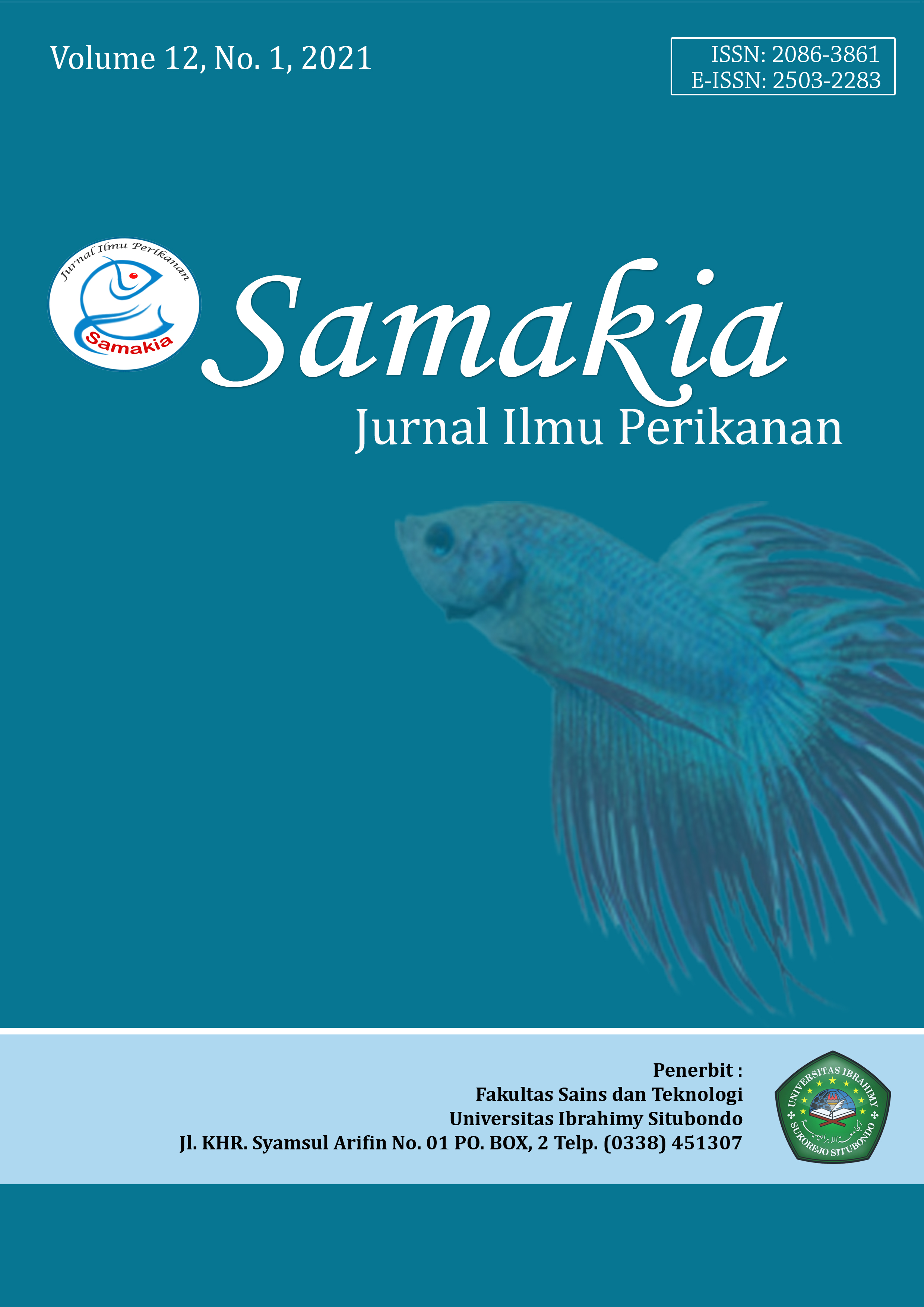 How to Cite
Ali, M., & Shaleh, F. R. (2021). Pemilihan Jenis Kegiatan Wisata Dalam Pengembangan Ekowisata Pesisir Pantai Kutang Lamongan. Samakia : Jurnal Ilmu Perikanan, 12(1), 59-71. https://doi.org/10.35316/jsapi.v12i1.1068
Copyright (c) 2021 Mukti Ali, Fuquh Rahmat Shaleh
This work is licensed under a Creative Commons Attribution-NonCommercial 4.0 International License.
Abstract viewed = 152 times

PDF (Bahasa Indonesia) downloaded = 0 times