Rancang Bangun Biografi Pahlawan Nasional Berbasis Android
Sam'ani Sam'ani

Universitas Muhammadiyah Palangkaraya

Muhammad Haris Qamaruzzaman

Universitas Muhammadiyah Palangkaraya

Sutami Sutami

Universitas Muhammadiyah Palangkaraya
Abstract
This beloved Indonesian independence is thanks to the great services of the heroes who have valiantly and all their souls fought for the nation from before to after independence. So that the history of the struggle is not forgotten, it is necessary to develop a system that makes it easy for all Indonesian citizens to remember and remember the struggles of the heroes. As the rapid development of technology, especially Android-based smartphones that have been used by almost all walks of life, an application system about the biographical history of the struggle of national heroes can be used anywhere. The problem of this research is how to produce a national hero biography application system based on Android. The software is developed by modeling Waterfall, the system modeling uses UML (Unified Modeling Language). The purpose of this research is to produce a system that will present a biographical history of national heroes visually that can help remember, remember and add to the public's knowledge in getting to know the National Heroes.
Downloads
Download data is not yet available.
References
Sam'ani and M. H. Qamaruzzaman, "Rancang Bangun Aplikasi Kamus Kahayan – Indonesia – Ma'ayan Berbasis Web," Sistemasi, vol. 8, no. 1, pp. 55–61, 2019, doi: https://doi.org/10.32520/stmsi.v8i1.417.
H. Fatah et al., "Rancang Bangun Program Aplikasi Pembelajaran Aksara Sunda Berbasis Android," J. Sist., vol. 9, pp. 304–320, 2020, doi: https://doi.org/10.32520/stmsi.v9i2.770.
Supardi, Semua Bisa Menjadi Programer Android-Basic. Jakarta: Elex Media Komputindo, 2011.
Sam'ani and M. H. Qamaruzzaman, "Rancang Bangun Visualisasi Pembelajaran Berbasis Android Untuk Anak," J. Sist., vol. 8, no. 3, pp. 386–396, 2019, doi: https://doi.org/10.32520/stmsi.v8i3.518.
A. Budiman and D. Ariani, "Aplikasi Interaktif Pengenalan Pahlawan Revolusi Indonesia Berbasis Multimedia ( Studi Kasus di MI AL-GINA )," J. SISFOTEK Glob., vol. 4, no. 2, pp. 36–40, 2014.
Indarti, "Aplikasi Pengenalan Pahlawan Nasional Di Pulau Jawa Untuk Siswa SD Berbasis Android Studi Kasus Pada SDN Pondok Pinang 10 Pagi Jakarta Selatan," J. Pilar Nusa Mandiri, vol. 13, no. 1, pp. 145–150, 2017.
Sam'ani and M. H. Qamaruzzaman, "Sistem Pakar Pendeteksi Kerusakan Notebook Menggunakan Metode Certainty Factor," J. Speed – Sentra Penelit. Eng. dan Edukasi, vol. 10, no. 1, pp. 90–94, 2018.
Kementrian Sosial Republik Indonesia, Prosedur Penganugerahan Gelar Pahlawan Nasional. Jakarta: Kemensos RI, 2010.
I. Sommerville, Softaware Engineering (Rekayasa Perangkat Lunak). US: Lancaster, 2003.
A. Nugroho, Rekayasa Perangkat Lunak Menggunakan UML dan JAVA. Yogyakarta: Andi Offset, 2009.
N. Safaat H., Pemrograman Aplikasi Mobile Smartphone dan Tablet PC Berbasis Android. Bandung: Informatika Bandung, 2011.
U. Guritno, Suryo, Sudaryono, Raharja, Theory and Application of IT Research. Yogyakarta: Andi Offset, 2011.
R. Pressman, Rekayasa Perangkat Lunak Pendekatan Praktisi (Buku Satu Edisi 7). Yogyakarta: Andi Offset, 2012.
Sam'ani and M. H. Qamaruzzaman, "Pengenalan Huruf Dan Angka Tulisan Tangan Mengunakan Metode Convolution Neural Network ( CNN )," J. Speed – Sentra Penelit. Eng. dan
Edukasi, vol. 9, no. 2, pp. 55–64, 2017.
M. H. Qamaruzzaman and Sam'ani, "Aplikasi Penuntun Shalat Sunnah Berbasis Android," SAINTEKOM, vol. 6, no. 2, pp. 47–52, 2016.
Sam'ani, "Rancang Bangun Aplikasi Pengawasan Dan Pengendalian Komputer Laboratorium Multimedia STMIK Palangkaraya," J. Sains Komput. dan Teknol. Inf., vol. 1, no. 1, pp. 33–38, 2018, doi: 10.33084/jsakti.v1i1.548.
D. W. Brata, B. Santoso, J. C. Beck, and M. Wade, "Pembelajaran Matematika Dengan Operator Dasar Untuk Anak Sekolah Dasar Berbasis Mobile," Ilm. Inform., vol. 1, no. 1, pp. 46–50, 2016.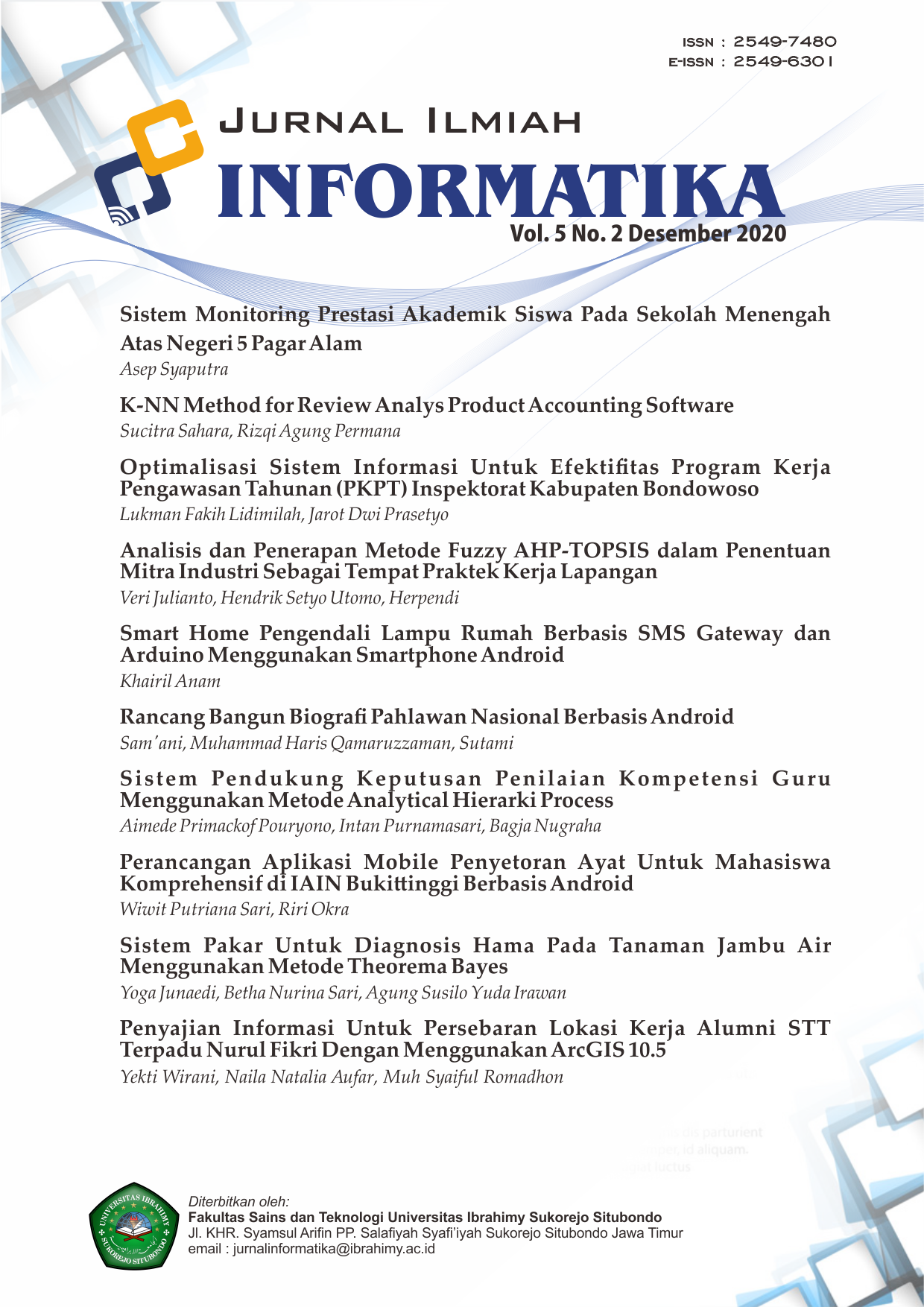 How to Cite
Sam'ani, S., Qamaruzzaman, M. H., & Sutami, S. (2020). Rancang Bangun Biografi Pahlawan Nasional Berbasis Android. Jurnal Ilmiah Informatika, 5(2), 133-143. https://doi.org/10.35316/jimi.v5i2.892
Copyright (c) 2020 Jurnal Ilmiah Informatika
This work is licensed under a Creative Commons Attribution-NonCommercial 4.0 International License.
Abstract viewed = 95 times

PDF downloaded = 0 times