PENGEMBANGAN KREATIVITAS MELALUI PERMAINAN KONSTRUKTIF PADA ANAK
Sulastri Sulastri

KB Nuril Asror Trigonco
Keywords:
Children's Creativity; Constructive Game
Abstract
The formulation of the problem in the research is how the process and results of implementing constructive game activities in an effort to develop children's creativity through constructive games for group A children at KB Nuril Asror Trigonco Asembagus. The type of research used is study room activity research by destroying homeroom school issues. Critical thinking is pursued in stages from pre-cycle, cycle I, to cycle II. Each cycle consists of Composition, Activity, Perception, and Reflection. Determined to work on the nature of the training in the study room. Based on observational exploration, the results of the study show that the use of productive game exercises to build children's imagination at KB Nuril Asror Trigonco Asembagus includes the educator inviting the children to sit on the sofa and work area, then, at that time, the instructor understands the movement and offers examples of strategies. to play. The test results show that there is an increase in children's imagination through productive games where children can make various types of structures with puzzles, especially pre-cycles, the average value reaches 37.5% there is also normal achievement. of the child's score is 4, 5. After trying the Cycle I activities, the level value reaches 75%, there is also the normal achievement of the child's instructions, which is 6.5 and the Cycle II pattern, the value reaches 87.5%, the normal value of the child's achievement is 7.5. Tests have found fair and equitable development of children's creativity through valuable play assuming that children face an increase in their imagination.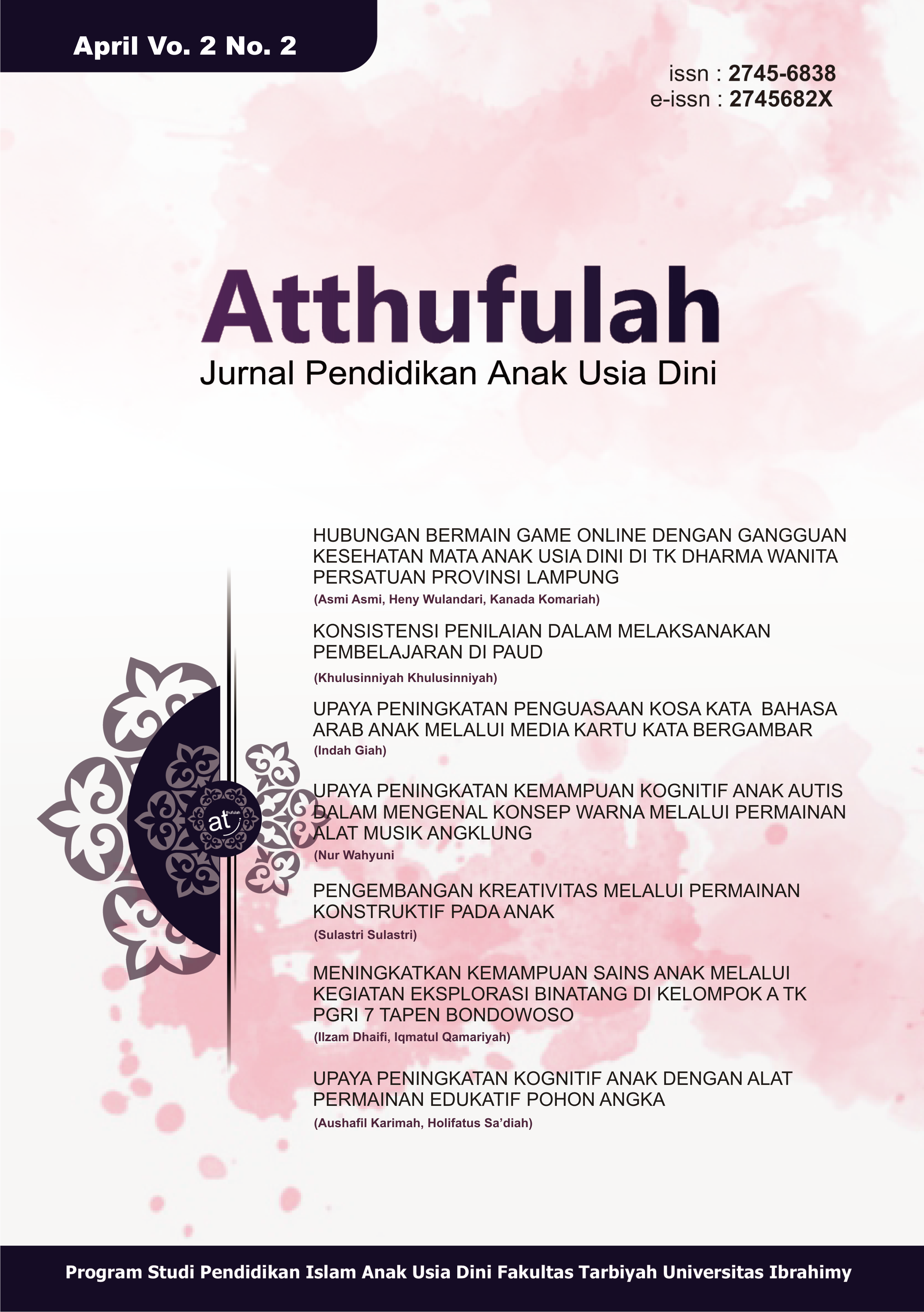 How to Cite
Sulastri, S. (2022). PENGEMBANGAN KREATIVITAS MELALUI PERMAINAN KONSTRUKTIF PADA ANAK. Atthufulah : Jurnal Pendidikan Anak Usia Dini, 2(2), 75-78. https://doi.org/10.35316/atthufulah.v2i2.2218
Copyright (c) 2022 Sulastri Sulastri
This work is licensed under a Creative Commons Attribution-ShareAlike 4.0 International License.
Abstract viewed = 97 times

FULL TEXT PDF downloaded = 99 times