UPAYA PENINGKATAN PENGUASAAN KOSA KATA BAHASA ARAB ANAK MELALUI MEDIA KARTU KATA BERGAMBAR
Indah Giah

RA Al Hidayah Semambung
Keywords:
Arabic Vocabulary; Flashcard
Abstract
This research is motivated by the number of children of RA Al-Hidayah, especially in the mastery of Arabic vocabulary is still very low. The purpose of the study was to describe the form and results of the implementation of activities using pictorial word cards in improving Arabic vocabulary mastery of children in group B RA Al-Hidayah. This study uses Arikunto's design class action research with 4 stages, namely, Planning, Implementation, Action, Observation and Reflection. The conclusion of this study is that each group consists of 2 children, after that the teacher gives a signal starting from group 1, namely the teacher gives a flashcard to group 1 then the teacher asks what picture they are holding and the teacher also reads the Arabic language that is in the group. in the flashcard, after that the child is asked to imitate what the teacher has said by repeating it three times, after that the child is asked to paste the flashcard on the blackboard and look for the same word card as what is on the word card. picture and then affixed it again under the flashcard and the one who finished first read it immediately along with its meaning. The first cycle meeting obtained a completeness rate of 57%. While in the second cycle, the child's mastery value increased to 85%. This means that the use of pictorial word cards can improve the Arabic vocabulary mastery of children in group B of RA Al-Hidayah.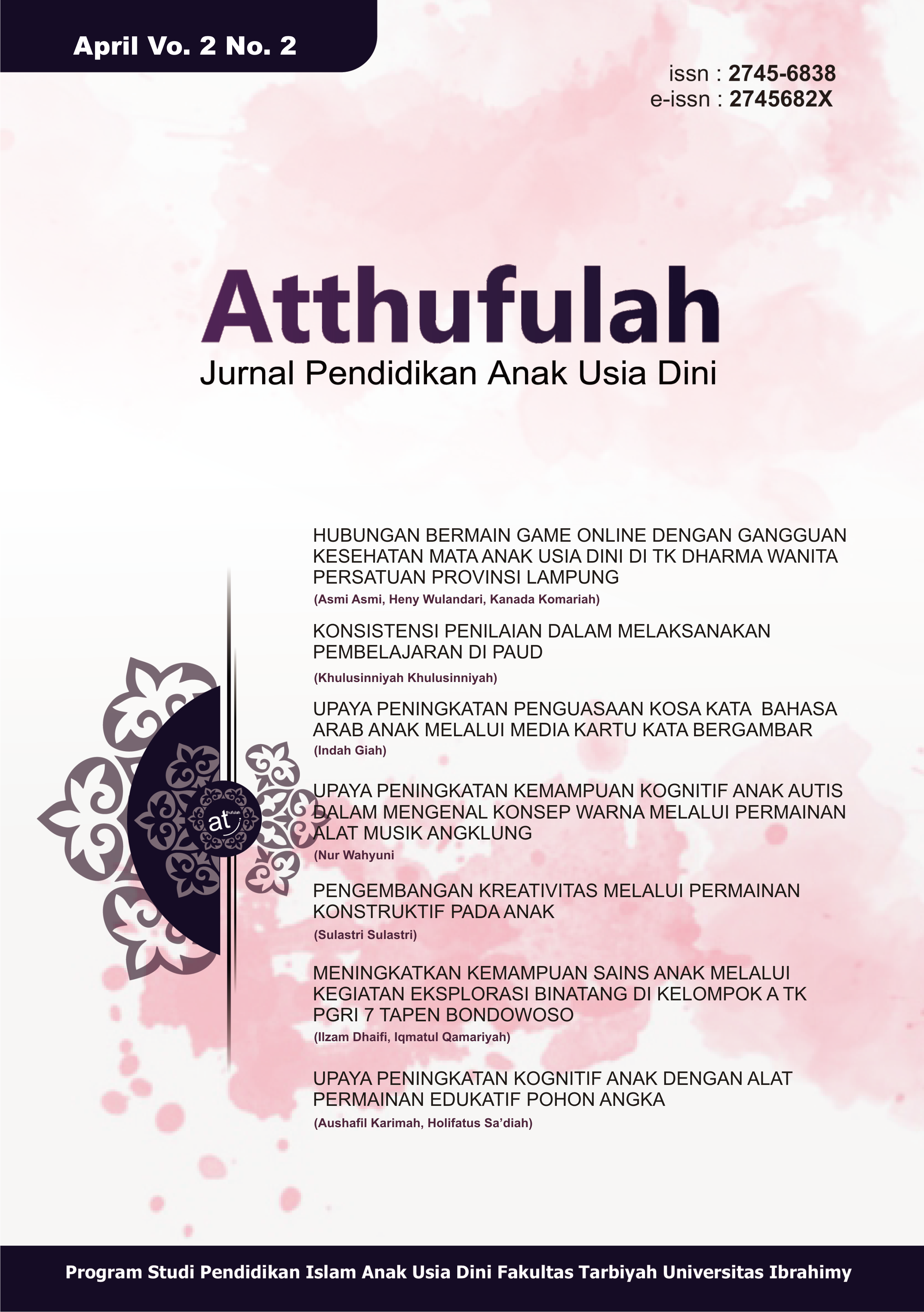 How to Cite
Giah, I. (2022). UPAYA PENINGKATAN PENGUASAAN KOSA KATA BAHASA ARAB ANAK MELALUI MEDIA KARTU KATA BERGAMBAR. Atthufulah : Jurnal Pendidikan Anak Usia Dini, 2(2), 66-70. https://doi.org/10.35316/atthufulah.v2i2.2216
Copyright (c) 2022 Indah Giah
This work is licensed under a Creative Commons Attribution-ShareAlike 4.0 International License.
Abstract viewed = 156 times

FULL TEXT PDF downloaded = 152 times